Judi
Bronze Feedback Medal for All Time! 239 Feedbacks
January 22, 2009
0

found this helpful
You could beg, borrow, and steal (ok, not steal) some picnic tables and cover with plastic cloths. If there is a large Goodwill close you could look for camping dishes (blue and white granite) and cast iron. Mixed dishes from Goodwill would also work.

January 22, 2009
0

found this helpful
Maybe you could use butcher paper to cover tables. For centerpieces, maybe you could tie shotgun shells together with a ribbon or butcher's twine to make a bundle, and put a cut flower in each shell. (By varying the lengths of the stems, you could make the arrangement look like a mound.)
Depending on how "rustic" you want it to look, maybe you can get someone to cut rounds and ovals from logs for "platters". I don't know if they would necessarily be "food safe", but you could easily use parchement paper, butcher paper, or those paper leaves that they sell for cheese plates between the foods and the "platters".
Most hunters I know have one of the big electric roasters at their hunting camp, you can fit those with inserts for serving food like a steam table. Or you could use crock-pots for the foods you need to keep warm. If you have someone really handy with tools, maybe they could hollow out a few logs that you could put smaller bowls into for serving.
Paper plates and disposable cutlery are always possible; but it might be interesting to ask people to bring their own plates and cutlery? (Then the tables would end up looking like "hunting camp chic"--which is usually an collection of cast-offs, isn't it?)
Good luck, sounds like the food will be good! I think your son and his bride are going to have a wonderful wedding day. I wish more couples would remember that the wedding day is supposed to be about having fun, and sharing a special day with people they care about; and not about spending a boatload of money to try to impress others, or fulfill someone else's idea of what a wedding should be. Traditional is fine; but non-traditional is just as fine! Sounds like you raised a level headed son, who found a level headed bride! Much happiness to them!
By shelly (Guest Post)
January 22, 2009
0

found this helpful
You could use the aluminun pans from pie shells for "paper plates". You could also use small metal buckets as centerpieces you should be able to find these on the net or a hobby lobby store.
Good luck and god bless.

January 22, 2009
0

found this helpful
You can go to a local school supply or art store and get rolls of *white paper* to use on tables (crab/lobster style bakes) and food gets dumped on to the table and people can eat right off of it. Rustic, simple and finger lickin' fun! Easy clean-up and easily replaced when needed. Or make it a *Buffet style* using one long train of a table(using the same theme) and hand out paper plates/cutlery/napkins and people take what they want. Plus... Have them bring their own lawn chairs! :)

January 26, 2009
0

found this helpful
I trust you will have your guests sitting down for dinner. Rustic doesn't mean juggling BBQ, eh?
You could call the guests to come to dinner saying 'Time to Gobble-gobble-gobble!' groan <vbg!>

January 26, 2009
0

found this helpful
Get someone with a chainsaw to cut rounds of logs (if available) to put platters of food on...do you have any old pottery mixing bowls or any old barn or country style implements that could be used just for decoration....make sure that anything that touches food is modern and clean (I know you know that). Is there a taxidermist that you know or is nearby that might lend some of his special or not so special creations to use up on the walls?..Have fun.....when it's over.
By Millie (Guest Post)
January 27, 2009
0

found this helpful
Use iron skillets to have the food in to serve. Crock pots work well, too. A big old tin wash tub could hold the ice and can drinks.

January 27, 2009
0

found this helpful
What about using camping gear for decorating and serving the food. Instead of nice serving spoons and forks use marshmallow toasting forks (our Wal-Mart sells them in the camping section) or sharpened/pointy sticks and wooden spoons or old spoons for the salads. Instead of napkins put a roll of paper towels on a branched stick in the ground at the beginning or end of the food line. For sitting, have camp stools and chairs scattered around. Clean but nothing too new looking. Barrels (lined with bags) for trash containers. I have seen camo printed plastic tablecloths at dollar stores in the past. Any chance of getting enough metal splatterware plates to use?
To bring in the "turkey" theme, ask attendees (in advance, if possible) to loan Thanksgiving decorations of ceramic turkeys, turkey shaped/decorated platters, etc. You could also ask at your church, local senior center, or other places that put on holiday dinners to borrow or rent T-day dishes. Check with Goodwill and see if they have a stash of T-day decorations/goods that they may let you look through and purchase out of season. Sometimes this may require going to the regional Goodwill sorting center but it could be worth the trip. Try Oriental Trading Company for Thanksgiving stuff. They should be on sale now. Decorate the room/yard with cardboard cut-outs of turkeys or other game. Seeing that the BIG DAY is also Valentine's Day, you could attach a large red heart to the breast of the birds.
Good luck, have fun, and congrats on going along with the non-traditional wedding function. Mine is still talked about 28 years later!

January 27, 2009
0

found this helpful
Use wooden cutting boards, baskets and metal buckets for serving pieces. Try to get some bushel baskets - tipped on their side they could hold raw vegies, fruit, bread, rolls, etc. The wooden cutting boards (or slabs cut from logs) would be great to hold meats, wings, loaves of bread, etc and the buckets would be perfect for messy stuff like BBQ and salads. Good luck and post some pictures when it's over.

(Guest)
Gold Post Medal for All Time! 846 Posts
January 27, 2009
0

found this helpful
Goofy thought but how about rifle, empty shell boxes, hunting bow, feathers, camo hat, leaves etc arranged as table centerpieces ... No ammo loaded in the rifles and no arrows of course ;-)
By Beth (Guest Post)
February 3, 2009
0

found this helpful
Just got married myself. I'm picturing rustic/outdoorsy but not so much hillbilly? Is that right? Either way, you could find some red bricks (the kind with three holes) and stack them in varying heights (brick fashion brick space brick then the next run the brick covers the space)
as they turn and twist through and around the food choices. Add some cheesecloth (instead of tulle) in and out of them with a bit of whatever floral choices the bride has made.
Table centerpieces could be small three brick versions (keep them low) as a backdrop to (bride's choice) flowers in simple clear vases. I'll try to keep ideas coming... probably won't be back on site though. If want more ideas from me - just email me: bmeadows AT muskingum.edu BTW - the brick stacking could hide unsightly crock pots and such. Make sure they curve in front and stack them (staggered brick, space, brick) to the height of the pot. You can have warm food and it'll look rustic without looking like Aunt Hilda's 25 year old kitchen ware. ;o)

February 7, 2009
0

found this helpful
Wish I would have seen this earlier...my husband could make turkey calls for the groomsmen gifts or for decorations...
www.blackfalconcustomcalls.com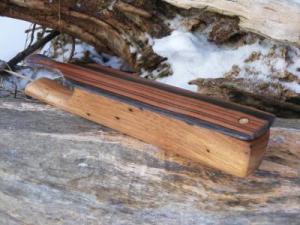 By Jen (Guest Post)
February 23, 2009
0

found this helpful
Well what did you do? We'd love to see the pictures!

(Guest)
Gold Post Medal for All Time! 846 Posts
February 24, 2009
0

found this helpful
Yes, as Jan asked ... How did it go and can we see pictures, pretty please ;-)
By tammy (Guest Post)
February 25, 2009
0

found this helpful
Everything went along great my son and my new daughter were very happy with the way everything came out. The guest were very impressed with all the decorations and they all said the food was excellent. we all had a great time.
Decorations included, leaves cascading down the 4 layer cake with shotgun shells (handmade) and a turkey fan with little turkey's as bride and groom (it was amazing) the food was served on clear platters set atop galvanized buckets, dips served in wide mouth jars with wood spoons, centerpieces were dried flowers and small twigs in jars and candles in jars with small pebbles in bottom. Brown ribbon adorned everything with small flowers, tiny pine cones and turkey feathers.
The bride had camo on the hem of her gown and the m-o-h wore long brown dress with camo sash & train. The gents wore brown tux with camo vest and ties. the brides bouquet was white and brown with turkey fan around top(hand made of course) it was so amazing(i cried during the ceremony) I'll try to post some pictures if I can figure out how (not to good with this thing) thanks to you all for your great ideas.