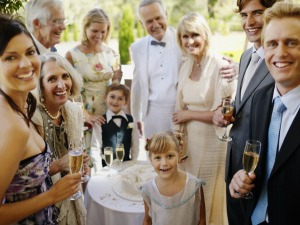 We are getting married June 22, 2013. We are trying to decide on what kind of food to have. We are pretty much open to anything, but fish. My fiance was a chef at a college and they have offered to cater for us at a reasonable price. We just have to decide what we want. Any suggestions will help. Thank you.
By Shawnda from Springfield, OH
Answers

Joan
Bronze Feedback Medal for All Time! 186 Feedbacks
April 11, 2011
0

found this helpful
The few people that I know that have catered meals are going with chicken because that is the least expensive. I guess it would be smart to sit down with the chefs for ideas, and costs.

April 12, 2011
0

found this helpful
Usually there is a chicken, beef and a fish choice; and perhaps a vegan one...that usually covers all the bases. Congratulations!

April 12, 2011
0

found this helpful
I think it depends on what time of day your wedding is held. I knew a couple that got married at sunrise and had a breakfast buffet. Another morning wedding had a "cake" of Krispy Kreme donuts stacked with lots of coffee, tea and juices. Another friend got married in the evening and had wine, cheese and crusty bread. My sister got married in the early afternoon and served finger food and lastly we've had two family weddings that were late afternoon weddings that served of chili cilantro shrimp and grilled chicken on skewers made of prettily curled palm fronds with cocktails (during photo time) and followed by ham/chicken buffet.
The last was in a beautiful outdoor setting under a huge white tent so it was informal and all of these weddings were beautiful and very unique in their own way. The typical ceremony/photo time/reception, eat, dance/champagne toast could use some fresh ideas. Best wishes for a wonderful wedding!

April 13, 2011
0

found this helpful
I also have to answer, depends on the time of the day. Also do you have a particular theme for your wedding? If so I would try to carry that over to the type of food you serve. If you are having your wedding at a waterfront place, then serve either chowder or lobster bisque as a starter, cheese, grapes, crackers and choc covered strawberries are a nice spread to put out while your guests are waiting for you to arrive after all the pictures. I would choose a beef, chicken or turkey, (I prefer a nice turkey dinner and it is more economical in my opinion) and a vegetarian dish, there are so many that don't eat meat anymore for whatever reason, cost, health etc. You could do a veggie lasagna, eggplant parm, grilled marinated portobello mushrooms, looks almost like steak on the plate, Also, the menu would depend on whether you are serving individual plates or having a buffet type. I would also do a vegetable soup as a choice and either chowder, bisque, or chicken soup as a starter if sit down dinner. Soup is less messy than salad and I try to not eat salad at a wedding. Dressing usually has oil in it and it always seems to land on my dress or suit jacket. For dessert I have seen cupcakes arranged like a tiered wedding cake, much cheaper and again so much easier to pass a cupcake out with a slice or scoop of ice cream if desired.
Cupcakes are in and considered gourmet now. Also one wedding i went to set up an old time candy store look on a table, used glass jars and filled them with different types of candy, nuts and chocolate, she had small bags with their initials on them in the color of her wedding party and also had fruit, pretzels etc to dip in the huge chocolate fountain.
Also, rice pilaf or a rice dish with a sauce, cream of chicken type, mexican rice etc, all stretch so far. You can even do chicken ala king over mashed potatoes or rice with a veggie. Also for your poultry choice croquettes would look very nice on a plate, they can be made ahead of time and just popped in oven to warm before serving. Serve with a gravy, baked potato or rice, and nice grilled or sauteed veggie combo, use fresh veggies that are peak in your area at that time of the year, carrots, green beans, squash all either roasted in oven or sauteed just enough to still be a bit crispy. OK, now you have lots to think about with all the other posts that have gone up, it is your wedding, do what you want to do, always listen to suggestions but in the end it is your decision. No matter if it goes off without a hitch or you run along a snag or two along the way, it will always be a special day to you.

April 13, 2011
0

found this helpful
My husband and I got remarried after being divorced about ten years ago. We held the reception in the basement of our church, it was free to use, we made punch, coffee, tea and juices and soda for beverages. We did a buffet line, I made several of the items and a few close family and friends helped out. We bought a plain sheet cake, cost about $30 I think, very cheap. We had all the food set up in crocks and heated trays. I made chicken mozambique over rice, it was a huge hit. we had the normal things, meatballs, lasagna, mac and cheese, mexican food, sandwich platter that I made up with shaved meat, ham, turkey, and roast beef, 3 different cheeses, lettuce, tomatoes etc. We had so much food, we were leaving the next day so we could not use the food, the church was having a missionary conference starting the following day so we donated the left overs to the church to feed the missionaries a few meals.
I made all the centerpieces with silk flowers and someone got to take home each one, I handed them out to those who donated time to work in the kitchen so I didn't have to on our wedding day. We also bought a few cases of small votive holders, glass and we put those rub off decals to decorate them and put tea lites in them all and lit them. There was one for everyone and small bottles of bubbles for the kids. It was a very reasonable wedding, we had about one hundred guests and a fabulous time!

April 1, 2013
0

found this helpful
Congratulations on your upcoming wedding! My husband and I will be celebrating our 25th wedding anniversary on that very day. Our kids are throwing us a big party. I don't know where you are located, but we found an amazing caterer who's prices could not be beat! If you are in Florida, Let me know, I will send you his name. He is doing Ropa Vieja, Spanish Steak and Onions, BBQ Ribs, Fried Plantains, Black beans and Rice, Parsely Potatoes, green beans almandine, and dessert for $10 a head!
He only charges 18% for servers (buffet style). And he comes and sets everything up and cleans up afterward. We are expecting 100 people, so we have dinner done for less than $1200 and we don't have to deal with it.
Answer

this Question