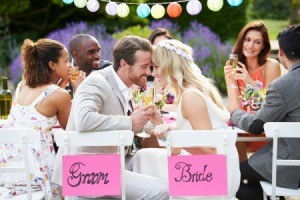 I am getting married and am planning on using a caterer, but want to keep food on the reasonable side. I was thinking of lasagna, veggies, Italian bread, and a salad. Does anyone have any ideas of inexpensive ways to do a wedding with out it being a BBQ or hot dogs? What about big sliced hams? I need help.
By deb from Boston
Answers
November 13, 2010
0

found this helpful
Best Answer
You can't go wrong with finger sandwiches, veggie trays and fruit. Anything that drips, as leekelly suggested, or that is red will stain pretty clothes. In fact, the less silverware you have the less there is to clean!
If you make sandwiches that are meat and cheese, put the condiments between them to keep the breads from getting soggy, or put the condiments side up on the tray. Pretty cello picks make things festive. They can also be used for fruits, veggies, and more.
I did my sisters re-vow and made pastel parfaits in alternate plastic cups (yellow cup, pink dyed parfait) and they were very pretty.
I hope this helps!
January 3, 2011
0

found this helpful
Best Answer
A friend of mine got married and they had a pasta buffet. It was great. They had big buffet warmer trays filled with pasta, and others filled with two different sauces. I think a red sauce and a cream sauce. Anyway, the only thing I would change would to serve bowtie pasta instead of spaghetti, less chance of disasters. They also had huge bowls of salad and bread. And this was at country club, so it was a pretty snazzy wedding. FYI, those big spiral hams work well for crowds, too, but they're more expensive. If you serve those, maybe you could serve it with green beans, rice pilaf, and rolls. P.s. if you live in New England, shop at Market Basket for your food. It's a lot cheaper than other area food stores.
Answer

this Question