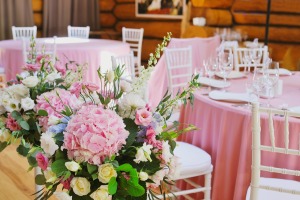 Is it okay to just have a ceremony, then punch and cake, with maybe veggie trays, fruit, and a champagne toast afterwards? I am considering this instead of a full on reception. There would be no dancing, sit down meal, etc. I want to just have something simple and inexpensive. Cake, punch, veggie trays, and fruit, with music playing?
By Ashley
Answers

September 18, 2010
2

found this helpful
Best Answer
It is absolutely fine to do this! That is what a reception is actually for. A few munchies, and people congratulating and visiting with the new bride and groom! I have a great way to display veggies, or cupcakes, or candies that is on the cheap side as well. I am attaching a picture below. This turned out gorgeous! I used E6000 glue to put it together. Make sure it dries for 24 hours before moving it. :/ Trust me!
We took a 22" round mirror purchased from IKEA ($15), then purchased 1 smaller mirror (18") from HL, then two clear glass rounds (12", 10") from HL as well. They were on sale so they were like $3 each. We purchased the "piers" (candle holders) from dollar tree for a dollar a piece. (The taller ones) we needed 3, then the very short candle holders crystal type for 2 for $1 at dollar tree (4 of these) for the bottom half. HTH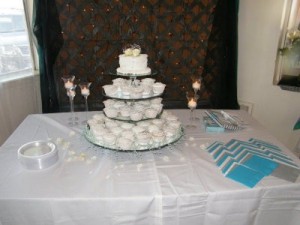 September 20, 2010
0

found this helpful
Best Answer
Absolutely! Do what YOU want to do and can afford to do. Remember that the wedding is one day, and the beginning of a new phase of your life. Don't mortgage the future for one day.
Answer

this Question

I just have to share my good luck at finding the right websites for a budget wedding reception! I am in charge of doing the reception for my budget minded friend, and I have only $200.00 and need to decorate 8 tables, plus 3 tables for cake, wed party, gifts, food, etc.
Read More...
We are getting married on 06/12/09 and having the reception on 06/13/09. I need ideas for a very inexpensive reception, under $2000.
My colors are chocolate and teal. It's an outside reception by a pool. Thanks very much.
Read More...