September 18, 2010
2

found this helpful
Best Answer
It is absolutely fine to do this! That is what a reception is actually for. A few munchies, and people congratulating and visiting with the new bride and groom! I have a great way to display veggies, or cupcakes, or candies that is on the cheap side as well. I am attaching a picture below. This turned out gorgeous! I used E6000 glue to put it together. Make sure it dries for 24 hours before moving it. :/ Trust me!
We took a 22" round mirror purchased from IKEA ($15), then purchased 1 smaller mirror (18") from HL, then two clear glass rounds (12", 10") from HL as well. They were on sale so they were like $3 each. We purchased the "piers" (candle holders) from dollar tree for a dollar a piece. (The taller ones) we needed 3, then the very short candle holders crystal type for 2 for $1 at dollar tree (4 of these) for the bottom half. HTH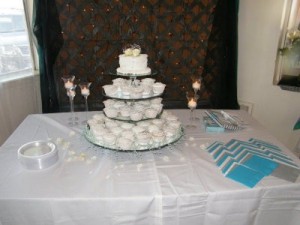 September 20, 2010
0

found this helpful
Best Answer
Absolutely! Do what YOU want to do and can afford to do.
Remember that the wedding is one day, and the beginning of a new phase of your life. Don't mortgage the future for one day.
September 17, 2010
0

found this helpful
Acceptable? To who? It is your wedding! I think it is a lovely idea, you still give everyone the opportunity to see you and to see one another. If they want to dine together, they can go out afterward. I think the idea of saving money like that is great, and demonstrates that your priorities are where they should be.
I get so tired of people sinking more time, thought, and money into their wedding than they do the marriage!
September 18, 2010
0

found this helpful
Well, it's unanimous! Have your ceremony, cake & punch, and a wonderful life!
September 18, 2010
0

found this helpful
Absolutely it's ok to have light refreshments for guests after a wedding, especially if it is held in the afternoon, say around 2 or 3:PM. Add some flowers, maybe a bag of sparkly confetti from a party store to sprinkle on the table. Much less stress. Good luck and Mazel Tov!
September 18, 2010
0

found this helpful
Sure! When I got married everyone went back to my parents' house for the reception. It wasn't a large house and we had about 50 people show up.
All the food came from the local deli and the local liquor store. We even made the cake. Nobody complained and we had a great time.
September 18, 2010
0

found this helpful
Absolutely! I agree with everything that was said prior to this and I want to tell you that's what my husband and I planned over 27 years ago. It was great, fun and we paid for it ourselves!
Best wishes to you.
September 18, 2010
0

found this helpful
If there is any one day that is yours to decide whatever you want, it's your wedding day. Your idea sounds perfect to me. Enjoy yourselves and know that you have avoided an enormous amount of cost and mental stress.