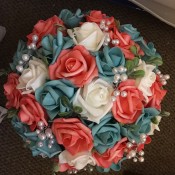 Saving the Wedding Bouquet Instead of Giving it AwayI made two bouquets for my daughter's wedding. One of them is for the bride to toss and the other one is made from silk flowers. I designed the bouquet to fit in a large bowl shaped vase, with styrofoam in the bottom for the handle of the bouquet, so that she can display it as a centerpiece on her dining room table after she is married.


Using Lavender in Wedding BouquetsLavender is a symbol of love and devotion, as well as said to bring good luck. It is also an inexpensive addition to a wedding bouquet. If the fresh lavender in your wedding bouquets keep drooping try the idea offered on this page.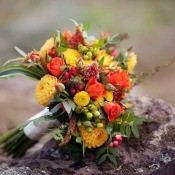 Flower Advice for a Fall WeddingChoosing the flowers for your wedding is a serious part of the planning. The time of year can set some constraints on your choices, although alternatively you can go with faux flowers in any color. If you are planning a fall wedding some good fresh flower choices are mums and sunflowers.