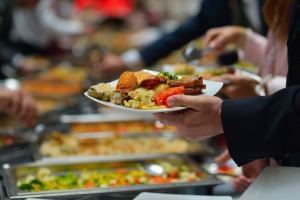 I would like to have a variety of foods at my reception set up bar style. I'd like to offer several of our favorite restaurants in town the opportunity to provide food from their restaurant with a server or two. We would of course be willing to pay them, but I'd like a discount in exchange for allowing them to promote their food so to speak. Does this make sense to anyone? Have you seen or heard of this before? How would you feel if you went to a reception like this?
By AdinaS from Chicago
Answers

January 9, 2012
0

found this helpful
Best Answer
Fat chance. Most reputable food vendors would not need "free" advertising. Otherwise why would they be in business. You might find some new purveyors that would do this type of thing, but then it could have disastrous results. It would seen that you were being cheap to me. If you can't afford good food then don't serve a meal. Stay within your budget with out asking for handouts.

January 10, 2012
0

found this helpful
Best Answer
Unless your guest list is loaded with high profile people or is raising money for a recognized charity, no restaurant is going to be interested in cutting you a deal for catering your reception. I've done a number of buffet style catered charity fund-raisers and have had success with restaurants but they always want to know who's on the guest list.
From the way you've phrased your question it sounds as though you are planning a wedding reception, and it would also tacky to have adverts for your caterer on the buffet table, frankly.
Charity fund-raiser? Yes.
Wedding reception? No.

(Guest)
Gold Post Medal for All Time! 846 Posts
January 10, 2012
0

found this helpful
Best Answer
I agree this would be tacky for a reception of any sort whether for a wedding, baptism, bar mitzva, etc. The guests aren't there to be bombarded with sales pitches but rather to celebrate a special occasion. Just choose a handful of your favorite restaurants and get bids to choose one from those bids to cater your reception or ask family and friends to help with preparing of food, setting up, serving and taking down but you pay for the items needed.

Kathy
Bronze Feedback Medal for All Time! 190 Feedbacks
February 12, 2012
0

found this helpful
Best Answer
I am so glad to read the responses. They are right on. Do you have any idea at all of what it costs to run a business? Especially a food business. They are in business to make a profit, not support your wedding. You think you're doing them a favor by "allowing" them to mention their name?
If you can't afford a reception, get married and don't have a reception or just have cake and coffee in the church basement. It's a "marriage", not a wedding you should be celebrating.
Answer

this Question

My wedding is August 6, 2011 and I'm on a tight budget. I need to know what foods can I serve at the reception?
By Sherika from Lagrange, GA

Answers

April 22, 2011
0

found this helpful
Best Answer
I used to own a wedding catering business so I hope I can help you.
I would serve little chicken salad sandwiches and before you say "yuck", do the following. Find a recipe for cream puffs and make tiny ones (approx 2") and instead of filling them up with cream filling, you will be slicing them in half and filling them with a chicken salad mixture using chopped/cooked chicken breasts, celery, chopped onions (optional) and whatever seasoning you might like. I have used eggs in the salad as well. Then you just use a tiny meatball scoop or Tbsp. to scoop into the cream puffs.
Now for the punch. Go straight to your local ice cream plant or grocery store and get the largest 2 1/2 gal. of whatever sherbet you choose that will match your wedding colors. Then you mix that with either frozen pineapple juice and either 7-up or something similar. It ends up being like a frappe and is very yummy. I have even made variations to include almond flavoring or rum flavoring etc. You get the picture.
The above things you can do ahead of time so you don't have to do it on the day before or so. You can freeze the cream puffs up to two weeks before the wedding and just take them out the morning of. Fill them as you use them so you won't have lots of soggie sandwiches to take home that you didn't use. That way you can refreeze the puffs and use whatever is left as a salad or in the puffs at a later date.
I wish you the best and if I can be of any further help please let me know.
Answer

this Question