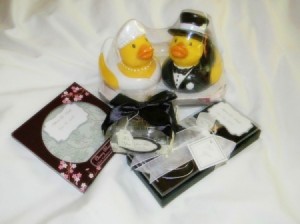 Wedding favors can be a rather large added expense. The more guests you have, the more the price goes up. There are many ways to cut costs on the gifts that you give out on your most memorable day. However, if you make cuts in the wrong places, like giving out really cheap favors, you're doing yourself a disservice. You can still have gorgeous favors at your wedding that represent you quite well as a couple and not break the bank.
One shopping platform you will want to avoid is wedding favor vendors, both online and brick and mortar. Even if they offer bulk items, they're more than likely going to cost much more. Look beyond specialty shops and wedding-specific favors and you'll save money. Did those Mint-to-Be wedding mint tins take your breath away? You'll save lots of money finding heart-shaped mint tins and printing your own Mint-to-Be stickers! You can even add your names and the wedding date.
Look into places like Amazon, eBay and Etsy for your items first. You're more likely to find much better prices on both the items and shipping costs at these shops. You also don't have to give all the guests the same favors. For our wedding, we had a few options and we were delighted to see our loved ones enjoy what we thought suited them.
DIY is a great key to budget-friendly wedding favors. You can buy a bunch of plain white cowbells to double up as beautiful wedding bells that act as both the way to ring in the newlyweds, and as a take-home favor.
Add a personalized touch by adding your names and wedding date. You can also tie a ribbon at the top to match the theme and color of the wedding. One of the best do-it-yourself wedding favors I ever received was from my best friend who gave all her guests flower seeds with a note requesting they be planted so their love could grow around the world. Beautiful!
Get personal! This is your day. This is about the two of you. Give out some favors that represent you well, no matter how quirky it gets. Did you meet your fiancé at a club? You can buy a bunch of baby disco balls. Did you meet in Vegas? Give out sets of dice or packs of cards. As silly as it may sound, my husband and I had a rubber ducky wedding theme as it meant a lot to us. We were lucky to find a bunch of discontinued wholesale bride and groom ducks to give away. It was really cool to walk out as newlyweds with our loved ones squeezing squeaky ducks at us. It was memorable for all, and that's what's most important.
Another way to bump up your parting gifts from your wedding day is to send your guests home with bits and bobs you've purchased for your wedding and reception. Flowers, candles, balloons, tabletop Polaroid photos, or noisemakers. Tell everyone to take them. It will mean so much more to your guests than you hauling them home to deal with later.
More ideas for homemade wedding favors: