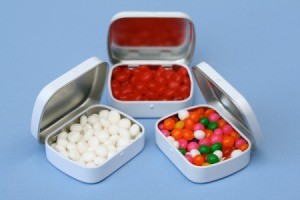 Our son is getting married this July. (2008) Does anyone have any ideas for wedding reception table decorations/favors? We've done the Hershey Kiss long stemmed roses and personalized fortune cookies with our own fortunes. Since we'd like to do 300 or more, we'd like them to be affordable but memorable.
I'd like people to leave the wedding saying, did you see what they did for Tobey's wedding? Or that was the cutest thing I've ever seen for a wedding favor. Thanks in advance for the ideas.
Sandie from Curtice, OH
Answers
By Stephanie from TX (Guest Post)
May 5, 2008
0

found this helpful
As far as favors, we did a hershey's kiss placed in a colored plastic spoon, mesh placed over it tied with a ribbon with a tag that read "A SPOON FULL OF KISSES FROM THE MR. AND MRS."
It was really cute and inexpensive.
Read More

Answers
Can any one share with me a very cheap nice wedding reception gift for guests on tables?

Linda

Answers
By gannon (Guest Post)
May 29, 2005
0

found this helpful
My niece gave small netting bags containing forget-me-not seeds.

May 29, 2005
0

found this helpful
Linda,
Forget-Me-Not Aromas carries a wonderful line of " Custom", "Made to Order" products that would make gifts to give your Wedding Reception attendees. If you'd like to learn more or even place an order, visit us at: http://forgetmenotaromas.com
Mention "Thrifty Fun" & get a 10% discount on your order.
Marla
By marlene (Guest Post)
May 30, 2005
0

found this helpful
My sister bought boxes of Freroche chocolates. We placed one chocolatat place setting along with a couple of other little edibles. Nice, simple, and fun.
By Mary (Guest Post)
May 31, 2005
0

found this helpful
I went to a wedding that had cute little photo frames with a pic of the couple in them.
By Joanne (Guest Post)
June 1, 2005
0

found this helpful
Buy the boxes of mint chocolates at the dollar store. You get around 25 per box. They taste pretty good believe it or not. use 2 per favor. There is also a section that has wedding stuff. Sometimes they have little boxes or little champaigne glasses that you can make favors out of. That is the cheapest way for candy favors.

June 1, 2005
0

found this helpful
One of the weddings in our family had 3 Hershey's kisses tied up in 4-6 inch square of netting tied with a thin satin ribbon. Another had little tulle bags with a few lavender flowers and a little packet of lavender seeds. The little seed packet (could be printed on nice paper from your computer) said to plant them and remember the bride and groom.
Both were nice and inexpensive.
Susan from ThriftyFun
By Jen (Guest Post)
June 3, 2005
0

found this helpful
We did custom candy bars for our wedding favors. You can buy them online but they run around $1.50 a piece. I liked the idea, but didn't want to spend that much, so I decided to make them myself.
I went to a wholesale club (Sam's or Costco) and bought candy bars in bulk -- both Hershey bars and Crunch bars (a 36 count was about $13).
Using a basic graphic program on my computer I made wrappers to replace the standard Hershey's wrapper -- on the front I wrote our names and our wedding date and had a clipart cake (although could have easily used a digital picture of us). On the back of the wrapper where the nutrition information/daily values% go I put LOVE 100%, KINDNESS 100%, etc...
You can also put a poem or a message to your guests on the back. (For ideas check out
www.customcandybars.com/wedding
and
personalizedbydesign.com/weddings.html
)
I put several on a page and printed them from my computer (I had a small wedding -- only 50 people). Then I recruited a a girlfriend and together it we removed the outer wrappers off of all the Hershey bars and using a gluestick, we attached the new wrappers.
The end result was a personalized wedding favor that everyone liked -- it was somewhat time consuming, but figuring the cost of candy bars, paper, printer ink and glue it only cost me about $0.45 per candy bar (as compared to the $1.50 online) -- so it was worth the work.
By Katie (Guest Post)
June 14, 2005
0

found this helpful
I purchased 2.5" clear plastic heart boxes at $2.99/dz online (balloons galore) along with favor tags from Oriental trading co at 144 for $1.29. Have mini wedding conversation hearts for fill at $5.95 for 280 hearts.
Found ribbon for 99 cents a roll and made bows w/ mini silver metallic hearts glued on (actually confetti) How much easier could it be!
By (Guest Post)
July 9, 2005
0

found this helpful
Back in the day, the usual wedding guest favor was a small net bag of rice, tied with a bow. You can make these up for pennies, tie pretty bows, and attach little notes. I'm sure most guests would have the good sense to know that they're just favors, and they wouldn't untie them and scatter rice all over the place.

August 14, 2005
0

found this helpful
go to www.myjewelryonline.com We ordered custom made crystal jewelry and it was CHEAP!!!! The gal who made the necklaces was so nice. My daughter gave each bridesmaid a necklace to match the dresses as well as earrings. I also ordered Christmas gifts from her to match outfits I bought.
She does a great job. Her website is not updated (just checked) but call her at the number on her site and she does call you back if you get her answering machine. I see the gals from the wedding wearing the jewelry quite a bit since the wedding!
Read More

Answers

I am helping with table favors for a friend's wedding. Originally there were supposed to be about 100 guests, now it looks like it may be 200+. Any ideas? The colors are pink, white, and black.
Debbie from Shallotte, NC
Read More

Answers

I am looking for ideas for wedding favors, novel ideas, and ofcourse, within the bride's budget. I know your readers have great experience in sharing their novel ideas.
Thanks,
Nancy from Denham Springs, LA
Answers

March 31, 2006
0

found this helpful
What is the theme if any .. and or color of the wedding ..there are tons of idea's .. homemade chocolate's designed around the wedding colors .. candles .. not them crappy dollar store ones or yankee candle ones .. mini wood frames painted in brides wedding colors .. with a printed out paper of the wedding invitation .. then guests could take it home an replace it with a pic or leave as is..

March 31, 2006
0

found this helpful
I did anniversary favors once by buying small organza drawstring bags (very elegant looking and available, inexpensivley, online at many craft websites) and then I ordered (again, online) magnets made with a wedding photo of the couple and the wedding date-we then put those into the organza bags and added a handful of Hershey's hugs and kisses candy. Most of the party guests still display the magnet on their refrigerator.

April 1, 2006
0

found this helpful
Yes, there are many ideas, depending on your theme and colors! I just saw in a catalog that they ad bookmarks...and they were cute...BUT...a friend of mine makes them a lot cheaper than you can buy them for!
She prints up a nice quote (for whatever occasion) and prints them out the size she wants them, and decorates it with stickers (or stampers...because she leaves a space at the top) and sticks a ribbon behind it with a few beads on either end, and then instead of paying for laminating...she uses contact paper.

April 1, 2006
0

found this helpful
"A spoonful of kisses from the new Mr. & Mrs." What you need: Hershey Kisses, they make many varieties & color wrappers at the holidays; Plastic spoon, the kind for picnics, any color; Bridal tulle (fine netting), any color; Thin ribbon, fabric or curly ribbon, any color; Home-printed tag. On the bowl of the spoon place two Hershey Kisses w/ the flat ends together, cover w/ tulle & tie with ribbon around the bottom of the handle of the spoon. Attach the tag w/ the same ribbon also. Yummy & cute, especially when done in the wedding colors or all white w/ silver kisses.
By christi (Guest Post)
April 1, 2006
0

found this helpful
By KATHY (Guest Post)
April 3, 2006
0

found this helpful
Instead of throwing rice or bird seed. I suggest heart shaped "sprinkles", they can be bought in bulk.
By Nancy Mickelson (Guest Post)
April 16, 2006
0

found this helpful
This is a simple idea but your friends and relatives will love it. Get some non copyrighted pictures taken of you and your fiancee. Make copies and put them on the tables as favors. You can get the color pictures changed into black and white or sepia toned prints.
If you like to scrapbook you could come up with some very attractive paper frames.
Read More

Answers