Do I need to use Styrofoam on the bottom layer of a 3 tiered wedding cake, or can I use cake for all the layers?
By carol from Maple Ridge, B.C.
Add your voice! Click below to answer. ThriftyFun is powered by your wisdom!
June 22, 2009
0

found this helpful
If you have all the necessary supplies for a tied wedding cake as shown in the photo, you would not need styrofoam on the bottom layer of a 3 tiered wedding cake.
Please see photo that I found through a search engine.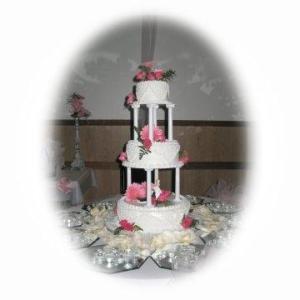 June 23, 2009
0

found this helpful
As others have said, make sure all cakes are on cake circles and the plastic plates that hook into the columns. You do not need straws, dowels or styrofoam for this the cake pictured. If you are stacking the cakes on top of one another you do. I don't use drinking straws. I buy "bubble drink" straws at my oriental market. They are wider then typical drinking straws.
To stack cakes, put the first cake on the cake board and secure it to whatever base you will use. Take a cake circle and mark where the other cake is going to be placed on the bottom cake then take it off. Put 3-6 dowel or straw pieces in the cake that will hold the next cake. Take the next cake that is on it's own board and set it carefully on top and repeat until you have all your layers.
If you are going to have more then 3 levels of cake, I find it easier to sharpen a dowel that will go through the center of all of the cakes and will stay in. Before assembling the cakes I pre-hole each one so I am not pushing and possibly squashing the cakes. This way I know where the dowel will go without a problem. When all cakes are stacked then border them. Wilton and cakecentral (my personal favorite) are excellent resources. Good luck
Add your voice! Click below to answer. ThriftyFun is powered by your wisdom!
Could you give me instructions on how to stack a three tier wedding cake? I am making it for my daughter.

Many thanks.
Olwyn B.

Answers:
Stacking a Three Tier Wedding Cake
You will need three card board circles one the size of the largest cake, one the size of the middle cake and one the size of the small cake. Place the largest one in the center of your cake plate and put the large cake on it. Take a dowel rod and push it into the center of the large cake and measure how long it needs to be cut ( the depth of the large cake) cut 5 of the dowel pieces and stick them into the cake in a circle spaced out no larger than the size of the next cake to stack.
Place the next size cake circle on top and continue doing the same thing as you did on the lower level. Measure and cut dowel rod, place in cake, etc. I frost the cakes before I stack them then take a frosting bag with a round tip and go around the cardboard circles to cover the sides. It is good to place "shells" around the cardboard to disguise it. Be sure to put a few dots of frosting on the cake plate to hold the cardboard circle from slipping. Good Luck. Dru. (06/30/2005)

By Mary Wallace
Stacking a Three Tier Wedding Cake
I've done so many of those, including for two daughters. The easiest thing I can think of is to use plastic drinking straws. Be sure to cut them exactly the same size in each layer. Example: if the tallest point in your layer is 4 3/4 inches then all of the straws need to be cut to 4 3/4 inches for that layer. Use plenty of them to support the next tier, also no less than seven or eight. The cardboard circles can usually be bought from craft stores or even bakeries by the piece, too. Or Wilton has them for each size you may need. For aesthetic value, it is recommended that each tier is 4 inches smaller than the one under, example is: 14 inches, 10 inches, and 6 inches. Though to tell the truth, I was usually a bit of a rebel and did what I thought looked best, or what the bride requested.

Good luck with your cake, and may God bless your daughter and new son-in-law. I hope that they are happy all of their lives. (07/04/2005)

By Margie M.