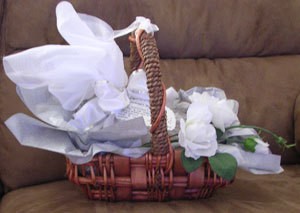 For bridesmaids gifts for my daughter, I made up a "mix" for gourmet muffins and put the mix in a zip-lock bag and wrapped it up in some white silk-like material, put a silver bow around it and tied the baking instructions around the top. I also made some homemade strawberry butter, put it in some cute little jars I found at a discount store, tied a ribbon around the top and stuck a little spreader down under the ribbon (to hold it). I found the spreaders at a dollar store too (6 for $1).
Then for each bridesmaid I put the mix and butter in a basket and put some white flowers in the basket. A lot of this I already had on hand. The material I used was actually a sheer curtain that I had bought but never used, and the book with the recipes in it I found at a yard sale for a dime! Instead of having the goodies already baked, the girls can bake them whenever they want!
By Linda from Alabaster, AL
Read More

Comments
I'm kind of in a bind... I am getting married in May and am starting to look for the bridesmaid and groomsmen gifts. Here's the thing... some really close friends of ours (part of the wedding party) just got married and their bridal party gifts where what I was planning to buy; personalized flasks and jewelry boxes. How cliché, I know, but I can't seem to come up with anything better. My budget is about $50-75 for each bridesmaid and groomsman.
Any suggestions? I'd like something special and creative.
Thanks!
Annie from Los Angeles, CA
Answers
By Kathy (Guest Post)
March 16, 2006
0

found this helpful
How about the personalized beer steins or mugs for the guys and necklaces for the girls? Money clips for the boys are good too as are pens (useful). We gave the girls necklaces with a heart charm on it with their initials engraved on the heart.
They all wore these with their dresses the day of the wedding. Good luck!
By Brenda Chavis (Guest Post)
March 16, 2006
0

found this helpful
I simply got gift cards for each of them. I used Walmart cards, because I knew they sale a little of everything, and it has more value for the dollar. They really loved it, it saved me time, and everyone got what they wanted.
You could use other store cards, if you know they shop there.
I got small gift bags, and placed the card inside, with the usual fluff, and a small personal token gift I picked out for each of them.
By sueey (Guest Post)
March 16, 2006
0

found this helpful
You might consider gift certificates for a night out for each person. A friend gave us those for her wedding -- it was really nice because all of us have enough "stuff", including engraved boxes, flasks, etc. She wrote a little note about how much she had appreciated all the attention we paid her and her husband and honored their love and how she wanted us all to take some time to enjoy our loved one.
It was SO nice to go to dinner with my husband at a nice restaurant knowing that most of it was paid for. $50 would be a very special meal at a very nice place!

March 16, 2006
0

found this helpful
I was on a much cheaper budget when I got married a few years ago. My husband got watches for the groomsmen and for the bridesmaids I made a little basket with my favorite CD at the time and tonz of little bath items, bubblebath, soaps, and just made it really cute.
By Robin (Guest Post)
March 16, 2006
0

found this helpful
My daughter got married last June and what we did was to pick a pattern of dress that the bridesmaids could wear again. We let them keep the dress, shoes, and jewelry that they wore in the wedding as their gift. As for the groomsmen, the groom's family bought them beautiful ties and tie clips.
I must say I'm surprised that you have that big of a budget for gifts. In my opinion, it is not necessary to spend that much for their gifts. That money could be used somewhere else more wisely.
By Bev Sobkowich (Guest Post)
March 16, 2006
0

found this helpful
I think that birthstone earrings for the ladies and tie clips monogrammed for the men would be very nce. Have a wonderful life together!
By Trisha Pehrson (Guest Post)
March 16, 2006
0

found this helpful
When I got married I found some really fun dishes from a specialty home shop. they were large like something you would keep fruit in-but very elegant and nice. i wrote a note to each bridesmaid about "keeping them close" and tied it into the container that would be used to "keep" fruit or something in.
They all seemed to like it. I don't remember what my hubby did for groomsmen.
By brenda-ohio (Guest Post)
March 16, 2006
0

found this helpful
I bought my gals freshwater pearl necklaces, and Igave them to them just before the ceremony. (they wore them in the ceremony too.) My hubby gave the fellows money clips.
By Carol (Guest Post)
March 17, 2006
0

found this helpful
For the groomsmen, I'd suggest a very small Swiss army pocket knife OR a small distiguished looking clock.... perhaps even a travel alarm clock would work. For the bridesmaids, I cant think of anything nicer than a necklace...
By Julie (Guest Post)
March 17, 2006
0

found this helpful
I was a personal attendant in a wedding several years ago. I rec'd a basket full of goodies. Including a homemade bagel and jelly for morning after wedding breakfast. Also a bath robe, candle set and jewelry.
Several area maps...coupons for the area were also stuck in there. My Brother rec'd an ice bucket, engraved, along with 2 wine glasses and a bottle of wine. It was all very nice! Best wishes!

badwater
Silver Post Medal for All Time! 263 Posts
March 17, 2006
0

found this helpful
When my sister got married, she gave the bridesmaids decorative jewelry holders. The jewelry holders were just darling & everyone was appreciative. They didn't cost a fortune, either. I think they gave the groomsmen money clips.

March 17, 2006
0

found this helpful
Oh Annie,
I have the perfect gift for your bridal party. I am a partical kind of person. So I like to give gifts that serve a purpose yet unique. Plus being a Pampered Chef Consultant I am always being asked for gift ideas and solutions.
Here is what I was thinking.
Groomsmen: Our Barbecue Turner which is multi-functional. It has a beveled front edge, serrated side edge, piercing corner and even a bottle opener.
you could even have it engraved if you wanted to... The best part it is only $16.50 each. A cute little saying attached could be "Thanks for Turning-up for us!"
Bridesmaids: Celebrate Plate $24.50 Saying.... "Thanks for Celebrating with us!"
Our Hand Soap & Lotion Set -- $29.50. Saying.... "Let me Pamper You for Pampering Me!"
Another idea our Striped Small Bowl and Square $18. You could even fill it with her favorite candy, soup mix, or soaps. Saying...."Thanks for being such a Special Addition to our Special Day!"
Need anymore suggestions just ask:)
Look me up and I will be happy to Hook you up.
Email me for the link- Staceycooks4u @ hotmail.com (remove spaces)
By jojo (Guest Post)
March 21, 2006
0

found this helpful
We received these cute "mini spas" with a gift certificate tucked inside. Check out http://www.pocketspa.com for details and pictures.
Answer

this Question