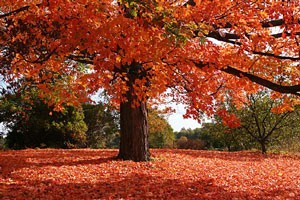 Picture of A Maple Tree in Fall
Question:
My brother is getting married soon and he and his soon to be wife just bought their first house too. What I was wondering is for part of their gift we were thinking of buying them a tree to plant in their yard kind of symbolizing love, life, and a new beginning. Do you think this is a good idea and if so what type of tree do you think would be good? I wanna do a poem with it too, you know that kinda goes with the symbolizing and everything. Let me know what you think!
Thanks,
Mandi from Erie
Answer:
What a great idea! I can't think of a better gift. Planting trees is so wonderful because you are truly planting a legacy! Our family always does this for births and deaths, but I have never considered doing it for someone's wedding. Just like flowers express different meanings, there are several great books floating around that contain the spiritual significance of various trees.
Here are a few Celtic meanings for various trees that I found on the web. Don't stop here, though, there are many sources:
Apple: associated with healing, love, prosperity, innocence and perpetual youth.
Apricot: Love
Beech: Stability
Birch: Protection, purification and new beginnings
Cedar: Prosperity and longevity
Dogwood: Charm and finesse
Elm: Protection
Fig: Fertility
Maple: Divination and love
Mulberry: Knowledge
Oak: Strength and Money
Olive: Peace
Orange: Love and Marriage
Peach: Love
Pine: Fertility and Prosperity
More importantly than giving a tree based on a mythical meaning, make sure you choose one that is suitable to the new couple's landscape and hardiness zone. Maybe there is a specific type of tree than holds special significance to them.
Personally, I love apples trees. They give the gift of flowers in the spring and the gift of food in the fall. Plus, they look great in the landscape all year long. A book filled with family "apple" recipes would also make a nice shower gift. And don't forget to top off this gift with a sturdy apple peeler.
Good luck!
Ellen