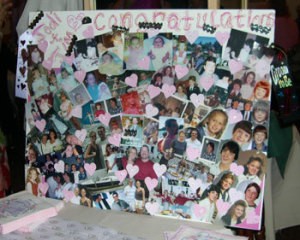 For my daughter's Engagement/Wedding Shower, I had her fiance's parents send me photos from infant to now of their son and I gathered pictures of the same of my daughter. With the help of a photo copying machine, I was able to take a picture of him and one of her, both around the same age and put them together in one photo. I did the same with all the pictures, matching them up by age and grades in school. I then made a very large collage board which was a huge hit at the party!
Afterwards, I was able to frame it. It is now a great conversation piece in their family room. I will be doing the same exact thing for my son and his fiancee, at their Wedding Shower in June!
By Jackie from Norton, MA
Read More Comments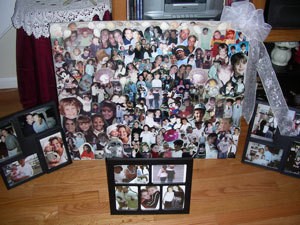 My son is getting married in June and their wedding shower is this coming Sunday. I always make a wedding shower collage for each of my children's weddings. It is a wonderful heart warming gift. I use pictures from each of them from birth until now!
This one included two very special parts of each of their lives. They both have a child from a previous relationship. So these children are very much a special part in their wedding. My goal was to make a special collage of pictures of their own lives and their life as single parents. This is a very special picture board and I took extra special care in designing!
I used collage frames to add to the display of very special pictures I wanted to stand out! On the collage itself, I used seashells as a border, as they are getting married on Cape Cod, Massachusetts. As a mother, I am so proud of the two of them making it in a very difficult world. Their children will be part of their ceremony, joining two families as one! I am a very proud mother of the groom. And a Nana to now two more. God bless their marriage! Hugs and special wishes to the soon to be bride and groom and one big happy family!
By Jackie from Norton, MA