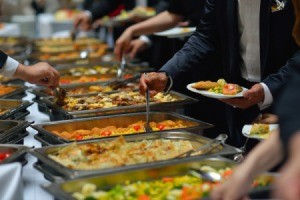 We're getting married in November this year. We are having it at our home for around 50-60 people. We have decided on a buffet, but are not really sure what to offer as we don't want it too look tacky. Any ideas are most welcome.
By Tracey H.
Answers

February 20, 2014
1

found this helpful
Best Answer
A lot will depend on the type of wedding you are having, decorations, etc. Some people do sloppy joes, potato salad, pasta salad, relish tray, etc. plus the cake, coffee, tea, and punch. Some people do buns with a variety of deli sliced meats and cheese, then the salads, cake, etc. There isn't really any reason to serve hot dishes. A lot will depend on the presentation, meaning the serving dishes, and utensils. Sloppy joes could be prepared in a slow cooker and served directly from that. Other wise if you don't have matching serving bowls, platters and utensils see if somebody that is a good friend or family member has them. Also what you serve will depend on the type of friends and family you have.

February 21, 2014
1

found this helpful
Best Answer
Those are good ideas but I caution making a sloppy dish. When I catered my sisters revow, I served a pasta salad, finger sandwiches, veggies, a fruit platter with crackers and parfaits for desert since the cake was to be served later. If anyone spilled anything, it would not stain. This was a formal wedding and everyone was in their nicest clothes.
It's just a thought but everything else sounds great. Since you have some time, you might want to get some library books, research on line and really plan it for maximum "WOW" and minimal "WORK".
Swedish meatballs broasted chicken sauerkraut and sausage hamburgers mashed potatoes and gravy green bean casserole potato salad tuna salad Cole slaw pasta salad tossed salad stuffing veggie tray fruit tray ham rollups lunch meat tray cheese and crackers fruit salad pies and cake turkey and ham
Fruit punch coffee tea pop water lemon ade
Bread and butter pickles rolls
Answer

this Question