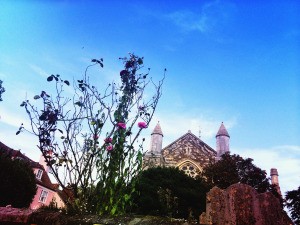 It is no surprise that the actual venue for your wedding is one of the biggest expenses, the average cost being upwards of $12,000 for a short block of time. There are many ways to help chip off a big chunk of that total. Here are some ideas.
Choose to have your wedding off-season. The most popular times to get married begin in late spring and go through to early fall. Choosing to have your wedding sometime between October and April can really help lower the venue costs. Lack of sunshine never hurt an indoor wedding. My parents got married during a snowy December and by the looks of the film, it was actually quite beautiful.
Avoid having a Saturday wedding. Although it may seem the most convenient for both you and your guests, Saturday venue bookings are by far the most expensive. Of course, picking a slot during the week will be cheapest, but even booking a Sunday costs much less than a Saturday. You can even try booking a Sunday where the Monday following is a holiday. That's a huge score!
Don't choose a big city venue. Flashy cities often come with flashy price tags, and this certainly happens with venues, too. Hollywood venues cost way more than a small city right outside, even if it's got a similar backdrop. Remember that big city weddings often mean big city hotels and big city food, too. Pricey!
Consider the pros and cons of a full-service venue. Many venues offer packages that throw in food, drinks, music, tables, and chairs. However, several venues ask couples to pay set prices for alcohol, which can be much more expensive than bringing your own. Choose a venue that allows you to bring in your drinks and you will money, even though you will have to do some shopping. Do a little math and see if all their throw-ins actually keep your costs lower than renting or purchasing those items yourself. Negotiating is always a big yes when speaking to a venue rep: don't be afraid to ask for lower prices or deals on what they offer.
Have a courthouse wedding. What's lovely about a courthouse wedding is that many of them are actually quite old and beautiful. They make for great ambiance, stunning photos, and you will get to have everyone at the actual paperwork happened. Do some aesthetically-pleasing courthouse hunting and youll be amazed at what you find. With this method, your big venue money can be used for a nice reception elsewhere, which is what most people look forward to, to celebrate you!
Choose a non-profit building. Community buildings like churches, historical homes, and museums often work with couples to help cut venue costs. These places also usually have things like tables and chairs if you plan to have the reception on the premises right after (another big cost cutter). My brother-in-law and his wife got married at their church for next to nothing. They allowed us to decorate the inside and outside, then every guest carried a piece of the decor out to the reception just next door. It made a beautiful statement!