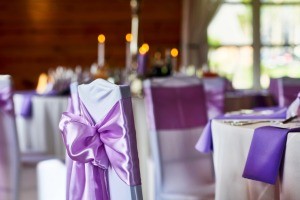 I am planning a low cost, hopefully low stress wedding and reception. We are getting married outside in a gazebo, very casual. The guys are wearing silk camp shirts, the groom is in cream and the best man in brown. I am wearing a simple ivory floor length dress. The Maid Of Honor in brown as well with deep red roses, peonies and berries and lots of greenery bouquets.
The problem is the reception is indoors and the chairs are ugly brown metal and I really don't want to rent chair covers. Also, I wanted to use fruit in shades of red as centerpieces so they serve as a snack and decor. Any suggestions?
Candy from Florida
Answers
By (Guest Post)
May 21, 2008
0

found this helpful
Red fruit is easy-apples, strawberries, rasberries, pomegranates, red bartlet pears, maybe a few blood oranges cut open. Chair covers might be easy to make but cost more than renting them
By (Guest Post)
May 21, 2008
0

found this helpful
It depends on the color brown (that does sound like it fits your color scheme) and the style of chairs, but you can tie around or attach wide deep red bows to backs of chairs with long ends dropping down back, tucking some ivy or your greens into them. Also for fruit centerpiece use Revere style bowls (you can buy plastic versions and spray paint your coordinating color) full of greens/filler and your fruit piled on top-your don't have to fill bowl to bottom, just enough to look generous.
I used to work for a caterer and saw the fruit bowls done at very "posh" weddings and they were lovely
By Karen (Guest Post)
May 22, 2008
0

found this helpful
Netting is pretty inexpensive. You could cover the backs with that and tie with a ribbon and attach greenery if you wanted.
By Elle (Guest Post)
May 28, 2008
0

found this helpful
You could go to a craft store type place or home gardening place (Garden Ridge) and get grapevine wreaths, or Grapevine swags. Add a little bow/ribbon and some berries (Fresh or Feaux) and that would be a pretty way to dress up the back of the brown chairs. Terra Cotta pots painted to match wedding colors filled with fruit, greenery and just a few gerber daisies or roses make nice centerpieces that double as favors. grapes make great centerpieces too.
By Bridetobemyself! (Guest Post)
May 29, 2008
0

found this helpful
Simple, simple -- get pillowcases that match your color scheme and have them all one color or interchange colors. Be sure to get ribbon and or rope; depending on your theme. Also, as far as the food arraingements; use apple slices, cherries, strawberries, pomigranite slices, and see if you are able to rent a chocolate fountain from a local wholesale club.
Hope this helps... Pleasant Wedding Greetings to you and your beloved.
By Artlady (Guest Post)
June 6, 2008
0

found this helpful
I agree with Karen. Use tulle. It's very inexpensive and turns out lovely when wrapped and tied around a chair. You can tie it up with ribbon that matches your colors and stick in a flower or two. I've made chair covers from pillow cases and they are not cheap. You could probably rent chairs cheaper than making covers from pillow cases. We pulled off our daughter's wedding very inexpensively by doing just about everything ourselves. Everyone thought we had spent way more than we did. Good luck. It can be done and still look beautiful.
By Fonda (Guest Post)
June 9, 2008
0

found this helpful
We rented white chairs for $2.00. This was cheaper than the material and supplies that we would have needed. Easy- simple and looked super.

June 25, 2008
0

found this helpful
If you have the time and the friends to help, my suggestion will actually make you money. Buy white sheets at thrift stores, any size. Most sell for a dollar, but they generally will sell them for 50 cents if you buy them all. I went to thrift stores for 5 weeks till I got enough.
We had a wedding party BBQ four monthes before the event. The groomsmen and usher had the task of cutting all the sheets into chair cover patterns and the bridesmaids sewed then together with sewing machines. They laughed, ate, watched a football game while cutting, and completed 80 covers that afternoon. The grandmas, aunts, and friends finished the other 220 chair covers in the following four weeks. After the wedding I took all 300 covers to a local rental place. I struck a deal with the owner that he could use them. He rents them for $3 each and I got $1 for each time he rents them. So far those chair covers have put $2,132 in a bank account. The money has been set up in a college fund for their children, if they ever have any. They do not know about the account. It will be a surprise.

December 30, 2008
0

found this helpful
Use red fruits such as strawberries and raspberries (summertime), pomegranates (some of them cut open), cherries. Don't forget fruits that are only partially red, too, though: nectarines or peaches, red or partly-red pears and apples, and other fruits of variegated colors. Use both fresh and dried fruits. All-red can be tiring on the eyes, but adding little pops of other colors (peaches are red and orange, pears and apples are red and yellow or red and green) suddenly elevates everything to look rich and luxurious.
Having a bit of gold ribbon curling among the fruits will also go a long way towards creating that feeling of opulence.
Answer

this Question