Wedding Centerpiece Ideas
Solutions
Share on ThriftyFunThis page contains the following solutions. Have something to add? Please share your solution!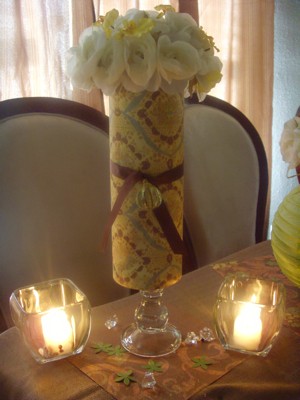 This centerpiece is just a simple glass cylinder wrapped in scrap book paper glued with permanent adhesive. It is sitting (glued) on a candle holder. It holds a bouquet of artificial flowers. There is a ribbon tied around it, and it has jewels added to it! Super easy and inexpensive.
By Diana from Eagle Pass, TX
Read More Comments
This simple yet lovely centerpiece was made for my daughter's wedding by the both of us. I think it is so natural looking and sweet. Just like my daughter! It really wasn't costly either compared to some of the things I saw! Since her's is a daytime wedding we didn't add them, but you could also add a tiny string of twinkly lights in the jar for an evening event.
Total Time: 3 hours but we were experimenting and enjoying the project together!
Yield: 12 centerpieces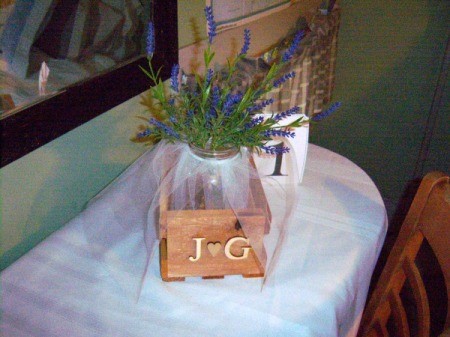 Supplies:
12 wooden crates (Michaels) ($4.19 ea.)
12 mason jars (you could use recycled mayonnaise or other jars too!)
3 yd tulle (Walmart sells it .99 a yard)
12 artificial (or dried) sprigs of lavender (we bought it at a nice specialty store because they looked so real and had the sweet, natural look) ($6.00 ea.)
spool of thin ribbon ($3.00)
Optional: small wooden initials of bride and groom. We also added a heart
glue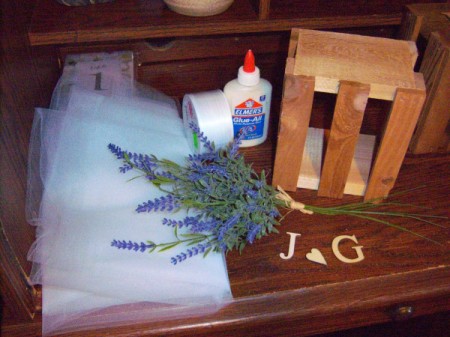 Steps:
If you bought initials or other decorations for the side of your crate glue them on first and wait for them to dry completely!
Cut these two items to assembly-line the multiple centerpieces if you'd like. 12 - 24" squares of tulle and 12 pieces of 22"-24" lengths of ribbons or as long as you'd like the ribbon to hang.
Next put your jar into the middle of the square of tulle and gather the tulle up around the jar. I tucked it into the jars to make it even then eventually used a rubber band around the neck of the jars (not shown) to hold the tulle evenly in place or it's a little tricky. Next, tie the ribbon around the mouth of the jar, hiding the rubber band! Make a bow!
Place the tulle covered jar into your crate! Pull the tulle back out of the jar and add your choice of real or artificial flowers.
Optional: If desired you may add a cotton ball with a few drops of lavender essential oil in the bottom of the jar. For an evening event you may also add a tiny string of the twinkly lights craft stores sell for a dramatic evening look.
A sweet decoration that guests can take and keep for a long time in their own homes!
Read More Comments
Your wedding centerpieces don't have to look cheap, even if you can't spend a fortune on them.
Read More...
Questions
Ask a QuestionHere are the questions asked by community members. Read on to see the answers provided by the ThriftyFun community or ask a new question.
I need an idea for an inexpensive, but nice looking wedding centerpiece for a spring wedding.

Emily from Dinuba, CA
Answers
November 20, 2016
0

found this helpful
Best Answer
When my daughter married, we wanted a Sentimental peace on each of the tables so I purchased vintage handkerchiefs which were white and the guest signed the handkerchiefs with their greeting and then I had a table runner made for my daughter out of all of the Vintage handkerchiefs and it is a memory that she'll always have
Answer

this Question

...
We're having an outdoor ceremony and reception. The guest tables each have an umbrella in the middle. I'm seeking ideas for centerpieces that would work around an umbrella. We're doing the "Linked at the Heart" theme. Thanks in advance!
Kirstin from St. Louis, MO
Answers
By jean (Guest Post)
June 22, 2008
0

found this helpful
I have seen heart shaped wreath forms, both grapevine and foam types in craft stores. You could take the the form and place it around the umbrella hole and,put the umbrella in carefully. It could be decorated with real or artificial flowers in your colors. There is a website, www.save-on-crafts.com/florhearpeww.html that shows how to make these wreaths. I f you want to get some ideas, google "heart shaped wreath forms".
June 24, 2008
0

found this helpful
Start at the top or bottom (preferably while the pole is not yet set in the center of the table, if possible) with pretty ribbon on opposite sides of the pole. Make a spiral to the top (or bottom) with each one. Each place the ribbons cross, hot glue a hearts made of paper, lace, plastic, buttons, etc.
You can find heart confetti at Hallmark or just about any Party Store or Dollar Tree and scatter it on the tables. If your wedding is in a windy place, you may want to cover each table with a clear plastic protector and secure it underneath.
Answer

this Question

...
This pretty lighted table decoration is perfect for many occasions such as Mother's Day, and anniversary, or even a quiet dinner for two. This is a page about lighted stenciled rose table decoration.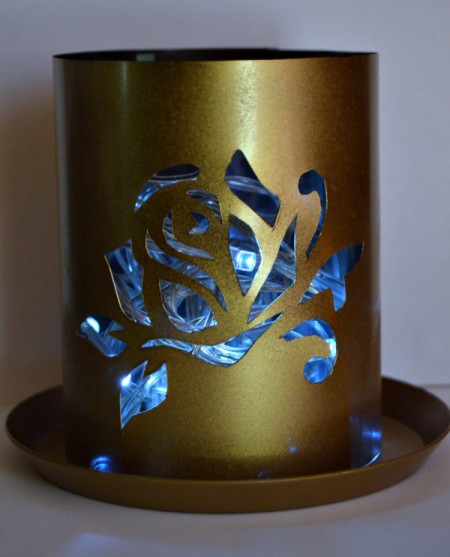 Recycled food jars, decorative rocks, TP tubes, soil, and succulent cuttings are the main items needed to make living centerpieces for a wedding.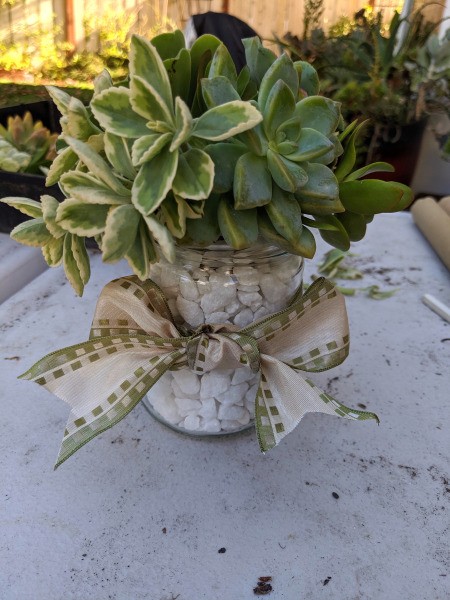 This is a page about June wedding centerpiece ideas. June is a traditional month for weddings. There are many lovely ways to create centerpieces for you early summer wedding celebration.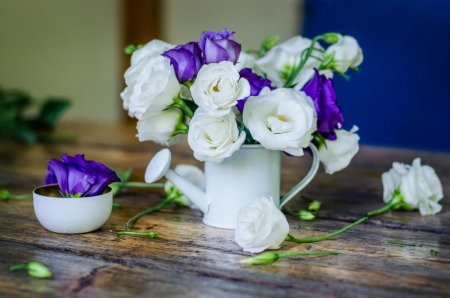 This is a page about silk flower wedding centerpieces. Beautiful wedding centerpieces can be crafted using silk rather than fresh flowers.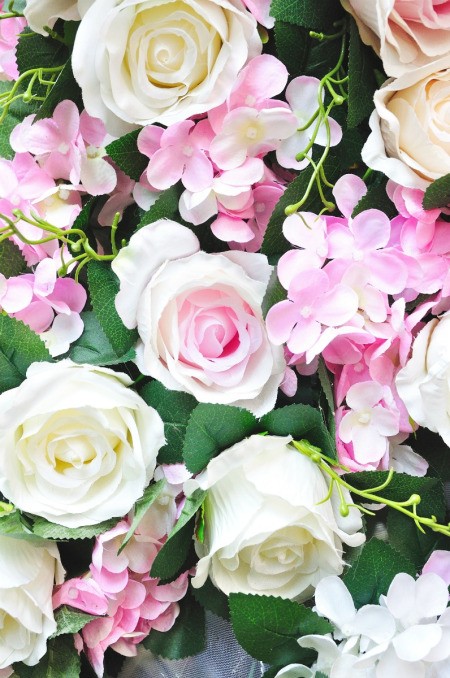 Archives
ThriftyFun is one of the longest running frugal living communities on the Internet. These are archives of older discussions.
I'm getting married in April 07 and the wedding is inside. I need centerpiece recommendations for a sit down dinner (25 tables). Very limited budget. HELP!

Jlynn from Atlanta, GA

Answers:
Wedding Centerpiece Ideas
I am looking for the same thing my wedding colors are the same too. It is just so hard to find exactly what you want. Hope you find it.
(11/16/2006)

By Tawny
Wedding Centerpiece Ideas
I planned my sister's wedding. and for the center pieces I got glass balls, and put red marbles on the bottom and water with floating candle in it. around it I sprinkled roses. It looked very red and very romantic. 30 tables under $100! (12/07/2006)

By Fatma
Wedding Centerpiece Ideas
Yes I am getting married on June 2007 and I am in desperate advice of a centerpiece. My mother and I bought a bunch of the Votive candles that are already in the glass holder that stand no more that 4 inches high at Micheal's. We have yet to come up with a centerpiece idea. We just knew we wanted candles because they are so romantic. My wedding color is Sage and White! Please any comments would be greatly appreciated! (12/10/2006)

By Christina
Wedding Centerpiece Ideas
Let me clue you in on my secret. Dollar store flowers!! If you can find a good dollars store with a collection of silk flowers, just go pick out what you need. Then you buy styrofoam craft balls and some cheap glass vases (make sure the vase has a wide opening at the top and the base is not too narrow to prevent tipping). I included a pic of the type of vase that works best.

Fill the vases with colored water (whatever fits your theme).

Take the styrofoam balls and poke your flowers into them (in a strategic arrangement). The ball is going to sit on top of the vase, so be sure to mark off where is sits down into the vase.

Now, you will want to wait until the night before the wedding to fill the vases with water. But once you have filled them, put some glue around the rim of the vase and fasten your flower ball to it. This will hold the flowers in place, and prevent spilling of the water if they get knocked over.
All total you will spend $5 per arrangement if you shop right. (12/15/2006)

By Amanda From Michigan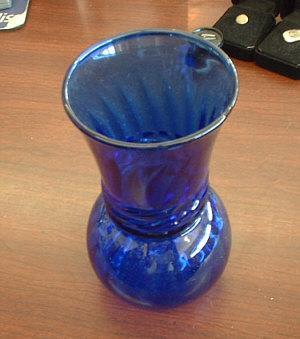 Wedding Centerpiece Ideas
I got married last year. My centerpiece was a beta fish vase with a peace flower and a red beta fish. We had red marbles and neutral stone in the bottom of the vase. Then I got 4 small votives and placed them around vase. The vase was sitting on a mirrored plate. When the candles were lit, it reflected the water and was gorgeous. (01/09/2007)

By AJ
Black and White Centerpieces
Please please please! Anyone have any ideas quickly? I am having a surprise 50th birthday party for my mom in a week and need centerpiece ideas. I've been searching and can not find anything I like. I only have 7 tables but time is starting to run out on me! It will be at a place and I have votive candles but I need a main piece. I want something black, white, and cream. I need to stay fairly cheap but I don't want it to look cheap or tacky! I also wanted to stay away from flowers. Any ideas anyone? (09/07/2007)

By Amber
Wedding Centerpiece Ideas
Hi! I'm getting married next June, and I'm looking for glass bowls to put my floating candles in. I've been to Michael's and Joann's and they're at least 5 or 6 dollars each. Does anyone know where I could get them cheaper? Thanks!(11/06/2007)

By Jenny Lee
Wedding Centerpiece Ideas
Anything with candles is the cheapest way to go. Or if you want flowers, silk ones at Hobby Lobby or your local craft store. (11/07/2007)

By Melissa
Wedding Centerpiece Ideas
IKEA is the best place to find reasonable vases. I went last week and got 10 glass vases for $15, and they are large. They also have 100 tealight candles for $2.99, and other things. It's a great place to get quality decorative items, much cheaper than Michael's, Hobby Lobby, or Garden Ridge. (12/15/2007)

By A. Hunter
Wedding Centerpiece Ideas
We are having an orange, apple green and brown. We are planting wheat grass in terra cotta planters with ribbon around them! 1.50 for planter. 3.00 for potting soil, 2.00 for wheat grass seed. 5.00 for ribbon.

Candle decorations are various glass jars and pillars, with fabric and ribbon wrapped around them(in orange brown and green) . And flowers. With a thank you poem for our guest on a tag with each guest family name on it. Using the same fabric for candles to make runners for table. Gluing ribbon on cut edges
(06/14/2008)

By Ginny
Wedding Centerpiece Ideas
I knew two teachers that got married and instead of a limo, they used school bus, it was actually really cute! AND their whole wedding party fit in it! They covered the signs on the side with personal signs with their names! (11/06/2008)

By Lauren
I am getting married in may and looking for an inexpensive, ORIGINAL, centerpiece that guests can take as gifts. my colors are white and black with red accents.

Melissa Perez

Answers:
Wedding Centerpiece Ideas
We used votive candles and small vases with silk flowers, we used wisteria (discontinued yankee candle picked up 200 for under $20) and the other scent was wedding day, it matched my colors perfectly and when we entered the ballroom where our reception was we entered to a lovely smell and a room lit by 400 candles -- we put the candles in glass holders from a dollar store, that were 4/1.00 so for less than the cost of a florist centerpiece we had all of our centerpieces and a pretty gift to take home, we also did sutter home white zinfandel tiny bottles with a ribbon with our names and the date on it, people fought over those, we had extras. For the kids we made our own coloring books and gave them each a box of crayons, kept them happy and out of trouble and they all loved it, the white zin we bought in bulk from a wholesaler. (07/13/2005)

By
Wedding Centerpiece Ideas
Clay pots are really cheap right now (end of summer sale), so buy a bunch of them and paint some black and some white Then use the opposite color to write on either the guests name, a love/marriage quote, or something similar. Fill them with either fresh or artificial flowers. If you use white flowers, tie the pots with red ribbon or use red flowers and white ribbon. Just put them in a circle in the middle of the table, alternating the black and white colors. (07/13/2005)

By Trix
Wedding Centerpiece Ideas
This is a relatively cheap, easy and pretty centerpiece to make. Supplies needed are:
2 "ivy" clear glass bowls
Glue that adheres to glass
18" length of 4" wide, lace gathered ribbon that you can run satin ribbon through the top.
approx. 1 yard of 1/4" wide Satin ribbon (coordinating color of your wedding party would be nice),
votive candle (coordinating color)
clear glass votive cup
plastic canvas or cardboard
First start with 2 "ivy bowls", (they are the small round shaped clear glass bowls, with the ripple edge and are about 5 inches tall that most craft stores sell), here in NJ you can buy them at around $1.00 or less a piece. Buy a good glue that will adhere glass together. Then, glue the bottoms of two of the bowls together (one will be upside down, with the other one right-side up) and allow to dry according to the glues directions. After the glue is well dried, complete fill one bowl with anything that you would like, such as potpourri, silk flowers, decorative stones, shells, etc. Cut a round disc (out of either plastic canvas or sturdy cardboard) somewhat larger than the opening, and place it inside the glass bowl, covering the filling that you just added. This will prevent the "filling" from falling out of the bowl when it is turned over. You may have to either add a little more of the filling, or take out some in order to get the round disc in the bowl. Turn the bowl over, that you just filled, making the filled bowl the base of the arrangement.

Measure around the glued seam of the bowls, and cut a piece of the 1/4" satin ribbon at least 1" longer than the measurement. Place the ribbon around the seam, and glue in place, folding over the end of the ribbon, that that raw edge does not show.

With the remaining 1/4" satin ribbon, weave it through the top of the gathered lace, draw the ribbon through the lace, leaving equal amounts of ribbon on both ends. Lace is now, suspended from the ribbon, take the ribbon and tie it around the neck of the upper ivy bowl, into a simple bow, make sure lace is equally gathered around the neck of the bowl. Lace will now appear as a "lamp shade" effect.

Place votive candle inside the votive candle holder, and then place inside upper ivy bowl. Votive candle holder may be glued to the inside of upper ivy bowl, but I just like to set it inside, because it makes it much easier to remove burnt candle wax and also to wash.

The last time I made these, I found iridescent lace, and it looked beautiful when the candle was burning.

If desired, you may decorate the bow and also the ribbon around the glued seams with miniature flowers, beads, etc.

I also suggest that you make one, and see if you want to make any adjustments. Some people like to use a longer piece of lace, for a fuller lampshade effect. I've given these as gifts, and everyone really likes them!

Good luck on what ever centerpiece you decide to use, I know you'll get lots of ideas from your "Thriftyfun Friends"! Congratulations & best wishes on your upcoming marriage!

Debbie from NJ (07/14/2005)

By Debbie
Wedding Centerpiece Ideas
Thank you all who responded! When I read the email about the "lamp" centerpieces, I knew instantly that is what I want for my wedding. Debbie, thank you so much for taking the time to write out directions, I have never heard of a more creative idea! I am so excited to make these with my mom. I had started getting discouraged because I had been wracking my brain for a few weeks trying to think of something unique and elegant. Yesterday, I finally said "okay God, i need an idea today please!" Well God does answer prayers! Thank you so much! (07/14/2005)

By melissa perez
Wedding Centerpiece Ideas
My daughter is getting married in August 2007. The wedding will be at a restaurant with a pond. She is veterinary technician student at the moment and fell in love with this place because they have a pond and a floating gazebo and ducks and peacocks and geese and swans and pygmy goats!

The reception will be held in the "garden room" which is white wicker furniture and kind of english garden design. We were recently at a local dollar store and she found plastic swans that serve as candy favor holders--they were 6 in a package for $1, they had white and clear, she chose white and we will wrap after dinner mints in light pink tulle and place them in the swans. She also found candle holders that look sort of like champagne glasses and have clear glass "shades", we bought 20 of them, and will place white candles in some and pink candles in some. These will be part of the table decorations.

She is thinking of putting wishing wells in the center of each table on mirrored glass tiles with a ring of pink and white rose buds around each one and the swans place on the mirror tile to give the effect of water, for place cards on the tables we would use note cards (1/2 fold) and print the name of the person on the front and instructions across the bottom of the same side to use the blank inside to write "well wishes" to the bride and groom" Personalized pens would be at each place setting as well (guests keep these for favors).

After the wedding I will take the "well wishes and frame them into a collage for my daughter and her new husband." (09/07/2006)
Published by ThriftyFun.
© 1997-2020 by Cumuli, Inc. All Rights Reserved.
https://www.myfrugalwedding.com/Wedding-Centerpiece-Ideas-1.html