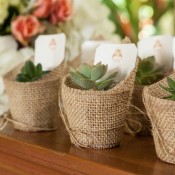 One way of giving away plants as favors is to use small potted plants on the tables as all or part of the table decorations. Tiny potted plants can also be used as place card holders. The nursery pots can be covered with tissue paper, burlap, or other fabric and tied with a colorful ribbon or twine or even repotted into inexpensive decorative or plain clay pots.
Plants that work great for this are: herbs (rosemary, thyme, sage, lavender), mini palms, mini schefflera, young Shasta daisies, sunflowers seedlings, young ornamental grasses or bamboo, as well as starter plants such as tomatoes.
Source: This is taken from my article, "Using Plants as Wedding Favors'. You can read the full article on my blog, Gardening with Cheryl
By Plant Girl from USA

I need 100+ live flowering plants for my daughter's wedding, August 22, 2015. I have coffee mugs to plant them in and want to nest 10 on each table to use as centerpieces and as a take-away gift for our guests. We live in St. Louis and the nursery selections are pretty slim. Any ideas for plants would be appreciated.
Thanks.

Answers

July 9, 2015
0

found this helpful
One thought, several years ago I made small topiaries for my sons wedding. I started far enough in advance to get them trained around heart shaped wire, but what I found to use was a flat of ivy startings at the nursery, that they sold for starting ground-cover.
Take a look at flats of things like this and maybe you can find something to use. The green looked great and I tied some colored super-narrow ribbon on for color.

July 9, 2015
0

found this helpful
Unfortunately, most flowers bloom in early to late spring. Unless you live in a high altitude like I do, then it's later. The prettiest flowers that grow here in profusion are golden banner, and they just went to seed.
I feel black locust blossoms are excellent for a wedding, however it would be too late in the year. Depending on your zone, sunflowers may be still blooming that late. Do you have wild sunflowers in Missouri?
Here is a link of some flowers you can look for: www.gardening-for-wildlife.com/fall-flowers.html
Here's one specifically for Missouri: mdc.mo.gov/.../wildflower-favorites
Caution: Avoid any daisy-like flowers unless you can positively identify them as non-toxic. They could be in the Chrysanthemum family. My cat was exposed to a Chrysanthemum, did not even eat any and was still sick for a week.
Answer

this Question