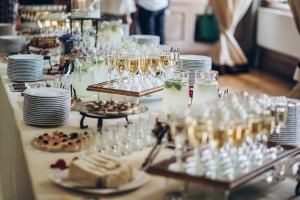 I need inexpensive ideas for a 40th anniversary in December. I am working on a very tight budget for about 100 guest.

W. from NJ

Answers
By Amanda (Guest Post)
January 18, 2009
0

found this helpful
Best Answer
Planning now is genius. Take advantage of all the clearance Christmas stuff. Pier 1 is great high end merchandise on deep clearance right now. I bought $3 stemless wine glasses for .68 at Pier 1, decoupaged white tissue over the outside with a 50/50 Elmer's glue & water mix and put a tea light inside.
Repurpose items that you already have laying around. save glass jars (pickles, jelly, sauce, etc), soaking the label off and scrubbing them clean. put some sand or rice in the bottom of each jar, and nestle a votive candle inside. group a variety of sizes/shapes together in the center of a table for a unique look.
Have your guests write up memories they have had with the couple and print them out on small 4x6 cards. Display them on the tables throughout the jarred candles for interesting conversation starters.
For food, I'm not sure of your budget, so I don't know if you have the $ to do anything of a meal, or if you want to stick with some hor'douvres/desserts. A savings club store (Sam's Club, Costco, etc) can have great deals on individual serve items. I'm catering a party for 300, and the entire meal (roast, chicken, ziti, 2 salads, roll/butter, desserts) will cost less than $4.75 per person. If you don't want to cook it all yourself (or don't have the space) try calling the local high school or vocational school to see if their home economics/culinary class would consider it as a project. You would provide the food, they'd cook it all.
Start figuring out where you're going to hold the party. You may be able to cut a deal by reserving it a year in advance.
Borrow some cds and copy music onto cds in random order; play at the reception on a large stereo (if you don't have one, ask around to see if you can borrow one).
By Heather L. (Guest Post)
January 19, 2009
0

found this helpful
Best Answer
For my In-Law's 40th anniversary party decorations, I searched the internet for things like the top movies and songs from that year and also any events or celebrity birthdays that happened on that day (4/4 in this case). I printed them out on pretty paper and mounted them on card stock that I had folded into a tent card.
I placed them along the centers of the tables and the guests had such fun reminiscing over them. I also kept some of them to put in their scrapbook later.
You could also ask a crafty friend or relative to make the other decorations. I often get asked to make decorations for parties and I love contributing!

January 17, 2009
0

found this helpful
Oh wonderful! I am planning mine too which is in a year!! Good idea to plan ahead :) You don't mention whether or not you are planning a dinner. I once went to a wedding and the couple had a potluck for their reception. That would be a really nice idea, for everyone to bring a dish and have a buffet set up on tables.
There were tea lights on the table which were bought at the dollar store. If it's a night of dancing, perhaps hire a student DJ as their prices would be better. :)
By J. (Guest Post)
January 19, 2009
0

found this helpful
For a gift I purchased an inexpensive photo album and as the guests arrived, I took their picture. I had them sign their names and any comments. I then attached the photo beside their signatures. My parents loved it. My Mom even added the cards that they received to the album. I included a family photo for the cover. You may want to "assign" someone to this job, as I found it difficult to always be there as guest arrived with all of my other duties.
Also, place photos of their wedding and any other early photos of the couple throughout the venue or on one table. Guests really want to see these pictures and it is an inexpensive way to help decorate.
By winkie (Guest Post)
January 19, 2009
0

found this helpful
All the ideas are ready great thanks. Amanda I love your idea about costco. Can you please tell me how much of what you had to purchase for 300 people.
I would like to get some idea because your menu sounds just like something I would like to have.

April 11, 2009
0

found this helpful
I love all the ideas thanks. I was able to find my favors from walmat after Valentines day. I got red heart shape tealight holders at real bargain prices on clearance and target had the candles 5.00 for 100, I got the tulle circles from ebay and will print out my own favor tags so each favor will cost less than .75 each. The idea of the food from Sam's club is great that was posted by Amanda. If Amanda or anyone know's how much to order it would be a great help. Nostalgia publishing has a book I got already "when we were married" it's really nice and the added extras they included is terrific. Open for any more ideas since I have a little more time.
Answer

this Question