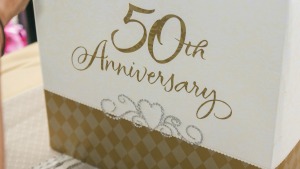 I am looking for wording for a 50th Anniversary announcement for the paper. It will not be used in an invitation.

By Karen
Answers:
Writing a 50th Wedding Anniversary Announcement
How about: The children of John A. and Jane (maiden name) Doe happily announce their parents' 50th wedding anniversary. John and Jane were married on xx/xx/xxxx in (name of town or church and town) by (minister name). They have been blessed with x children, (list names and spouses) and x grandchildren (list names if you want). John worked as (or is retired from) xxx; Jane worked as (or is retired from) xxx. John and Jane enjoy (list hobbies and interest).

You can elaborate as much as you want by listing the names of the wedding party, their parents names, etc. or leave out information such as their work histories, hobbies, etc.

Hope this helps. Congratulations to your parents. (05/29/2009)

By Betty Keith
Writing a 50th Wedding Anniversary Announcement
It's not exactly the same thing, but you can find a form for writing a press release for the paper. All you have to do is fill in the data in the form (who/when/where/how, etc.) and the form will product a very professional announcement ready for printing. (05/28/2009)
By pam munro