Last week, I was lucky enough to marry the most loving, caring, mature, unselfish, and honest man in the entire world.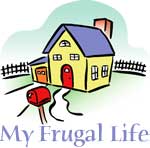 No, I'm serious - ok, his odd mix of seriousness and silliness amuses me greatly, and since we both have our selfish moments (who doesn't?), we've reached an equilibrium. After being together for three years, it would be bad if we hadn't. But his honesty, love, and genuine affection for my mother makes him a superb catch. Yes, he even likes my mother. Plus he puts up with my many oddities, one of which is my insatiable lust for the bridal channel. And my top favorite show: Platinum Weddings. I'm not sure, but I think it was the sparklys on all the dresses that got me addicted. I love fashion, and since I like to design clothes, daydreaming of all the jewels I could put on dresses makes me happy. However, thinking about the price of all those gems, does not.
The other day, I was again watching a rerun of my favorite show, and I couldn't help but compare my wedding to it. The first thing to be showed off and price checked was, of course, the engagement ring. This ring, $50,000 of diamonds and platinum band, if stolen, would be a drop in the bucket if not for the sentimental value attached to it. Now for me, diamonds are not my best friends. They seem so bland and boring, and so expensive. Even CZ and other "fake" stones don't appeal to me. My ring, with a man-made amethyst stone set with four tiny CZ stones, looks absolutely stunning and came in at a whopping $56.
However, in the language of stones, amethyst represents protection and integrity, as well as deep emotional love, which describes us perfectly. And both of our wedding bands, silver with Celtic knot engravings, totaled us about $40. But watching Dale as he traces the engravings on his ring with a contented smile is worth more to me then all the diamonds in the world.
Item number two, the dress. Totaling up the $60K for the dress, $20K for jewelry, and another $5K for the veil, almost made my heart stop. And that was just one of her dresses. She had three, all for herself! Not to mention the bridesmaids dresses, groomsmen's tuxes, flower girl or ring bearer, or even her groom's tux. Now, for me and Dale, to say we have particular tastes would be an understatement. I like a lot of different things, my favorites being anything fairy, gothic, and medieval. Dale loves paintball and anything Predator, and likes dragons and gothic decorations. (Anything that has weapons or skulls also appeals to us.) However, the one thing he hates most of all, is having to wear a suit.
And since I wanted him to be happy on our wedding day, and I wanted a unique wedding, we settled on a medieval wedding. Remember how I said I like to design clothing? I made all of the bridal party's outfits. I made 10 outfits in a month and a half because everyone kept losing weight. You see my gorgeous dress (total fabric cost: $100 for dress and foundation garment) and Dale's silver dragon-scale armor ($80 for the awesome silver metallic fabric) in the picture. Also, my flower girl Emmy, and ring bearer Eddie, both of which did an amazing job.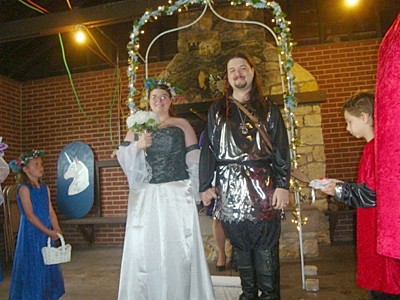 Now the show went on about the hotel arrangements and setup of the ceremony site and reception hall, as well as the cost of all the arrangements and food, and blah, blah, blah. How any couple can enjoy their reception when they have to greet around 300 people and make them feel like they are important to the couple instead of being scenery, I haven't got a clue. We had our hands full thanking the thirty or so guests who were able to make it because of the weather. And because the forecast lied to me and it decided to rain instead of being sunny, I'm glad we decided to set up in the shelter house instead of outside.
Plus the food was amazing! Hot pot roast and gravy, turkey and gravy, hamburger casserole, and homemade Artisan bread, makes my mouth water just to remember. I wonder if there are anymore leftovers? I am also very grateful that my family has so many talented people in it, because my uncle made the most wonderful wedding cake that ever existed! We had a small cake that we cut into for the pictures, and two sheet cakes that were cut to look like books with edible pictures printed on rice paper.
In closing, because I know this post is getting pretty long, I have to ask: Does spending lots of money to show off that you have money make the wedding day more special? Does it make the love you feel for one another more real? I don't think so. I'm lucky in many ways, not just because I found a great catch, but because I have a large family who pulled together to help us make our wedding day the best day of our life.
Everyone who could help us did, not with money, but with love and helping hands to set up and clean up, to ease my worries and make our day special. And to remind me of all the reasons I choose to do the leg work and save money so that Dale and I could start our married life with almost no debt and a brighter future. Because we love each other, and spending a lot of money doesn't make a wedding better.
By Krystal from Newton, IA