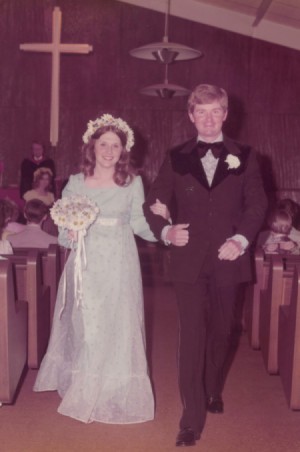 I've been married going on 44 years, and personally, I don't see why you have to break the bank or go into debt to have a huge, fabulous wedding. Now, if somebody has the money, then what they do is their business.
My parents didn't pay for either of my weddings, one at nearly 20 and the next at 24. My father did pay for the flowers at my first "starter" marriage, a whopping $75, but I didn't know until the day of the wedding that he was doing that. I hadn't even asked him to.
I paid for every cent of my second, and I figured up, a few months ahead of time, how much money I was going to need for the wedding and for my regular living expenses. The wedding cost $650 total. So, for me, it was the most expensive wedding on record. I had $2 or 3 dollars in my checking account the day of the wedding.
There's no need to have a big, sit-down dinner if you can't afford it. Cake and punch, mints and nuts in the afternoon is fine. Same with liquor. If you want it, fine. If not, let the guests go out to eat afterwards and order their own.
While I made my second wedding dress, I know it's cheaper to buy off the rack than to sew now, so hit up sales at wedding stores, check out thrift shops, ebay, or even borrow a dress.
I did my invitations on nice blue stationery, one at a time, on a Selectric typewriter, using an italic font and blue ink. This was before correcting typewriters or computers, so if I made a mistake, it went in the trash. I'm not sure I saved any money doing that, because every time I went to the mailbox my future mother-in-law had sent another list of names to invite. Another trip to buy more stationery.
Ordering engraved ones might have been just as cheap. I put a quote on the front "Come live with me and be my love," and then all the information inside. Since it was my second wedding, I didn't include my parents' names.
Nowadays, you could print them on your computer. Craft stores have kits for this. I'd compare the cost of doing them yourself and having them professionally done.
The most expensive things were the cake, punch, and flowers, which I got at one stop; the florist. Your wedding cake doesn't have to cost $1000. I've seen pretty ones done at the grocery store. I had a chocolate cake with yellow icing, topped with yellow daisies. This was before grooms' cakes got popular.
A friend of mine bypassed a lot of stress. She and her fiance were both active in their church, so they got married on Sunday morning during the service. She did wear a wedding dress and her mother wore a mother-of-the-bride dress. Anybody who wanted to come was there, and so there were no upset bridesmaids to cause drama and she avoided being a "Bridezilla."
I wasn't there, but she told that me at some point, maybe toward the end, they stood up together and got married. When my son got married, I encouraged them to do that, but instead, they avoided all the problems by going to a J.P.
It's sad, unfortunately, to see people go into debt for a blow-out wedding, especially if it's over in just a few years.
My husband looks pretty good, considering he got really, really sick with a bug that knocked him flat the day before. He had to spend the night in the hospital, so he missed the rehearsal dinner. After all the time, money, and effort I'd spent the last few months, jokes about "cold feet" didn't go over very well with me.