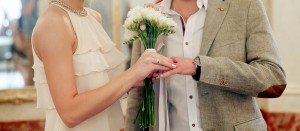 A wedding is a happy time for friends and family but can be especially dangerous during a pandemic. Much of the country is shut down due to the coronavirus, with gatherings of over 50 people discouraged and many venues closed for the duration. This is quite a problem for couples planning a spring wedding. Here is some advice to consider when deciding what to do.
Some couples will decide to hold the wedding and/or reception on the chosen date. This can result in guests deciding whether or not to risk infection to attend. Older people are especially at risk in a situation like this, as many people don't even realize that they are contagious. If you choose to hold your wedding this spring, be sure to have the chairs spread out to encourage social distancing. Talk to your guests about avoiding hugs and close conversations and do not have a traditional receiving line. It would be best to forgo the reception entirely until the crisis has passed.
Another option would be for the couple to be married at the courthouse or a private event, with only a few people in attendance. This could be streamed as a virtual wedding, to allow even quarantined people to celebrate with the happy couple. A traditional reception or anniversary party can be planned for the future.
Or the entire event could be postponed for a few months, to ensure that guests feel safe to celebrate with you. Check with your vendors to see about rescheduling or canceling services. Do this as early as possible to avoid any additional costs. Often, deposits will be forfeited but many will be understanding due to the unusual situation.
Above all, don't allow yourself to be stressed by circumstances beyond your control. A wedding is just one day but the marriage will be forever. There is plenty of time to celebrate later when there is no risk to your friends and family.
Are you planning an upcoming wedding? Please share your experience with us. It may help other couples come to a decision with how to proceed.