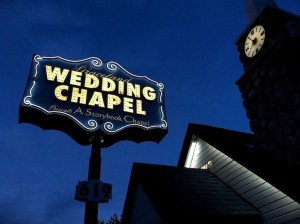 Back in the day, eloping generally meant a couple running away together, without parental consent, with the intent of getting married. These days, eloping includes having a super small unannounced wedding, perhaps with the parents and a couple best friends present. Obviously, the smaller the party, the cheaper the wedding. This includes knocking out some really huge expenses. Read on to find out which cuts you can make by choosing to elope.
The Wedding Venue
You won't need to rent out a lavish venue if you're having a small gathering. Since there will only be a few of you, you can hit City Hall, a secluded beach, a lush forest, or even head to Nevada for the popular Vegas shotgun wedding. These options can range in price from being completely free, to costing a couple hundred bucks.
These alternatives can save you thousands of dollars. If you'd still like to get married in a church, some allow its members to get married in them at no charge. Others may offer short-time rentals in exchange for voluntary donations. Call your church secretary to ask for details.
The Reception
This is the part of the wedding that costs the most, generally taking up over 50 percent of the entire budget. You need to have a venue, tables, chairs, decorations, wedding favors, food, drinks, the tiered cake, music, flowers, a photographer, PA systems, the hired car, and more. You don't have to knock out the entire idea of having a reception, but you can save up and have a party way after you elope and include everyone who wasn't there. Some great location options for a post-elopement party are at a restaurant, a banquet hall, your own home, or just your backyard.
I couldn't afford to fly all my family and friends from around the world in for my wedding, and I certainly didn't expect them to fly out to us during such a hectic time and just stay for three days. We found out what dates worked for everyone and found the central location that would be easiest for everyone to gather, which was in London. We had a huge party at my in-laws home, pot-luck style. Their local church let us borrow 100 fold-up chairs and several long tables. We rented gazebos for the weekend and tied on balloons and streamers. My mum rolled sushi. My brother-in-law deejayed. It couldn't have been a more memorable, beautiful, and extremely cost-effective day.

The Clothing
Let's face it. The bigger the wedding, the more grandiose the dress. Eloping doesn't mean you can't look beautiful in a gorgeous dress, you just won't need the extra fluff and massive bridal train. You also won't need to go for a bunch of dress fittings for a big group of bridesmaids, either. All this applies for the groom and his men, too.
A nice dress, a nice suit, and your small party can wear what they please.
This all adds up to huge monetary savings, as well as big savings in time and stress. Today, the average wedding costs over $30,000. If you cut all these expenses by eloping, you'll have a lot more for your future together.