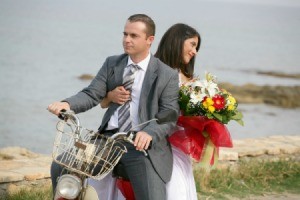 Bill and I are planning to elope. We don't have a lot of money, but would like a place to be wed. I was thinking about a bed and breakfast and if possible to have a priest or minister as well. Any ideas would be appreciated.
By Linda
Answers

July 4, 2014
0

found this helpful
Best Answer
First off, congratulations!
That said, don't forget that most city and state parks allow for smaller weddings and don't charge. If you are close to the coast, beach weddings or even in one of their parks can be lovely. Have it a potluck so the costs are low, and everyone focuses on the couple and the good times, not the money.
I hope that helped.

July 4, 2014
0

found this helpful
Best Answer
If money is the problem - why elope? Many times an elopement costs more than people think.
First - any place you choose may have to be in the state where you obtain your license so be careful with your plans.
Do you plan to have a couple "stand up" for you or do you plan to use whoever is around as witnesses?
A minister may not always be available and most ministers will not marry couples without consultations before the event. Unless, of course, you plan on using a "wedding chapel" that is set up for everything?
Maybe you could give it some more thought and ask a family member or friend to help you with just a few people invited (in someone's home). Of course, this is assuming you are not eloping because of problems with families.
Either way - I hope you have a nice wedding.

July 4, 2014
0

found this helpful
Best Answer
A bed and breakfast sounds great. A lot of them have lovely gardens, that I'm sure would let you use as part of your stay. There are many clergymen or judges that would marry you for a reasonable fee. Whether it is friends or the owners of b &b who stand up for you it is what is meaningful to you that is important.
Just buy some flowers that you love, to carry and plan a special dinner. Don't forget your camera. Sounds like a smart idea to me, a former wedding hostess.
Answer

this Question