My fiance and I are trying to plan a green, no/low-waste wedding in Sept. 2009. We are financing the wedding ourselves, and already have family and friends doing our catering, sound, and other services. We're getting vases and other items from second hand stores, growing our own flowers and doing all of our invitations, etc. online. I'm also using a dress, veil, etc. previously used by family and friends to further get away from the concept that buying things for your wedding some how makes it more meaningful.
However we still need someone to do hair and any type of second hand decorations. I am also a personal trainer, and am trading professional services in the Des Moines area (where we actually live). Any additional ideas for decorations, services, etc., people have to offer would be great. Thanks to all who are making an effort to consume and waste less.
Caeli from Madison, WI

Answers:
Planning A Low Waste Wedding
See if one of your friends has applied to be a minister online. My daughter did and has performed a ceremony for some of her friends at no cost. If you don't mind having a different sort of wedding than the typical religious one, this might work for you. Good luck. (07/18/2008)

By Awana Reese
Planning A Low Waste Wedding
I saw recently on another website (I can't remember which one) that the bride-to-be found plates at IKEA for $.99 each. She bought these for all her guests as they were cheaper then renting dishes and then she had more then enough for her own continued use.
My sister cut back on flower expenses by using large clay pots of geraniums. They looked very nice, and either people can take them home, or you can keep then.
My daughter found a beautiful dress on eBay, but a friend's daughter found a better dress at Goodwill, brand new with the tags for about $30.00. No alteration were needed.
If you give favors to the guests (which I think is unnecessary, but nice), I think buying a bunch of young trees is a great idea (I've seen them sold for like $25.00 for about 30 very young trees). It depends on the variety.
I think a small wedding cake and then a sheet cake in the kitchen for slices for the guests saves a lot of money. No open bar, but maybe wine, punch, maybe kegs of beer and soft drinks. (07/18/2008)

By Janet
Planning A Low Waste Wedding
My friend and family put on a DIY wedding in a pecan orchard. She needed white lights, and asked on FreeCycle to borrow others' Christmas lights. She got a number of sets. If you can be specific about what you want, you could ask on FreeCycle or Craigslist.
Also, in Mexican tradition, guests are asked to provide certain things for the wedding, and in the wedding program they are acknowledged for them. The things they give are their presents.
Enjoy your wedding. (07/18/2008)

By Nance
Planning A Low Waste Wedding
I did my sisters revow in Tucson for 350.00. It was a May wedding, so spring colors were perfect. That was a second hand gown that I modified. I bought Dollar Tree candles for the unity, and put lace over the front with a poem from a greeting card inside, then "tacked" the edges with tiny pearlescent pins and hot glued ribbon bows to the two tapers on either side.
I made her cake topper out of twin teddies dressed up as bride and groom. For table decorations, I found some wrapping paper at a yard sale that had bells inside circles, and they were all the mint, pink, blue, yellow and lavender shades. We cut them all out just placed them "randomly" on the tables. Each table then had a candle the church had anyway and let them use.
The church also had an arbor, that I twist tied Dollar Tree flowers to. I made a pen holder by shoving a seam ripper cap into a Styrofoam dome we had cut in half, then colored that with glue glitter. The pen then had a feather hot glued to it and a ribbon over it for effect. The guest book was from a thrift shop, that I covered with fabric and lace and buttons.
I bought 8/1.00 Easter gift bags in the five colors, and matching tissue paper for wrapping gifts. I then put yellow paper in the pink bags, etc, and lined the "aisle" for her to walk down. You could do the same things only with fall colors and dollar tree foliage. I crocheted boutineer roses for the guys, and made Dollar Tree headbands and flowers for the little girls hair. It was a lovely ceremony and even with inexpensive, but good food and my singing, it was a labor of love. You will no doubt get some wonderful ideas so just have fun and enjoy yourself. (07/18/2008)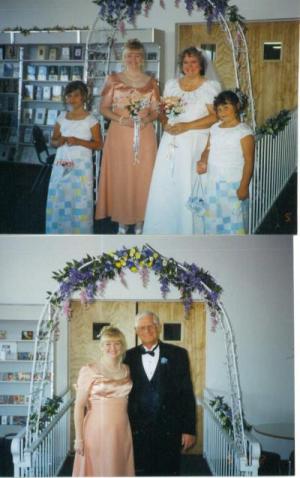 Planning A Low Waste Wedding
I am planning a wedding for Oct for our daughter. This is her second marriage. I have scoured the web for ideas and came up with some really nice ones. I have done other weddings and they cost about $300 if that much. I do all the work myself.

My daughter is going to have a Vietnamese style dress (that is slit from the middle of the hip to the floor) and a halter style top with a neck band that is pointed in the back with pearls dropping from it.

I found an arch at a garage sale for a buck and it will be used for them to get married under. They are planning a sunset ceremony (you can find when the sun sets that far ahead on the web). We are going to have two wrought iron tables (white) on each side of the arch. Each table will hold a rose and as they turn around to walk back down the aisle each of them will hand the new mom (him to me and her to his mom) a rose. The cake is going to have lights around every tier. And her bouquet is wisteria with pink roses and lights in them. Her hair will be pearls twined in her hairdo. She will be barefooted and wear a barefoot sandal that I am making her.

There is so much I am going to do that it is hard to put it all in this message. We also contacted freecycle and got bells and a ring pillow which was in good shape, but I reworked it to be "theirs". The flower girl, her niece, will look just like her. Her two grown daughters will stand by her and give her away.

I am really looking forward to this wedding. Some of the things that are being done:
mock champagne (tastes really good too)
creme cheese mints (a favorite of the bride)

We are getting meat from the sandwich dept and rolling it ourselves or having it shaved. For about $2.50 the shaved meat goes forever.

wedding dice game (clean fun for the reception)

I am doing the toasting glasses that she saw and we can't afford ($20) so for about $2. I can recreate the glasses.

I also am doing a honeymoon basket, the towel swans for the bed (we are hoping we can get in the motel room before the wedding and decorate it).
Glitz (07/19/2008)
By Lynn
Planning A Low Waste Wedding
If you have bridesmaids and groomsmen, the bridesmaids could wear dresses they already own (which would work especially well if they coordinated with each other in advance), and the groomsmen could wear suits, or shirts and ties, instead of tuxes.

I love the idea of a low-cost, no-waste, green wedding. I think it will bring good karma to your marriage. Good luck. (07/19/2008)

Planning A Low Waste Wedding
I love the idea of green weddings. I always think it is nice to give seed packets for wedding favors. They can be bought for as little as $0.10 at Walmart and provide a nice "green" gift. Check out local thrift shops and antique stores for crystal champagne glasses for yourselves and the wedding party, candles, candle holders, and other things to complete your outfit like an antique beaded bag or jewelry.

If you don't want traditional flower bouquets why not find some pretty new or used baskets with handles and put a potted plant in each. You can buy flowering plants cheaply at your local Walmart or grocery store and they double as "green" gifts for your bridesmaids. If you do the same for yourself (and have a green thumb) you will have a a wonderful keepsake that cut flowers can't beat.

I love the idea a previous poster said about buying dishes. Even if you only did that for the head table or rehearsal dinner you could get a really neat, eclectic, mix at your local antique store or thrift shop for a very reasonable price. That would also be a great keepsake for you and your soon to be husband. Good luck with your wedding. Post your other ideas. (07/20/2008)

By tracey
Planning A Low Waste Wedding
Since your wedding is in the fall I went out and collected leaves and off of the trees. I melted canning wax and dipped leaves from many different trees and it preserved them nicely. I even did it a year in advance and they stayed. I dipped them, put them on newspaper or some type of paper, let them dry and stacked them neatly in boxes. I used pumpkins and gourds on the tables. For the entrance I got a bunch of corn stalks and tied them together with large ribbon with my colors. We even had like bales of straw with pumpkins. It was very low cost. Good luck. (07/25/2008)

Planning A Low Waste Wedding
I've been looking up different ways to make accessories for my reception, I too, will be getting married in Sept. 2009. You can buy napkin rings and hot glue flowers and ribbon on them or use wire and beads to wrap them, I plan on doing the wire and beads so that I can use them again in my wedding album and scrap booking. I love the idea earlier mentioned about flower seeds as wedding gifts, you could put them in see through bags and wrap them with ribbon.

I'm having a friend make my dress and have asked my sister-in-law "soon to be" to be my photographer. My parents have a log cabin in the mountains of NC which I will be using as the place of our reception. We're using nice glass bowls with Babies Breath, rocks, water, and a single rose as center pieces. Also check out theknot.com and brides.com. They have some great ideas that can be recreated for less and placed in your yard our house for decoration. (07/27/2008)

By Kristine