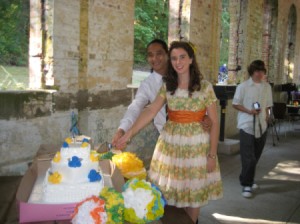 My husband and I had a very fun, silly, and laid back picnic wedding. We had a very short planning period and a small budget. I met my husband while living and working in Vietnam. After moving back to the States, I quickly realized I didn't like living without him. So, I packed my bags and moved back to Vietnam and married him in Vietnam. We started the K-1 Fiancé visa process so that he could immigrate to the United States.
On a K-1 visa you must get married within 90 days of arriving in the U.S. and due to the nature of the application process, it was difficult to figure out when we would actually be able to enter the United States. Once we got assigned a visa interview appointment, we were able to set the date and hoped by that date we would be stateside and within the 90-day constrictions of the fiancé visa.
I was a bit stressful knowing we had to throw together a wedding in such a short time period. In the end, we had a wonderful day and made great memories.
This past fall (2018) marked our 10 year wedding anniversary. I had started writing this post after our wedding and never got back to it til now. I had included the prices we had paid for things back then. So, the prices may be way off from what things cost today. We did as much planning as we could while living in Vietnam. Keep in mind, if you are reading this trying to figure out how to have a cheap wedding, we were able to get many things cheaper in Vietnam such as a dress, suit, and invitations. This cut down on expenses incredibly.
Wedding Dress: $50
I had my wedding dress tailor-made when I lived in Viet Nam, which was very inexpensive. I got to pick out the fabric and then brought it to a tailor. I chose to wear an Ao Dai, which is the traditional dress of Viet Nam. Traditionally brides wear a red or pink Ao Dai on their wedding day (white Ao Dais are the school uniform for high school girls), but I chose to wear a white Ao Dai to combine our traditions. Also, my sister had always told me she kind of regretted not wearing white on her wedding day and I took this to heart. :)
I know that getting a dress made is not always practical for everyone but I also know many people have a seamstress friend they can convince to help them with their wedding dresses. There are also tons of traditional wedding dresses I ran into at thrift stores that were in great condition. Some of them were a bit outdated but there were also some modern ones too.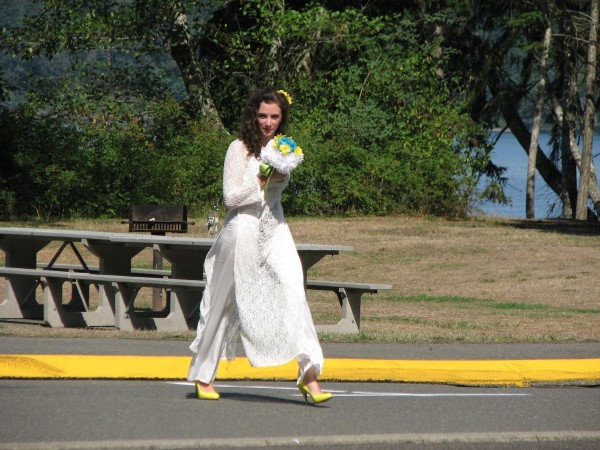 Reception Dress: $65
I chose to go vintage for my reception dress. I had always wanted the perfect 50s dress and I figured that getting married was a great excuse to spend a little extra on something I would not usually spend so much on. I was able to find my dress at a local vintage dress store. eBay is also a great place to find vintage clothing. Just remember that sizes where different in the past and many of these clothes need some extra care.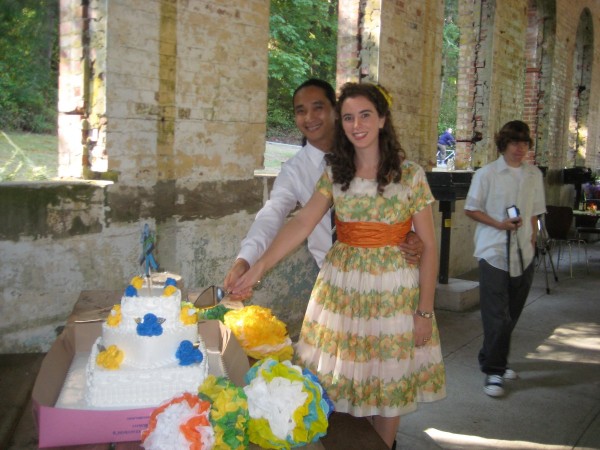 Shoes Used with Both Dresses: $50
Dry Cleaning for Vintage Dress: $25
Suit: $100
This was also tailored in Viet Nam.
Location: $195 We rented a historic torpedo warehouse from WWII at a local state park. We also chose to have the reception in the same location. The building was open to the elements but also sheltered us enough if there had been undesirable weather. State parks are a great place to check out for a wedding location because often the rental fees are not too high. Just like any other place, it is best to book it in advance, especially if you are having a summer wedding. We booked ours about 5 months in advance and we had to change the date we were hoping for because it was already taken.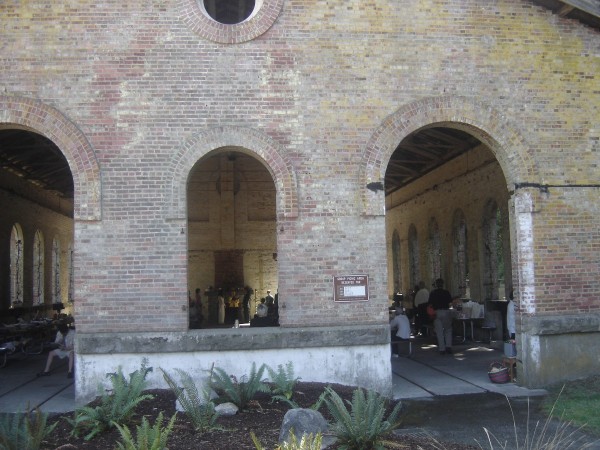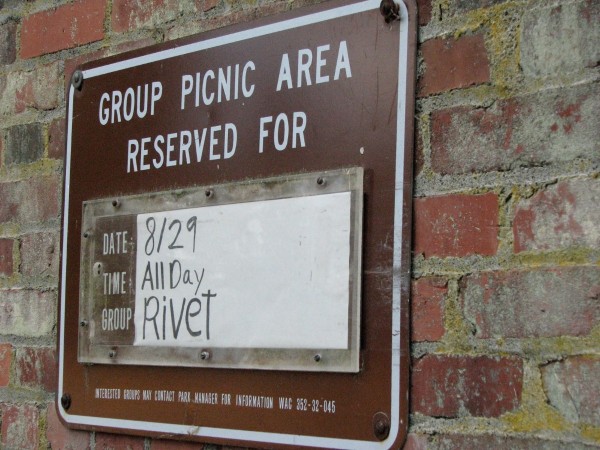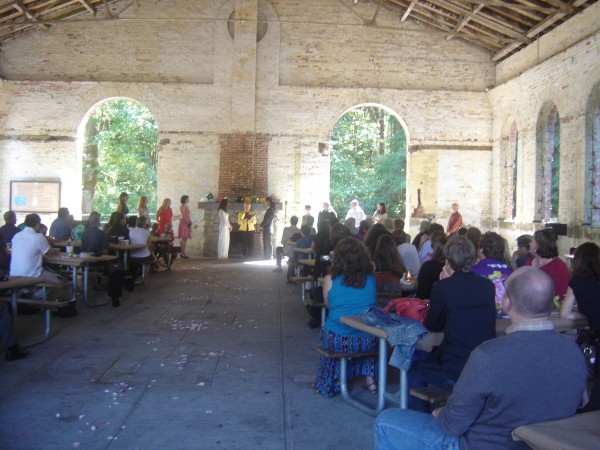 Invitations and Thank You Cards: $30 for 100 of each. We were able to get our invitations hand printed for a very low price in Vietnam.
Cake: $353
I had wanted to buy a really fancy cake because I always like to look at the cake when I go to weddings. After getting quotes for the style of cake I wanted, I decided to settle on a good tasting cake instead. My family would always buy cakes for special occasions from Borracchini's, a local Italian bakery. This was my mom's favorite cake and since she had just passed away 8 months before our wedding, I wanted to do something she would have liked.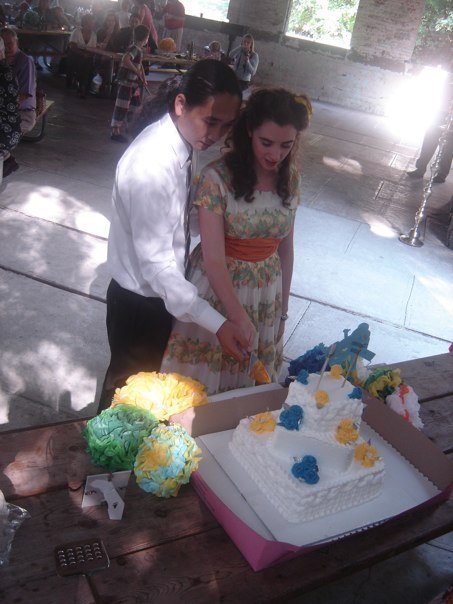 Food: $0
My family often has potlucks during the summer and since our wedding was right around the time we usually have our annual family and friend potluck, we decided to go ahead and make it a potluck reception. Not only would this make it cheaper but my husband, who just arrived in the United States, would have an opportunity to try a lot of different foods.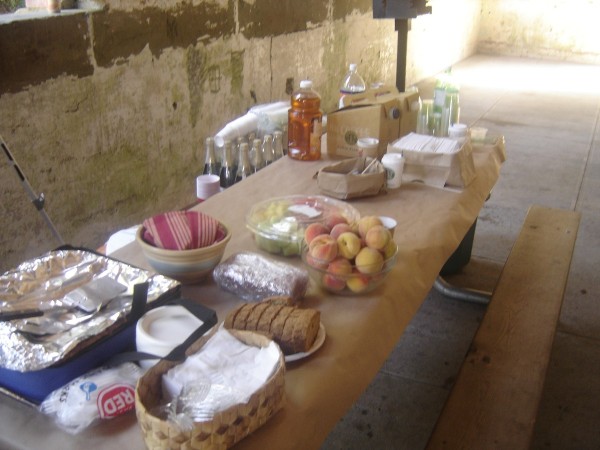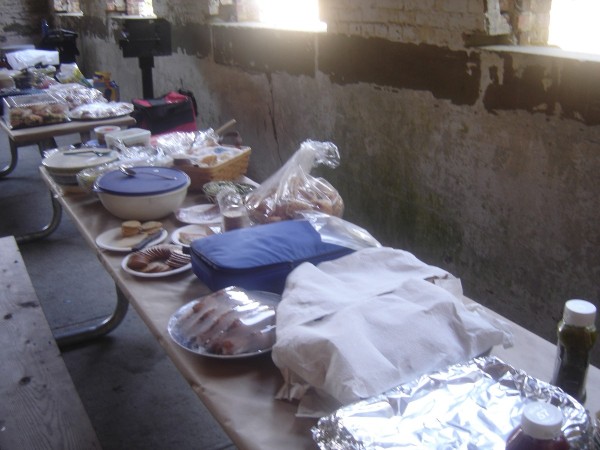 Photos: $0
We chose to forgo the photographer and asked people who brought cameras to please send us their pictures, we did get photos from people but ended up not getting all photos from everyone who took some. I still feel today that maybe we should have found a way to pay for a photographer. Due to our venue not having great lighting, we go a lot of blurry dark photos.
Tables and Chairs: $0
The building we rented came with large picnic tables inside.
Music: $0 The state park did not allow loud music. We could only use a small boom box for all the music at our wedding. It wasn't ideal for the dancer in me, but we still got our groove on. We had kazoos on all our tables and everyone played the wedding march as I walked down the aisle arm and arm with my dad. When I said we had a silly wedding, I wasn't kidding.
Supplies & Decorations: $500
This included plates, napkins, table coverings, table decorations, candles, sparkling cider, contribution for officiator, stamps, photos for invites and decorations and all other expenses that sneak up on you.
We wanted to have a waste-free wedding and reception, and tried to make everything either recyclable, compostable or reusable. We had different trash cans for recycling, compost and trash. We did not have much success with this aspect of our reception. I don't think they were labeled well enough and they ended up getting contaminated. For this to have been successful, we needed much better signage, a note in the program telling people what we were trying to do, and honestly, probably have someone assigned the job of helping people figure out where things should go. I am glad we tried, but it was quite sad that after all my effort of making sure all the plates, utensils and cups were compostable to see these giant garbage bags full of them get put in the dumpster.
Decorations: cheap
We covered the tables with brown craft paper and rearranged the tables to face the altar. I handmade star-shaped crayons by melting old crayons and pouring them into a silicon mold. We scattered these on the tables and encouraged people to draw on tables.
We had paper flower making parties before the big day. We filled mason jars with the paper flowers and placed them on the tables. We bought packs of votive candles in our wedding colors at Ikea and placed those in jelly jars. My husband found a nice branch in our yard and handmade Mai flowers to make the branch look like a Mai tree, an auspicious tree in Vietnam. It turned out beautiful and we ended up using it as decor in our house after the wedding. We bought simple glass picture frames from Ikea and filled them with photos of us together and placed these on the table.