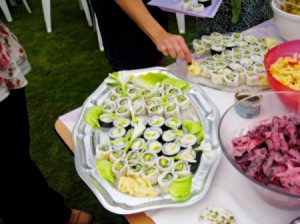 When you think of a potluck get-together, your mind may take you back to a church event or picnic outing where tables were shielded with red checked tablecloths, covered in huge bowls of elbow macaroni, baked beans, and ambrosia salad. When you think of bringing that scene to a wedding, it might put you off. But don't allow that visual in particular to meld with your wedding. Having a potluck wedding can actually be a memorable, fun, and delicious way to save you thousands of dollars! The typical wedding catering or restaurant-provided meal setup is one of the largest expenses of a wedding. It is said that the average cost for food provided by a catering service can be anywhere between $50 and $200 per person. That is one pretty penny.
One of the best ways to tackle a potluck wedding is for you to provide the main course meat, like a large roast, turkey, or ham, then have the guests bring the sides. If you have a lot of guests, just narrow down the guests that you already know are stars in the kitchen, and tell them you'd be honored if they'd whip something up in lieu of a gift. Drop them into buckets of great cooks, talented bakers, and lively mixologists. Yes, you know those friends who are super handy with alcohol! Get them in on the game, too. Those who are not known to be kitchen aficionados, or those who are traveling from afar, can skip the cooking and check out your registry if you have one. Just remember that if there are hot dishes, you'll need things like warmers.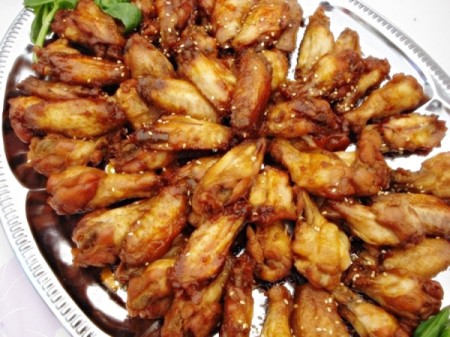 If you're really trying to keep a theme together and have all the food match, like all Asian cuisine, all Italian, that's fine. At my wedding reception, (and yes, I had an awesome potluck wedding) I kept a running list of what foods were being provided by us, what was being brought by the guests, and kept everyone in the loop. The more the list grew, the more variety of foods we had, with no two dishes alike. We were very excited to have so many different kinds of food to represent all the people attending. My mum rolled sushi in the kitchen that morning, my brother-in-law made traditional British venison game pie, my brother baked Guinness stout brownies, and the list went on. The most extraordinary thing was that my husband's aunt was a baker, and she made the most delicious wedding cake we'd ever tasted. It even had a little sugar heart with our faces painted on it with edible ink. Call those artist guests!
Meals at a potluck wedding don't have to be served in huge plastic bowls, either. Just make sure some elegant-looking platters are available, and it will really take away from that red checked tablecloth you were fearing when you read the title to this article. It can still be glamorous, definitely memorable, and it will save you so much money.