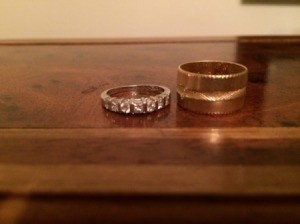 I saw the following tips on Oprah and Dr. Phil long before I needed them, and filed them away in my head for the appropriate time.
Oprah said that the top items that guests will remember are the food and the band. Therefore, if you need to economize, do it in other areas. For example, very few people will remember the kinds of flowers and other decorations you had at the party. Food and the band do not have to be expensive. The food should be tasty, and the band should play music that will appeal to all of the guests. This means that a song or two could be included for guests that are out of the age group of the majority.
Dr. Phil had a show about a mother and daughter arguing about the daughter's forthcoming wedding. The daughter wanted to spend almost all the wedding budget on the gown. Dr. Phil suggested cutting the daughter a check for the amount allotted for the wedding, and letting the daughter figure out how other items would be obtained.
When my daughter got married, I gave her the bottom line of what I had to spend. Every time we got something, I deducted it from my bottom line. Some things she had to pay for herself, such as hair extensions. We had no arguments, because I was very clear from the get-go how much we had to spend. I believe we avoided conflict because she was used to living with a budget.
In my opinion, money should be discussed with children way before a wedding. Money is a resource, just like time and parents' attention. There is just so much to go around, and all family members are entitled to a share. When I was growing up, my parents would tell me how much they wanted to spend on an item, such as jeans. If I wanted something more expensive, I would have to use birthday money or babysit. I quickly learned the value of a dollar.
Children who never have to work for anything never develop the sense of pride and accomplishment that goes with setting and achieving goals. They don't take as good care of their possessions, because they know that their parents will replace the item for them.
The picture shows my wedding rings. The diamond band (half of the ring has diamonds) was given to me as a surprise after 20 years of marriage. I was very happy to get it, and am still more than pleased with the gold band, which I still wear.