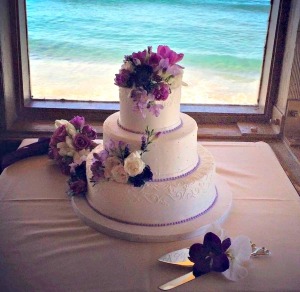 We all know that the typical wedding can be one of the most expensive events in a lifetime, and even more so if you decide to have a destination wedding. But there are many ways to have a beautiful wedding on a budget. Yes, even those beautiful fairytale destination ones. Here are some tips to get you there while saving you big bucks.
Choose your destination wedding date right outside of peak-season. You obviously don't want to book a beach wedding smack dab in the middle of winter, but you will want to choose something right before or after it gets really busy. Do your homework and see what the typical peak-dates are, and do your best to avoid those windows of time. You will save lots of money, and still be safe with sunshine.
One of the biggest headaches of a run-of-the-mill wedding ceremony and reception is choosing the design and coordination of the theme. This includes decorations, flowers, and dinnerware. With a destination wedding, you can use the beautiful backdrop of your surroundings to pull everything together, whether its the beach, the mountains, or an exotic location. You will barely need any decoration, and that will be such a money saver in itself.
Serve local food and drinks. While most of the typical food in the city you choose will be boring to the locale, chances are they will be new and exciting to you and your guests. Marrying in the South of France? Serve up items that are the norm over there, and watch them wow your guests. Soft cheeses, fresh baguettes, roast lamb, local ratatouille. All you need to do is some homework on the net to find out what's popular in town and where you can get it.
When contacting any hotels or airlines for your wedding, let them know that you are bringing a big group of people. Many companies will jump at the chance to have your business and will give you a nice break for bringing in so many extra people. My brother-in-law was able to get 25% off everyone's hotel bill as he had quite a large guest list. They threw in many extras, like free breakfasts and upgraded rooms.
Keep your guest list small and have a big reception back home at a later date. This is a pretty popular way about weddings lately, and is effective at not breaking hearts (and banks). Since destination weddings can incur costs like flights, extra food and board, keeping it small really helps. My dear friends just had a beautiful beach wedding and kept it small, followed by a full on backyard reception right after the honeymoon. Smart and thrifty!
Combine your wedding and your honeymoon. Choose a destination wedding location based on where you've always wanted to honeymoon. Many resorts and hotels do offer discounts the longer you stay. Make inquiries to see what deals you can get for a long stay. Youll be surprised at what else they may offer you as a newlywed couple!