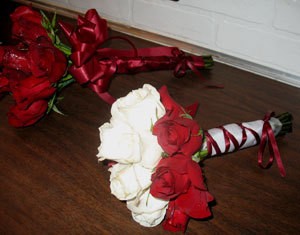 Save lots of money when it comes to flowers for your wedding. Visit your local markets and use in season flowers to create wonderful wedding bouquets with out the hassle of over priced florists.
Most roses are always in season. Use 12-24, gather in a bundle, and tie them off with a festive bow. Use pearl headed push pins to secure ribbon to the stems. A dozen roses at the market run about $13.99. This can save you around $50-60 per bouquet. Happy wedding!
Comments
April 13, 2007
0

found this helpful
Hi, I never realized just how much you could save by doing your own wedding flowers. My son will be getting married soon I think I'll forward this to him. Thanks!
By Dolna (Guest Post)
April 23, 2007
0

found this helpful
A friend told me this: somehow, possibly during a wedding rehearsal, he and his wife-to-be came to meet the couple who had the church booked for their own wedding, either immediately before or after my friend's wedding. They started talking and must have both remarked about the exorbitant cost of flowers for weddings. Which led to working out an arrangement whereby they'd share each other's wedding flowers.
For both couples, this cut the cost in half. Saving money was only the first benefit of this relationship, because over the years the two couples developed a friendship whereby they have stayed in touch and have often celebrated their wedding anniversaries together. (I might not have the exact story, but you get the idea!)
January 17, 2010
0

found this helpful
Does anyone know where I can find artificial "blue" flowers for a wedding bouquet? Most of what I've seen are really tacky looking. Or they are really expensive. I live in the Cincinnati area. Thanks
October 8, 2017
0

found this helpful
Buy silk flowers and dye them yourself. You can also buy florist colored spray and just buy white flowers and lightly spray them blue :) Tricks from an old florist :)
Read More Comments