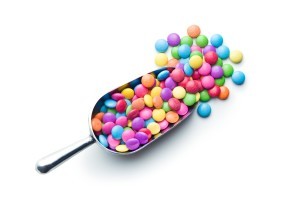 My daughter wants M&M's served at her wedding reception, but they are about $4 for one large bag! Fortunately, while I was standing there about to despair, I saw a large bag that had 18 'Fun Size' packages in them. They have just enough in each little packet for one serving and you would NOT get 18 servings out of the regular large bag.
The best part, though, was that it only costs a little over $2 per bag. This is what we will be using for her wedding. It will be handy, too, for people just to walk through and pick up one packet. No spoons or bowls of candy to have to keep refilling.
By Robin
Comments
By Michele (Guest Post)
April 19, 2005
0

found this helpful
You can go to a website online and find the colors for your daughters wedding and buy them like that.
Just a thought.
By MamawKC (Guest Post)
April 21, 2005
0

found this helpful
The little packs are a great idea. May I suggest something to sort of SPRUCE them up for a wedding reception favor? Make a label which you can wrap around the bag with a catchy little saying like "How SWEET of you to join us on our SPECIAL DAY!" Below put the names and date of the wedding.Wrap around the bag and glue together using a gluestick for paper.I did this with little candy bars when my new Granddaughter was born.
They are so EXPENSIVE when you special order them made but I did a bunch for about $6
By Carrie (Guest Post)
April 26, 2005
0

found this helpful
We too are using M&M's in our wedding in June. My fiance collects M&M's figurines so this was a nice way to tie him into the event. Other than the fact that he is the groom, lol. Anyways our colors are all pastels: yellow, pink, blue, green and lavender. We bought a bunch of the easter m&m's right after easter for about $1.40 a bag and then bought fish bowls with a wavy lip and glued ribbon under the lip. We're going to fill the fish bowls with m&m's and stick balloons in the center of each.
You can buys m&m's right from the website and it costs about what you would pay in the stores.

badwater
Silver Post Medal for All Time! 263 Posts
April 30, 2005
0

found this helpful
Buying the pkgs. of M&M's after holidays, for discounted prices and separating the colors, might be your best bet, if you didn't want to use the fun size pkgs. I used to work in a vitamin plant. We wore gloves and used plastic cutlery to count and sort pills with. You could do the same with the M&M's on a clean plate or dishtowel. Then rebag as you wish.
Congratulations on the upcoming nuptials!!
Read More

Comments