February 17, 2009
0

found this helpful
I cherish a crochet lap blanket (solid cream color) that a co-worker made for me. She told me that not even her granddaughters would get one because of the type of stitches that were involved.
My great aunt also gave me a cake plate for a shower gift. It was a plate that she received at her wedding. I cried, of course, as I was reading the note at the shower.
I also loved a handmade photo album that my boss's wife made for me. Her mother hand painted an apron for me as well. My grandmother gave me a receipe book that she purchased at a Hallmark store and she hand wrote some of her special recipes. Thanks for your post...beautiful gifts and so was the thought and people behind each one.
By Dana (Guest Post)
February 17, 2009
0

found this helpful
I'm getting married in April and I would love a blanket with our picture on it or with our names and wedding date on it. I consider homemade gifts better than store bought gifts anyway. Hope that helps.

February 17, 2009
0

found this helpful
My Duaghter-in-Laws Mother made this for her bridal shower. It's a cake made out of bath towels, hand towels and wash cloths. Inside you can put hand soap in each layer or other little novelties you think they may like.
I thought it was a nice present for someone just starting out. By the way, her Mother is very talented.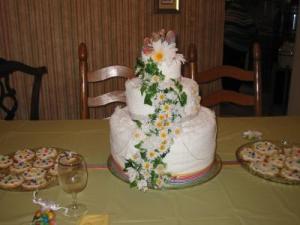 By A.F. (Guest Post)
February 17, 2009
0

found this helpful
I am working on one of these for my sister. This matters how you close you are to the people getting married of course, but a scrapbook like album is neat. I am putting together a book of memories for her with some space for her to add some of her own.

February 17, 2009
0

found this helpful
If you cross stitch find a wedding pattern with a space for the name of the bride and groom and the date.
Find a really nice frame, it will be something they will cherish.
My sister in law got married a few years back and I made her a small pillow like this, attached a small ribbon(the color to match the wedding outfits) and used it as the ring bearers pillow.

February 17, 2009
0

found this helpful
For my daughter, step-son, nieces and nephews I've assembled a recipe box or book containing their favorite foods as well as family favorite recipes - from both the bride and groom's families. This is accompanied by cookie sheets, Italian spices, etc. that could be used to make the foods.
Address books with addresses/phone numbers of relatives have also been appreciated. Can include birthdates, anniversary dates, etc.
By Linda (Guest Post)
February 17, 2009
0

found this helpful
My sister gave us our wedding announcement framed with pressed dried flowers surrounding it...all under glass. The flowers have long faded, but it is still as beautiful as it was 43 years ago.
By Sally from Buffalo (Guest Post)
February 18, 2009
0

found this helpful
We made CD's and all the songs that the Wedding Party liked to listen too. I made a Memory Book. I had pictures of the Bride and Groom, from the time they were little on up. Also, there was their favorites-food, books, games, etc so all they would have to do is look in this book.
I put pictures from their engagement to the day they said "I Do". I put pictures of all close family members. Everyone enjoyed looking at it, I was told.

February 18, 2009
0

found this helpful
Find an old frame and make a shadow box out of it, or find a new one at the Dollar Tree, which are about 4" by 4" by 1.5". Paint or stain your choice of colors.
Take small things from the wedding...confetti, fabric, dried flowers, etc. Lay a photo of their wedding, or several smaller ones, inside the box, and glue the photos down to the back, then low temp glue the other things to the edges around the photos.
Maybe you can find Dollar Tree decorations and a cake topper, etc, that will work.
When finished, simply close the box with it's latch, and either leave it so it can be opened, or permanently seal it closed.