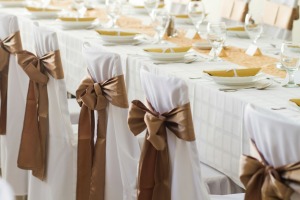 I am looking for wedding decoration ideas in the colors chocolate brown, cinnamon and latte. Any ideas?

Answers
By anne (Guest Post)
August 1, 2008
0

found this helpful
Sounds like a wonderful color choice.I don't know if you are going formal, semi-formal, or casual but I have an idea for a table decoration. Use clear glass vases or bowls, cream or cinnamon colored candles, and coffee beans. Use shallow layer of coffee beans in bottom of container, add tall candle or layer lots of coffee beans and put a small candle on top. The smell is delicious. If this is a winter wedding, why not buy gourmet cocoa or individual packets and tie with ribbon for a favor. You can also coat plastic spoons (colors in wedding) with melted chocolate, wrap in saran wrap, and tie with ribbon. These make a wonderful treat for your guests.

August 1, 2008
0

found this helpful
I made this frame and sell wedding things and have found that white is not the only color for a wedding. You go Girl! Get some Cinnamon Potpouri and candles, too. Chocolate and Latte colors of satin and some of the fabric blends are just stunning! I think I speak for us all when I say we would love to see the finished results?
If you want to make a frame like this, just find the shape you want and cut it out of very stiff cardboard. You will have to cut it at one point so the fabric can be slipped on.Then, simply sew a tube twice the length, and about 1/2" wider than the cardboard and slip it on like the casing on a curtain rod. Whip stitch the fabric closed, bunch it up really good and decorate accordingly. Good Luck!!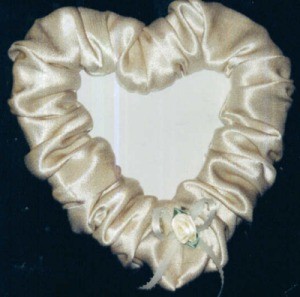 By (Guest Post)
August 1, 2008
0

found this helpful
Use dried flowers and grasses in these colors on the tables, maybe in a clear bowl filled with either neutral and brown tone river rock, brown rice or beans or coffee beans.
By Cathy from Townsville, QLD (Guest Post)
August 1, 2008
0

found this helpful
Hi Carla
What about buying a roll of wide satin ribbon in a taupe or brown colour, and using it to tie large bows to drape over chairs and backing curtains? Good luck!

August 2, 2008
0

found this helpful
These are actually beautiful colors. I have been to a wedding having these colors. A touch of pink was also added and really blended beauifully. Such things and twisting cinnamon ribbon streamers with pink or working pink flowers, & babies breath to the bride's maids arrangement.
Another idea is to use pink & white flower petels mixed in with these colors to bring out the beauty in the darker colors.
By Trisha (Guest Post)
August 19, 2008
0

found this helpful
If the wedding is close to Christmas, you can make wreaths out of dry twigs that can be gathered from your own backyard or cinnamon sticks and use acorns to decorate the wreath.

Grandma J
Silver Feedback Medal for All Time! 270 Feedbacks
September 17, 2008
0

found this helpful
My son was in a 4th of July wedding with those same colors.
They rented a large cruiser boat on a metro lake, used for decorations basically papers of different color. Program in metallic browns/copper/etc napkins. You could have cups/plates (paper). You could decorate in chocolate--find someone who makes specialty chocolate candies, each can have their own candy box in the colors.
In our small community we have a gal who makes them really reasonable (small midwest MN town.) So if you want the name, send me a message. She
The chairs on the boat deck were white, it all set the mood, wedding at sunset. No other decor needed!

January 28, 2009
0

found this helpful
We did a wedding a while back with similar colors. We used tall glass cylinders filled with coffee beans, then spray painted tall sticks copper, and did two circles of ribbon on vase another color from the brides pallet. It was stunning, we also did a ton of candels on the tables surrounding the centerpieces. One tip though, mix a rich cream color in somewhere in the decor, it will set the dark rich colors off even more and make them more dramatic.
You can save yourself some money by doing half the tables with tall centerpieces and half with short. For the short you could do a short round cylinder or bowl and pick one or two colors of flowers from your list, do short sticks(same copper color) out of middle and coffee beans on table around centerpiece, then add candles (votives from Quick candles) best prices I've seen lately. Good luck, love your color scheme.
Answer

this Question

My daughter will be getting married early next year. She wants to use pink and brown as her colors. We are going to use a lot of chocolate to decorate. My problem is I don't have a clue how. I would appreciate any ideas anyone may have.
Beth from Oak Grove, LA
Answers

July 31, 2007
0

found this helpful
YOU DEFINATELY NEED A CHOCOLATE FOUNTAIN!!!!

August 2, 2007
0

found this helpful
Do you mean your using chocolate you eat or chocolate the color? if your talking about the color, I just did a wedding with apple green and chococlat, it was wonderful we uses satin brown runners on the table over the white cloths, and we uses twiggs(young girls love them) in the bouquets and center pc..
I will attach a couple of pic.. any ore question let me know..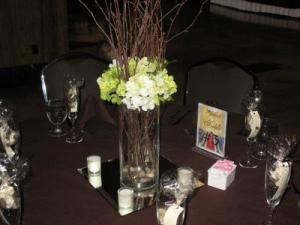 By Anne (Guest Post)
October 11, 2007
0

found this helpful
My wedding colors are pink and chocolate brown. I am using coffee beans in my centerpieces. I bought large hurricane vases, filled them about 1/4 high with coffee beans an then placed a large, tall candle in the vase. I think it looks great! And believe it or not the beans do not give off a strong smell! Very inexpensive too.
By (Guest Post)
April 6, 2008
0

found this helpful
I love chocolate! Here's a design with chocolate and pink hearts. It may give you some ideas.
annie AT www.perfectpostage.com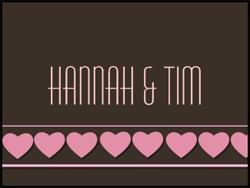 Answer

this Question
I'm getting married July 21, 2012 and looking for decorations for a church wedding. My colors are turquoise and chocolate. My accent color is white. Can you help me?
By Tammy E.
Answers

Joan
Bronze Feedback Medal for All Time! 186 Feedbacks
April 15, 2012
0

found this helpful
Most craft stores and fabric stores have a large variety of things in all price ranges. I would probably go with mainly white for the wedding itself, with maybe a very few colored accents.
For the reception centerpiece for the bridal table, buy some nylon net or tulle in the chocolate color and kind if swirl it along the length of the table inserting some turquoise colored silk flowers at intervals and in between the flowers use white pillar candles.
For safety I would use the battery operated candles, they are expensive but last forever, just by adding new batteries. On the other tables just use a few balloons.

April 18, 2012
0

found this helpful
Stay with one shade/tint of chocolate, but vary the turquoise from pale to deep. You could dress your bridesmaids in turquoise from pale to deep with chocolate trim (my wedding was mink and pink - a dress they could use for other occasions, but this from a time when girls needed that sort of dress). I liked the ideas of redhatterb.
Answer

this Question