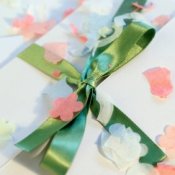 I need help with my wedding invitations. I'm having the oh-so-classical budget wedding. It has a theme, it's "Rainbow Festival." My dress is white with rainbow flowers on it, the bouquets are made from ribbons in all different colors, and the bridesmaids are all dressing in a different color, one each of the rainbow colors. It is going to be in my uncle's backyard under a marquee with lots of fairy lights and colored cloth.
However, I have no idea, absolutely no idea how to portray this in an invitation. Does anyone with the slightest artistic ability at all have any ideas? I like invitations with ribbons and layers to them, but I also want it to be fun. Is this all too much and should I go for a plain white invitation with rainbow ribbons? Help.
By Reisan from Townsville, QLD, AUS
Answers

June 8, 2010
0

found this helpful
When I was searching for my invites, I found great options at http://weddingpaperdivas.com They have tons of styles, and you can customize too.

June 8, 2010
0

found this helpful
We did invitations for my daughter's friend and we used a flower paper punch to punch out flowers out of a calendar that had the basic colors she had chosen. You could choose bright colors to punch, the possibilities are endless. Look at your local craft or scrap booking store and might find a punch that is well suited for your chosen theme.
We just used a good glue to glue them on the invitations and everything was random so no invitation was exactly alike. When gluing, we just put a small pool of glue and used a toothpick to put a few drops on the back. Everyone loved the invitations.

June 8, 2010
0

found this helpful
I think a plain white invitation with rainbow coloured ribbons would look best, it wouldn`t be too cluttered and would look more classy. You could, however have the invitations printed on rainbow coloured card.

June 8, 2010
0

found this helpful
I have also seen invitations done by printing the invitation information on vellum paper (which is somewhat transparent), then putting it on top of a piece of decorative paper (like scrapbooking paper), which you could have with the rainbow theme. The two are held together with transparent glue or by punching 2 holes in the top (through both papers) and tying with a ribbon. I have seen it with both straight cuts for the paper, as well as the vellum cut with scallop scissors.
You can get the papers on sale at most craft stores, if you keep your eyes open.

June 9, 2010
0

found this helpful
My exact color theme 44 years ago. Today I would use the ink method on a sponge. Someone at a scrapbooking shop cold direct you if you don't have a clue about this type thing. You put the colors you chose on the end of a hard type sponge and then drag it across your paper to make the rainbow, then ribbons etc. could decorate nicely. Sounds like you received some good ideas. Hope one works for you and congratulations and best wishes for many years!

metroplex
Bronze Request Medal for All Time! 65 Requests
June 11, 2010
0

found this helpful
I don't know your religious affiliations are, but in Christianity, rainbows are a sign from God that he won't destroy the world again by rain.
If you could find this scripture and incorporate it in your invitations, I think that would speak volumes.
I'm not sure if I misunderstood your questions though.
A water color rainbow is beautiful. You wet the paper in half circles, then apply the first row of paint, repeat till you get the rainbow you want with as many colors you want.
Your wedding sounds adorable. I happen to love rainbow weddings. My sister got married with the theme and it was just gorgeous. I know yours will be too! Many happy returns!
Answer

this Question