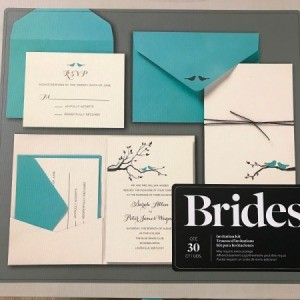 I am currently planning our thrifty wedding for 2018. Since we are having a small wedding with less than 60 people, I would need no more than 30 invitations. Given that I do not need many invitations, you would think the cost would be more affordable to get the invitations custom made? But actually, the less amount of cards you need, it is more expensive. Plus, you need to factor in the cost of response cards. I browsed a couple of websites and estimated it would cost anywhere from $150 to $300 for custom made invitations! That is very steep just for invitations and even though it is pretty, how many people will actually keep my invitation for many years?
I decided to go to my local craft store (Michael's) and they actually sell invitation kits you can purchase and print yourself! The kit I picked up is originally $45 and it was on clearance for $15 which is a steal! There were lots of other styles on clearance as well! If you do not catch these kits on clearance in your area or on sale, there are always store coupons available to lower your cost! Inside the box, you have everything you need to create your own custom made invitations from home. On the back of the box - there is a free website where you can reference for the template to print on the cards.
What the kit comes with:
- 30 Invitations
- 30 Invitation Jackets
- 30 Precut Pieces of Twine
- 30 Response Cards
- 30 Response Card Envelopes
- 1 Extra of each printable item included for trial printing!
This comes out to be .50 cents per complete invite card which is an amazing deal considering I bought this on sale. If not at $45 - it would come out to $1.50 which is not too bad either. However usually you'll find 40, 50, or 60% off store coupon to lower your cost! The quality of the cards aren't too bad and very cute!