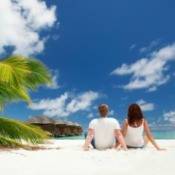 Hi fellow spendthrifts! Well after being married and saving for 9 years my husband and I can finally afford a honeymoon! (YEAH) We want to go somewhere tropical, ie Jamaica, Fiji, etc. I've been looking at prices and nearly had a cow. Any advice on where to save the money (hotel, airfare, eats, etc)?
Or where to unclench the butt cheeks and let the cash fly? We thank you immensely in advance and we'll be sure to let everyone know how the trip was. After the reality of two kids and military life is done crushing our high! Love ya tons.
Answers
By Nathalie (Guest Post)
February 22, 2005
0

found this helpful
Best Answer
I suggest looking into Dominican republic or Cuba for an all inclusive resort. I'm from Montreal, Canada, and that's where we all go to escape winter blues. It's close and pretty inexpensive. I usually find specials in the local newspaper, but Air Transat is the company that flies there, and has the packages. Maybe you can Google them.
By Lindajeang (Guest Post)
February 25, 2005
0

found this helpful
Best Answer
For our honeymoon we took an all inclusive package to Playa Del Carmen on the coast of mexico just south of Cancun. It was wonderful--food, beach, shopping---a little less "touristy" than Cozumel and Cancun, great for children, and less expensive than the Jamaica and big names like party city, Cancun. We took day trips to snorkle over the live coral reefs, had a supper "cruise", rented a moped one morning----very laid back and romantic.
The next summer I took my son to Cozumel, all inclusive. We took a day trip to Xcaret (as we had the previous year----expensive-ish but what a fabulous day, exploring, underground river in lifevests, Native dancers after dark.)
By Brandy (Guest Post)
May 16, 2005
0

found this helpful
Best Answer
Check out www.vrbo.com. They have rentals listed by owners & we cut our honeymoon costs nearly in half by going this route!
By Erica (Guest Post)
February 22, 2005
1

found this helpful
When my husband and I got married, we decided to go on an "island hopping" cruise. We booked a 6 night, 7 day cruise with Carnivale. It costed us about $1,100.00, which is alot of money to us- but that covers your rooms, meals , & drinks (not soft drinks). It would be hard to find a hotel for 6 nights and 3 meals a day & gas for that amount. We loved it, because we didn't want to spend all of our vacation in one place and have to rent a car, find our own way around, spend a fortune for 3 meals a day, etc. We just drove to the port, got on board. we went to Jamaica, Grand Cayman Isles & Mexico and spent 2 days on the ocean going down and 2 days coming back, but the fun part is that you have a ton of stuff to do on the ship, casinos, clubs, shows, pools, spas, gyms, restaurants galore!
It was the most fun I have ever had in my life!! They had excursions you could buy once you got off the ship to go to the islands, or you could just go and lounge on the beach or go shopping, whatever! I could go on and on, but we decided if we ever got the opportunity to go on another vacation, it would definately be a cruise!! Good luck wherever you go and have fun!!
Read More

Answers