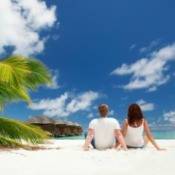 Hi fellow spendthrifts! Well after being married and saving for 9 years my husband and I can finally afford a honeymoon! (YEAH) We want to go somewhere tropical, ie Jamaica, Fiji, etc. I've been looking at prices and nearly had a cow. Any advice on where to save the money (hotel, airfare, eats, etc)?
Or where to unclench the butt cheeks and let the cash fly? We thank you immensely in advance and we'll be sure to let everyone know how the trip was. After the reality of two kids and military life is done crushing our high! Love ya tons.
Answers
By Nathalie (Guest Post)
February 22, 2005
0

found this helpful
Best Answer
I suggest looking into Dominican republic or Cuba for an all inclusive resort. I'm from Montreal, Canada, and that's where we all go to escape winter blues. It's close and pretty inexpensive. I usually find specials in the local newspaper, but Air Transat is the company that flies there, and has the packages. Maybe you can Google them.
By Lindajeang (Guest Post)
February 25, 2005
0

found this helpful
Best Answer
For our honeymoon we took an all inclusive package to Playa Del Carmen on the coast of mexico just south of Cancun. It was wonderful--food, beach, shopping---a little less "touristy" than Cozumel and Cancun, great for children, and less expensive than the Jamaica and big names like party city, Cancun. We took day trips to snorkle over the live coral reefs, had a supper "cruise", rented a moped one morning----very laid back and romantic.
The next summer I took my son to Cozumel, all inclusive. We took a day trip to Xcaret (as we had the previous year----expensive-ish but what a fabulous day, exploring, underground river in lifevests, Native dancers after dark.)
By Brandy (Guest Post)
May 16, 2005
0

found this helpful
Best Answer
Check out www.vrbo.com. They have rentals listed by owners & we cut our honeymoon costs nearly in half by going this route!
By Erica (Guest Post)
February 22, 2005
1

found this helpful
When my husband and I got married, we decided to go on an "island hopping" cruise. We booked a 6 night, 7 day cruise with Carnivale. It costed us about $1,100.00, which is alot of money to us- but that covers your rooms, meals , & drinks (not soft drinks). It would be hard to find a hotel for 6 nights and 3 meals a day & gas for that amount. We loved it, because we didn't want to spend all of our vacation in one place and have to rent a car, find our own way around, spend a fortune for 3 meals a day, etc. We just drove to the port, got on board. we went to Jamaica, Grand Cayman Isles & Mexico and spent 2 days on the ocean going down and 2 days coming back, but the fun part is that you have a ton of stuff to do on the ship, casinos, clubs, shows, pools, spas, gyms, restaurants galore!
It was the most fun I have ever had in my life!! They had excursions you could buy once you got off the ship to go to the islands, or you could just go and lounge on the beach or go shopping, whatever! I could go on and on, but we decided if we ever got the opportunity to go on another vacation, it would definately be a cruise!! Good luck wherever you go and have fun!!

February 23, 2005
0

found this helpful
Check out www.Frommers.com They have a very extensive and knowlegable message board (sort of like here!) and post some great prices/packages for travel all over the globe. A little lurking, searching, and questioning here should get all your questions answered.
And FYI, "spendthrift" means "extravagant: recklessly wasteful; 'prodigal in their expenditures'". I think we're more "thrifty spenders"!
Have a great honeymoon!

February 23, 2005
0

found this helpful
Does it really mean recklessly wastefull? Ha! Then I was right. My husband corrected me for about 6 years and had me convinced that he was right and that spendthrift was what it sounded like, "thrifty with spending". Well looky there. He flies home from serving with the military overseas for a year next Thursday and darn if I'm not gonna start out winning a point.
Just kidding. Probably spend more time just remember what he looks like and introducing him to the daughter he hasn't seen since she was 5 months old. And getting reaquainted with our son. Thanks for the advice. Hopefully we'll be sunning ourselves somewhere lush in short order.
Suzanne S.
By Auzzy (Guest Post)
February 23, 2005
0

found this helpful
If you want to save money consider contacting a wedding planner. I own Elegant Affairs LLC and we have specials on our website all the time!!! Going on a cruise is a great way to get the most out of your money, food,drinks, lodging and entertainment are all included!!! Check out our site and maybe you can get some ideas www.Elegantaffairsllc.com
By debbie in s.c. (Guest Post)
February 24, 2005
0

found this helpful
suzanne, if you want to go tropical, luxurious and romantic on an all inclusive budget you can't beat south cancun, or the mayan riviera, as it's called. it's about an hour south of cancun. it's quiet, secluded and i'd recommend 100% staying at the Adventura Spa Palace. all food and drinks and tips, and some entertainment included. adults only. this is not your wild spring break crowd. very clean. all rooms have bottled water, a balcony, in room hottub, hammock, a/c, free in room mini-bar. all staff speak english. they fall all over you for a $1. (american money) extra tip, although this is not necessary. they usually have honeymoon special coupons for the spa.. you can do extra day trips. they provide free daily transportation to downtown cancun for shopping, nightlife, etc. they have a policy: stay at one play at 7, since they own seven resorts in cancun.
you wear a colored bracelet and the transport will let you off at any of the other resorts downtown that they own. then you can take the city bus for .50 to the market, etc. and then you can eat, drink, swim, etc. at their downtown resorts for free for the day while you're sight-seeing or shopping. if you're a history buff i'd reacommend the free day trip to the mayan ruins of tulum, about a 20 ride from adventura palace. go online to palace resorts.com. we live in s.c. we went there as a package deal through usair for our honeymoon, and went 2 years in a row after that also. it's been 3yrs. since our last trip and were planning to go again this fall. it's the best bargain around if you want to be pampered and catered to. just beware the hard-sell time share scheem. it'll waste a whole day of your trip.
By sarah_bellum (Guest Post)
March 26, 2005
0

found this helpful
We went to Vieques, it is an island off Peurto Rico. It was beautiful. Most of it is owned by the DNR of the US so there is no tourist traps, no cruise ships and no all inclusive resorts you can't leave. There is a small population in the middle of the island that speak English. If you want to relax on the beach, this is the place for you. If you want to gamble, shop or anything like that, then you should find something else. Every beach we went to was deserted, and looked like the Carona commercial.
We stayed at a B&B (most tourists to the island do) and it was called the Yellow Brick inn.
Now I see why they say to "Follow the Yellow Brick Road"
P.S. We really went all out since we were getting married there and spent a lot of money for a typical tourist on the island.
We spent about 1800.00 but you could stay on this island much much cheaper.

April 11, 2005
0

found this helpful
Let me tell you a story about my nieces Honeymoon experience. She and her new hubby went to the airport to leave for the Bahamas. Her travel agent had failed to mention the fact that to fly the had to have an origional birth certificate and not a copy. And to round it up and take a flight the next day would increase the cost of the trip. Make certain you have all the little kinks ironed out.
Answer

this Question