December 30, 2008
0

found this helpful
Best Answer
Think about a few things before deciding on a color scheme. First, look at your venue at the time of day in which you intend to get married. That is, look at the time in relation to sunset, not just the clock time. If you're going to have a sunset wedding at 9pm in the summertime, the light will be about the same as sunset at 3:30pm in January. Look at how light or dark it is, and how the light changes as the sun sets, what colors the sky turns, where the shadows grow first in the room or area. Bring some fabric swatches if you can, showing how the colors will look as the sky turns from blue to black around you. Bring whatever lighting you're going to be using, too, whether it's electric torches or flickering candles, so that you get a real idea of what your colors will look like. What looks like hot pink in the glare of day may look like a muted rose as the light fades.
Next, think about the colors that look great on both of you. If you look good in orange, pink surroundings may make you look overheated and flushed. If you look good in silver and white, gold or yellow may make you look sallow and sickly. Choose colors to wear AND colors that will surround you, that will look good against your skin and against each other (that is, a pink backdrop and an orange dress or flower arrangement may not work well together).
Finally think about whether you want the backdrop and other decorations to be the same as your attire, or a contrast. If everything is white, nothing and no one wearing white will stand out and look special. If everything's light to medium blue, on the other hand, people wearing white or black will stand out against it and look very important.
Short version of the above:
1. Check the color(s) against the setting.
2. Check the color(s) against yourselves.
3. Check the colors against each other.
By Shellee. (Guest Post)
March 31, 2008
0

found this helpful
Have you seen the painting by Van Gogh that is Starry, Starry Night? It may help you in deciding which colors and styles to use if you see it.
By ijensco (Guest Post)
March 31, 2008
0

found this helpful
I had a night wedding and we used navy blue and ivory colors. We also floated star shaped candles in the basin where they have the holy water at our church. It was beautiful! It makes for a great theme to scrapbook your photos into an album later on...hopefully sooner than later, unlike me!
April 2, 2008
0

found this helpful
Congratulations!!
Our wedding was an evening wedding. We got married at 6:30 on New Year's Eve (over 13 years ago!).
My gown was white, and my attendants wore midnight blue. The flowers were mostly white with silver and blue accents. I had star confetti sprinkled lightly on the tables so it sparkled in the candle light. I just had clusters of white votives around the centerpieces, which were balloon clusters coming out of top hats.
Hope that helps!
Have fun!
By annie (Guest Post)
April 6, 2008
0

found this helpful
dark blue with silver stars is beautiful ... here's a card I did for a friend's wedding who was getting married by the lake at night...
annie @ www.perfectpostage.com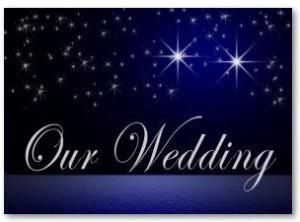 April 14, 2008
0

found this helpful
Stick with one main color and accent with the color of your gown and a metallic (silver or gold).
By Postage Designer (Guest Post)
May 18, 2008
0

found this helpful
This is an excellent theme. I'm sure everything at your wedding will look elegant. You can really use candlelight to great effect here. Also, anything with black and white formal themes will work too. I don't know if you will be in a tropical area, but here's an idea of the look for a nighttime wedding:
www.zazzle.com/.../172920223058603312?CMPN=ltte
By April (Guest Post)
May 27, 2008
0

found this helpful
I would go with Purple and Blue.
By Nicole (Guest Post)
June 6, 2008
0

found this helpful
Hello! If you like pink and he likes blue, maybe do what I am doing- Navy as the color, and hot pink and orange for accents, like the sunset. Beautiful, but not too overbearing!
By Sarah (Guest Post)
September 13, 2008
0

found this helpful
It's funny. I'm getting married on July 11th 09 and am thinking about a Starry night theme. I would go with Dark Blue (Navy) and Yellow. Have black or silver as an accent. You could have sparklers, A blue cake covered with yellow stars, lots of white lights so many possibilities