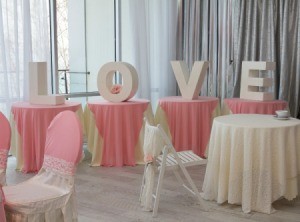 I'm getting married in 8 weeks and my reception is at the VFW. That's all I can afford. I have 3 kids, plus my sisters 3 kids, plus another teenager so we're poor! lol I need something way inexpensive to cover the wall with the flags on them. Someone please help. I checked out all of the web sites and everything is way too expensive. Any ideas anyone? Please and thank you.
By Jennifer
Answers

Joan
Bronze Feedback Medal for All Time! 186 Feedbacks
August 9, 2012
0

found this helpful
Best Answer
When I got married back in the 60s my reception was in the American Legion Hall and there were no decorations, other than the table with the cake on it. The table for the bridal party had a white tablecloth and a couple tapers on it for decoration. Don't worry about hiding the flags. I'm sure most of your guests know your circumstances. That being said, why don't you just go and get married, instead of having a wedding and reception. That is what I did, our immediate families knew when we were getting married, and the reception that I mentioned was put on my in-laws, so that their relatives and friends could meet me. They also could have afforded to do more in the line of decorations, but they were frugal.

August 9, 2012
0

found this helpful
Best Answer
I decorated a hall with inexpensive fabric from the $1 bin. I was able to get black, which worked for my party, but you can do your colors. I hung it on fishing line and wrapped around the ceiling tile frame - check with the hall to see the best way for your venue. I had eight panels - just straight down, bunched a little at the top like curtains. Use as many as you can afford. Then, I cut big pieces of poster board in the shapes of stars and moons, wrapped them in foil, and pinned them to the fabric at various heights.
You could do wedding bells. Add sparkle. Add a monogram - always classy. Then I did simple twinkle lights above and as boarders on tables and dimmed the bright lights - always helpful. Rave reviews! Good luck. P.S. Remember to decorate with all the senses - get scented candles if you can.

August 9, 2012
0

found this helpful
Best Answer
You could try crepe paper streamers taped to the ceiling, twisted and taped to the floor - like we used to do for high school proms. Tape the streamers abutting each other so it looks like a solid wall of vertical twists in your wedding colors.

August 12, 2012
0

found this helpful
Best Answer
I just did a wedding for my nephew at a fire hall. I took material and cut (tore) into 2 inch wide strips and tied to a clothes line ad hung those from the ceiling for a flowing wall cover. I got the material from a fill a bag fabric outlet. I got 20 pieces for $2 a bag...had enough material for table cloths also.
Then I made pom poms from tulle and hung from ceiling along with tissue paper pom poms and streamers. The tables had vases filled with fake greenery painted silver. It turned out beautiful. Everybody commented how gorgeous it looked.
Answer

this Question

I'm using a fire hall for my wedding reception. I'm having trouble trying to find an inexpensive way to cover 2 11 foot X 50 foot walls. I was thinking to use "S" hooks on the drop ceiling and attaching PVC piping to have it suspended and attaching tulle. I wanted to know how much tulle I would need to conceal the lockers and trophies since tulle is so sheer. Does anyone have any other suggestions on an inexpensive fabric or another inexpensive way to cover the walls?
By Danielle from Baltimore, MD
Answers

Joan
Bronze Feedback Medal for All Time! 186 Feedbacks
January 20, 2011
0

found this helpful
Best Answer
The last time I looked at tulle, which was a long time ago, it was somewhere between 40-60 inches wide, and then you would need the length from floor to ceiling, plus however many widths that you would need to cover 50 feet of wall. Tulle isn't that expensive, but it would be a lot of work, and more expense than I would want to go to.
I wouldn't be sorry about covering the stuff.
My wedding reception was in an American Legion Hall and there was pictures of things from different wars, etc. on display and we didn't worry about covering them up. I think most people expect to see things like that unless the event is in a luxery type hall.

January 21, 2011
0

found this helpful
Best Answer
As an event designer, I actually field this exact same question from a young lady who took my Wedding Chic on the Cheap class last fall.
Here is what I suggested. Tulle will be very labor intensive to get enough to cover, approximately 4-5 times the width. So, I would have a wooden frame made (it's very simple and really inexpensive) from 1x2 in 8-10 foot sections. This will make them light enough to install and can be easily moved in case of emergency. Make sure to have cross bracing in the corners. Then I suggested using Charmeuse fabric which you can by in bolt. Stretch the fabric across like a canvas. Then for more drama use uplights (floor spot lights) to add a glow.
You can use really any fabric. It will look great stretched or bunched. Don't be afraid to hang pictures, lanterns, flowers, wreaths, or set trees, pedestals or curly willow, etc in front of the fabric.
Another alternative is to create large painted canvas frames. It's a similar wooden structure as described above. The difference is you will use plywood (luan) to cover the frame. Then you can paint it or wallpaper it for a dramatic effect.
Pipe and draping can be rented from most rental companies for very little and offer colored fabric in lots of colors.
Don't be afraid to break up the wall in sections (like creating decorative panels in different colors or textures. This will make the wall a real feature.
A word of caution about the S hooks and PVC pipe as it may not be strong enough for some fabrics. The tulle would be okay or if you were using it to hang accent items, but be careful about the overall weight from other fabrics.
I hope this helps. You can always contact me with more questions. I wish you the best of luck in your planning and congratulations on your wedding.

January 23, 2011
0

found this helpful
Best Answer
We recently had a reception in a fire hall that had a similar situation. We bought a roll of tablecloth from Oriental Trading along with a banner with their names and date on it. The wedding was in the fall so we picked up some fake leaves at the dollarstore. We taped the cloth up, just running the roll to the end of the glass trophey cases and then a second row at the bottom as it wasnt long enough. We then decorated the tablecloth with the banner and leaves. The whole thing came out under $50 and everyone thought it was great! Most firemen take their gear out of the lockers and place with the trucks during events as they dont want to intrude on your big day by running in to gear up. Hope this helps!

January 23, 2011
0

found this helpful
Best Answer
We used rolls of plastic tablecloth from a Party City store. It comes in a variey of colors in 40 in. by 100 ft. lengths. If you have any hooks near the ceiling you can stretch thin rope across the ceiling through the hooks and then put the rolled out tablecloth from the floor, up the wall and over the rope to the other side, and then back down the wall. You can make sure it stays in place on the ceiling by using small silver binder clips that you can get at Staples. We had the reception in a large gym.
Our guests who had not been ther before couldn't tell it was a gym. Tulle is more expensive than the tablecloth and more difficult to work with. I would use it to accent where you wanted to. Congratulations to both of you.
Answer

this Question