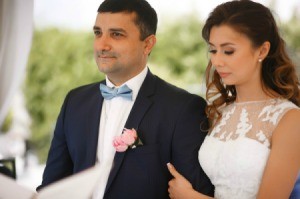 I am planning my wedding. It is hard to decide on colors. I wanted royal blue, silver, and white, but I was told that the flowers would probably look black in the pictures and it is hard to find royal blue items. So I think I am going to go with hot or bright pink.
On a wedding site, they suggested hot pink, blue and white. Does anybody have any ideas how to make this work? What shade of blue? What flowers? I am thinking of a bright blue not baby blue to match the brightness of pink.
Any suggestions or ideas would help! Thanks!
Nicole
Answers
By Linda (Guest Post)
March 31, 2005
0

found this helpful
Go to a store like Home Depot and play around with the paint chips to see what colors you would like, and how certain shades look together. If you use a hot pink you will want a bright blue, not a baby blue. Blue flowers include iris, delphinium, and cornflowers. Also statice as a filler. There aren't too many blue flowers, but sturdy flowers like carnations and mini-carns, and mums, can be spray-dyed any color you want, if you like that look. Take the paint chips with you to the floral designer, caterer and anyone else who is involved in decor for the wedding.
By felicia48 (Guest Post)
March 31, 2005
0

found this helpful
When my husband and I got married, our color's were navy blue, silver and white. In our pictures none of them looked black. We used navy blue carnations that we bought from Hobby Lobby. For the silver we had to paint them. Then we used small white roses.
There are so many beautiful flowers to choose from.
I am sure your wedding will be beautiful! I think pink would look very nice with navy blue. Good luck!
By miss jones (Guest Post)
April 1, 2005
0

found this helpful
i think white silver and navy would look beautiful however im not sure on the bright pink it may clash especially bright pink satin it may a bit tacky if its satin in the sunlight
By Nicki (Guest Post)
June 15, 2005
0

found this helpful
My wedding that is occuring in the fall is Navy Blue and Silver. However, we are doing bright colored flowers. There are not a lot of blue colored flowers and I didn't want to dye them so we are doing bright orange, magenta, purple, etc. Then to tie in the blue, my bridesmaid dresses are that color and that is what I am going to use for my table cloths. Hope this helps.
By Brandi (Guest Post)
June 17, 2005
0

found this helpful
What about using hydrangea--they come in blue, purple, pink, white. You could use blue and white and they make beautiful bouquets.
Go to google.com, click images and type in hydrangea--there are tons of blue pics. Good luck.
By Sheri (Guest Post)
August 4, 2005
0

found this helpful
I'm having a march wedding, and where I come from we have lots of snow on the ground. My bridesmaids will wear shiny satin dark blue dresses and carry white rose bouqets with silver accents added to them, for a wintery, snowy feel.
By JMOM (Guest Post)
August 4, 2005
0

found this helpful
I got married in Nov. 1997 and my colors were Navy Blue and Silver and I worked in a very pale shade of mauve and it was gorgeous!! My bridesmaids each wore navy gowns and carried 2 pale mauve calla lilies and they were carried presentation (arm held) style and were tied with navy/silver ribbon. I incorporated gardenias, stephanotis and English ivy into my centerpieces for the tables and everything was beautiful.
I also had glass fishbowls filled 3/4 full with navy blue water (blue food coloring) and had white floating gardenia scented candles burning inside the fishbowl (the candles were shaped like a flower as well) The bowls were $.89 cents each at hobby lobby and the candles were $.99 cents each)
We had for "favors" silver and navy plastic spoons dipped in white chocolate and they were sprinkled with a type of edible iridescent glitter and were wrapped in matching tulle. We also had navy spoons with 2 Hershey kisses in the bowl of the spoon, wrapped in a piece of tulle and attached was a small tag that read : "Here is a spoonful of kisses from the Mr. & Mrs." everyone loved them.
There are soooo many things you can do with navy!
And always remember one important thing.....it is your day and do what makes you happy! Don't follow trends and do something just because a magazine suggests it....do what you want and your wedding will be beautiful!! CONGRATULATIONS and best wishes.
By lisa (Guest Post)
January 4, 2007
0

found this helpful
you don't want a bright blue find a settle shade of blue and make it an accent color for example tie in the blue with the bridesmaid flowers, flowergirl petals, accent that color @ the reception and on your cake
By crys (Guest Post)
September 27, 2007
0

found this helpful
I saw in a wedding magazine that one of the top color combos for blue was to use navy blue and hot pink together. i was thinking of doing navy blue dresses with pink flowers.
By Melissa (Guest Post)
March 18, 2008
0

found this helpful
We are getting married in March of '09 and our colors are Navy, Pink & White. Everyone has told us how amazing it is going to look. Navy Dress & Pink Peonies!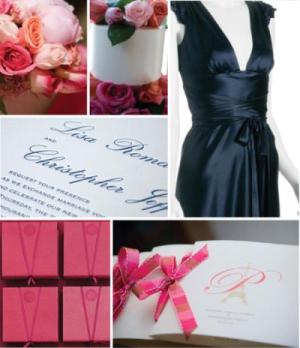 By Angie (Guest Post)
May 2, 2008
0

found this helpful
I like the combination of bright pink, sapphire blue, and pearl. It looks very dramatic together
By LAYLA (Guest Post)
July 30, 2008
0

found this helpful
I'm doing navy and pink in Aug 2009. Who makes that dress pictured above. I want it!
Read More

Answers