When my boyfriend and I decided to get married on our one year anniversary of dating (Labor Day Weekend), we didn't give ourselves a lot of time for planning or saving, just a few months. However, we still managed to have a beautiful and very frugal wedding with help from all our friends and family. Let me tell you how we did it.
First, we needed to find an inexpensive but comfortable location. Neither of us were particularly religious, so we decided to have the wedding and the reception at the same place. Both of our families were scattered throughout Washington State, mostly in the Seattle-Tacoma area. We found a community center in Steilacoom, WA, which is a beautiful seaside community near Tacoma.
The community center did not have a view but was nicely landscaped, inexpensive, had a kitchen area, tables and chairs, and a playground for the kids. Best of all, it was available, although for only the first half of the day. Both my boyfriend and I come from divorced families, so we asked each parent to pitch in equally on the rental fee, which was about $500.00. We asked a family friend, who was also a minister, to perform the ceremony for us.
We sent out invitations as soon as possible. I asked my dad to pay for printed invitations from a company in a bridal magazine, about $50.00 for 200. Instead of printing the location and reception times on the invitation, we used them as an announcement of our marriage and our new combined last name. This included pretty envelopes.
We then created an additional insert on the computer using old grade school photos, printed in black and white as the actual invitation and also RSVP cards. Some of the extended family only received the announcement as we knew that it was unlikely that they would attend anyway.
Thrifty Tip: Send an announcement to everyone you can think of. We received presents from as far away as the Isle of Man and a great many checks from family members that I had never met before.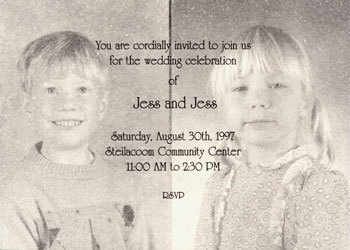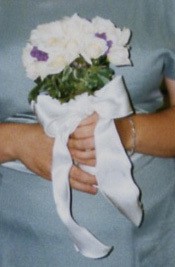 Instead of buying a wedding dress, I went to Nordstrom and looked at their party dresses. I was looking for something in a white or cream but didn't find anything I liked. I picked a soft green dress, simple but elegant. It cost about $100.00 and maybe another $100.00 for new undergarments and shoes.
Note to future brides: Be sure you are OK with not wearing white. I still regret the green dress, even though I received many compliments on it. I just didn't quite feel like a bride. There are many ways to get an official wedding dress if you do some legwork in consignment shops or thrift stores. Or ask your family and friends if you can borrow their wedding dress. Even though I bought a dress that I wanted to be able to wear again, I never did!
My boyfriend bought a suit that was a dark eggplant color (clove) at a local store specializing in sustainable fabrics. It was a hemp/cotton blend and was only $60.00.
I had a good friend who was getting married earlier that summer and I was one of her bridesmaids. She took us all to the Clinique counter for a makeover and bought us makeup for her wedding. I used these techniques and makeup for my own wedding, one month later.
My same friend also loaned me her silver cake service and many of the decorations that were left over from her wedding (ribbon and netting, etc.) She is very creative and volunteered to make my wedding bouquet. We bought grocery store roses at about $20.00 and she intermingled them with small purple flowers and wrapped the whole thing in white ribbon. A professional florist could not have made anything better.
She also created flowers for every part of the wedding party, using flowers that we had gleaned from yards in the neighborhood. The night before the wedding, I was out picking flowers at my little sister's best friend's house. Her mother asked what sister was getting married and was very surprised that it was me! I guess most brides don't work the night before the wedding. Some of these flowers were also used to create table decorations. We tied ribbons around canning jars and put a piece of oasis in the bottom. Each vase was different but beautiful.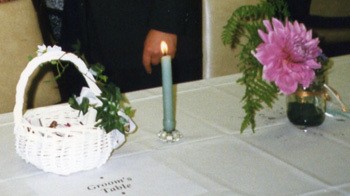 For favors, instead of the typical candy wrapped in netting, we printed our personal wedding vows and tied them with a ribbon. We put candy and nuts on each table too.
My boyfriend's mother hosted the traditional "Rehearsal Dinner" at a local restaurant in Steilacoom. It was a nice time for the two families to get to know each other before the big day.
Because of my non bridal dress, I decided to forgo a veil but I wanted to look special. I scheduled an early morning appointment at a salon in the area and brought some flowers to use in my hair. This cost about $60.00, including a tip. I did my makeup there as well. My groom picked me up there and, even though it ruined the tradition of not seeing the bride before the wedding, it was still a romantic moment when he first saw me ready for the wedding.
On our way to the wedding, we stopped at a mall photographic studio to have official wedding portraits taken. It cost about $20.00 for the session and then about $10.00 for each photo sheet. This was much more inexpensive than hiring a professional photographer during the wedding and avoided the awkward photo session in the middle of the reception. I asked a close friend who was also a photographer to take some candid shots during the ceremony and reception.
I also had many of the guests send me copies of the photos they took. I have tons of great pictures. One of my best friends even created a beautiful photo album for me, filled with her photos of the event. She also made me a guest book for everyone to sign.
Due to the half day, all our close friends and family pitched in and decorated the area and tables before the actual "guests" arrived. They also helped clean up after the ceremony.
Our wedding party was unusual. My boyfriend has a best friend who was a woman. She introduced us originally and he wanted her to be his "best man". I was very close to my brother so I made him my "maid of honor" for symmetry. Our sisters were "bridesmaids", one for each side. I just asked them to wear nice clothes. We entered from either side of the reception area, first the sisters with flowers, then the bride and the groom with our attendants, arm in arm. We met in the middle and were married.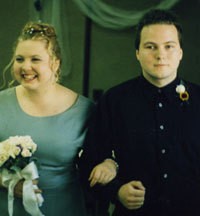 My mother arranged the food with a old high school friend of her's who owns a deli and does catering. She paid about $5.95 per person and we had about 100 guests. We had simple sandwiches and salads. This was the most expensive part of the wedding. Because of a history of alcoholism in my family, we had non alcoholic cider for the toast (with a borrowed set of blue goblets). We also had coffee and punch to drink.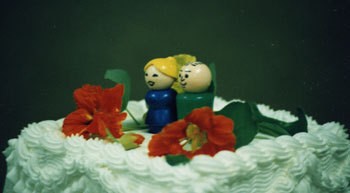 Instead of spending a great deal of money on an expensive cake, we got a wedding cake from the local supermarket for around $85.00. I asked them to decorate it plainly with only minimal white frosting and put fresh nasturtium flowers and leaves on it. On the top, we decided to use the old Fisher Price people in lieu of an expensive topper. I think it looked very cute and pretty.
We played the Moonlight Sonata for processional music using a CD boombox setup and brought favorite CD's to play for music during the reception. My sister and younger cousins loved playing DJ.
My friend made an additional bouquet for the traditional toss. As luck would have it, my husband to be had caught the garter at her wedding last month so we reused that for the garter toss. Unfortunately, none of the guys wanted to catch it. Perhaps that is common.
The wedding and reception was short and sweet. After driving off in the festively decorated car (I never did get the dots off the wheels), we headed for Portland, OR for the first night of our honeymoon. We stayed at one of the hotels overlooking the river the first night and then headed for the coast to stay in a romantic bed and breakfast for two more nights. Thanks to a last minute addition at the wedding, a Honeymoon Donation jar, we had lots of cash for the honeymoon. I think we were given over $200.00 beyond the regular gifts.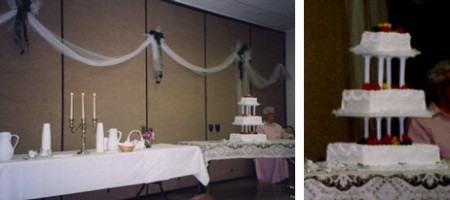 Instead of giving gifts to the wedding party and helpers at the wedding, we bought personal gifts for each of them during our honeymoon. That way, we could buy things without guilt. We also bought ourselves a wedding present, a beautiful glass clock.
We registered for gifts at a local department store and also at Pier One. When we returned from our honeymoon, we opened all our gifts and took stock. We received very few sets of fine china and silverware so we returned the odd pieces and were able to get an entire set of everyday dishes (Fiestaware), cookware and some Henkels knives that I still use today. We also received quite a few gift certificates for that purpose. Many people chose to shop at Pier One and as we had picked out things that we wanted for our house, there was almost nothing we felt like returning there.
Including the honeymoon, I don't think that the wedding cost more than $2000.00. Without the help of all of our friends and family, it would have been impossible. I have received many compliments on the wedding itself, it was fun for all and very unpretentious. Don't be afraid to ask for help from your loved ones. This was everyone's wedding and everyone felt a part of it. My husband and I will be celebrating our 9 year anniversary this Labor Day. I hope that my story will inspire other brides and grooms to create their own special, frugal wedding.