Bridal showers are one of the most fun parts of planning a wedding. Planning a bridal shower can also be fun and can be done on a limited budget if you are resourceful. While the trend seems to be hosting the shower at a venue such as a restaurant, why not consider a bridal shower at home. It is less expensive, more intimate and gives you more options as to your menu.
While it is supposedly a faux pas to have the mother of the bride plan the bridal shower, my daughter's bridesmaids enlisted my help. I offered to host it in our home and they were thrilled. We all talked and decided on a rather unconventional approach. We would do a co-ed, or as more commonly known, a "Jack and Jill" shower. Since they wanted to do it in May, I suggested a Kentucky Derby theme and we did it on Derby Saturday. I have always found that using a theme makes planning a celebration so much easier. It gives you a road map for your plans. So a Derby theme it was and off to work we went. We created cute Derby themed invitations on line. Next we decorated straw hats to serve as favors. So easy and inexpensive. We found the hats online and used ribbons, tulle, buttons, boas, and artificial flowers to create amazing Derby hats for all the ladies. We made a special white and tulle bridal themed hat for our bride.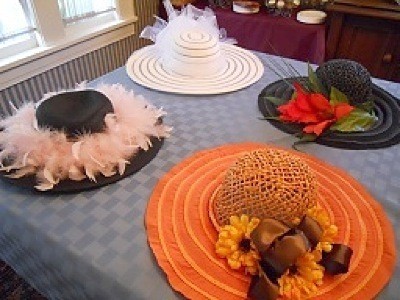 For our menu, we kept it simple - we made assorted sandwiches, salads, fruits, and pastas - as if you were on the racetrack sidelines picnicking. We had lemonade, iced tea, beer, wine, and fresh fruit sangria in a punchbowl. For desserts we made dozens of mini-cupcakes and displayed them on cupcake stands.
We added chocolate covered strawberries, homemade cookies, and cake ball desserts. If you have never eaten cake balls you are in for a treat. Small bite sized nuggets of cake and frosting, dipped in melted chocolate. We used the chocolate for candy molding and did a rainbow of colors.
I always love to include a game at our own family celebrations so I came up with a Derby Dollars guessing game. We set up a booth with buckets labeled for all the racehorse contenders and let the guests put in their guess for the winner. We drew a grand prize winner out of the winning horse's bucket! Everyone gathered to watch the race, so fun!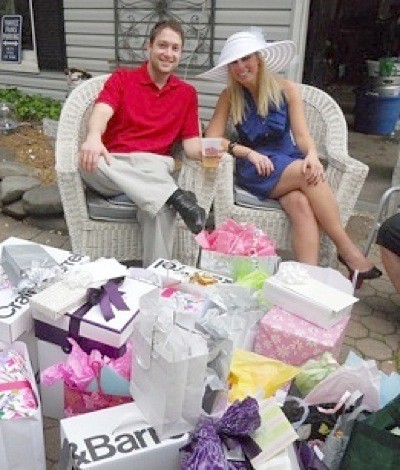 The final gathering was to watch both the bride and groom open their lovely gifts. It was a beautiful celebration filled with all the people they both love so much. Best of all, this whole shower cost pennies in comparison to hosting it out of the house. Many of these ideas would be perfect for a more traditional bridal shower with a garden or tea party theme, so let your creative juices flow and you can plan a beautiful bridal shower on a limited budget.