By Frances (Guest Post)
March 20, 2008
0

found this helpful
A group of friends pooled our money and kidnapped the bride to be, took her to the mall shopping with the money we had collected and then treated her to dinner at a favorite restaurant. That was such a success that when another friend was to get married, we repeated the fun. They both had grown children and had their households well established.
By Karen from Kentucky (Guest Post)
March 20, 2008
0

found this helpful
When having a shower I always hated the games using paper and pencil. This game you ask the guest questions, etc. 1. who has the most buttons, 2. who has the most rings, the most keys on their key rings 3. who is wearing black panties, etc. It's a lot of fun without a lot of planning.

March 20, 2008
0

found this helpful
Is it a shower or a bachelorette party? I've never heard of an r-rated bridal shower. Just do the normal thing-- send invitations that tell where she is registered, play goofy shower games, eat food, etc.
They may not need lots of household stuff but they could register for gifts anyway.

March 20, 2008
0

found this helpful
I had a bridal shower for a wonderful friend of mine and we all had such a great time. My friends aunts and great aunts even had a good time.
One of the games I planned was:
Bridal Shower Pictionary
I had a dry erase board (borrow or purchase one, saves on paper and you and your family may use it like we do to play at home) made up an easel to hold the board or you may find a nail in the wall where ever you are holding the party that will hold the board.
I made up different index cards with all things related to a wedding or marriage on them. Then we divided up into equal teams and with our dry erase markers in hand the fun began. The team with the most points at the end won the prize (depending on your budget you could give everyone something). I set a 2 minute time limit for each turn/card. Not everyone wanted to draw but they all had a great time trying to guess what was being drawn.
I wish you the best of luck and a wonderful time!

March 21, 2008
0

found this helpful
A couple of ideas. My future daughter - in - laws party was at a friends. First thing was when someone got there, they were handed a clothes pin, springy kind, and told to attach it somewhere on there clothing. Whenever someone said the future brides name, they lost their clothes pin to the one that noticed they said her name. The one with the most pins at the end of the party got a prize.
Also, on a piece of paper have everyone write down the bride and grooms name,(John Doe & Mary Smith) then have them find as many words as possible from their names in 5 minutes.
The one with the most gets the prize.
Also,very fun, everyone got a roll of toilet paper and the bride stood in the middle of the room and everyone made a wedding dress on her. Gown, trane, bouquet , head dress and even the ring. That was lots of fun.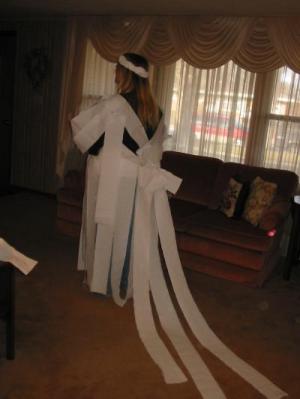 March 21, 2008
0

found this helpful
Another look at the toilet paper wedding dress.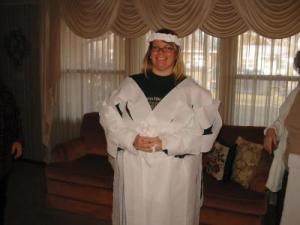 March 27, 2008
0

found this helpful
We had a shower a month ago for my grandma's sister (Widowed many years ago) and our future Uncle the same. We did a combined shower and played "BRIDAL BINGO". Everyone is handed a blank bingo page and you add names of guests on your sheet, each guest must put thier name on a small square sheet of paper and place in a bowl. It was nice to meet his family and know their names before the wedding.
At the wedding, it was nice to know their names and talk about how the bingo game made it easy to break the ice.
Hope this helps,
Chillydeedee