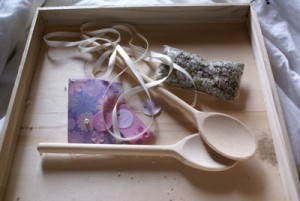 A cheap, cheerful and useful homemade gift that can be assembled with things you have in your craft box or even lying around the house in an emergency! Wooden spoons are a traditional gift for newlyweds or as a love token. This would also make a great housewarming gift, and it can easily be put together by children with a little supervision.
Approximate Time: 10 - 30 minutes
Supplies:
wooden spoons/spoon
tiny beads
small package of herb spice mix
ribbons recycle if you can
tags
sentiments on small tags
Instructions:
Once you have assembled all your bits and pieces have fun playing around arranging them in the most attractive way. You can theme or color scheme according to the occasion or your recipients favorites.
In the one I made for the photo I used some sentiments I got free with a craft magazine. The large tag is also made up with freebies. The ribbon was saved from a gift I received. The little package of herb salt was made with my own dried herbs and some very cheap sea salt and the package is a piece of a cellophane gift wrap.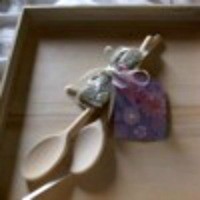 This project it is so flexible, frugal and fast, a simple version can even be put together for fundraisers.
By ayesha christmas from Slovenia, EU
Comments
Read More

Comments