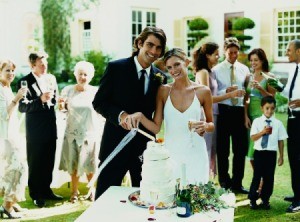 My 21 year old son is newly engaged. I am so new to wedding information. Please help me! I know we have to pay for the rehearsal dinner, but don't agree with what her family includes in that. Help!
By karen zetzer from Port Clinton, OH
Answers

April 27, 2011
0

found this helpful
When our son got married, we paid for the rehersal dinner. They had a large wedding party and asked if they could all bring a guest, then all the out of town family members, more on her side,got invited kids and all. We ended up doing a buffet at our home. It was much nicer than at a restaurant. We were also in charge of the drinks at the reception. This could be tricky. Some places charge you for an entire bottle even if only a few drinks were used from it. We paid by the eighth of the bottle, and the soda was done by the glass and not can. To many people get a can and leave it half to almost full, walk away to talk to someone then just get another. If you're getting beer, make sure they clear it with you before they open another keg. We only had 1 hour left to the reception and they wanted to tap another full keg. I said no, because I would be charged for the whole keg even it was still full. Everyone survived and the wedding reception was a great time. You can also have them quit serving alcohol during the dinner meal. That will save you some money too. Just don't announce that the bar is closing during that time, the guests will stock up and not drink all they get. That happened to a friend of ours and at the end we found alot of drinks full.
Read More

Answers

My brother has been dating a woman for 5 months (kids involved both sides). I just found out they are getting married in 1 month. Do I have to attend it? It is his and her 3rd wedding. The 1st 2 wives were awful. I am not saying this one is awful, I have never met her. What is the protocol? My husband thinks it's goofy to attend when it is the 3rd time around. Ideas? Suggestions please.
By Lisa R
Answers

(Guest)
Gold Post Medal for All Time! 846 Posts
November 27, 2010
0

found this helpful
Unless you happen to live in the same city as your brother (which you probably don't because you mention you've not met future wife #3 yet) I agree with your husband that it would be a goofy idea to attend. If you think it will upset your brother if you don't attend simply let him know you love him, wish he and his new bride the best and hope they come to visit you soon.
;-) Don't forget to send a nice card and, in my humble opinion in this case, a small gift is optional.

Joan
Bronze Feedback Medal for All Time! 186 Feedbacks
November 27, 2010
0

found this helpful
I agree with Deeli, however, there are some families that unless there is a really good reason to not attend, like illness, being housebound, etc., it could cause major problems in the family. I wouldn't approve of having a large, fancy wedding, after that many marriages, but for the sake of family harmony sometimes a person has to grin and bare it.

November 27, 2010
0

found this helpful
Why wouldn't you support your brother? Isn't that what Family is for? if I had a brother, no matter what the circumstance are, I would attend and so would my husband and my kids.

November 28, 2010
0

found this helpful
Hum, lots of things to consider in these circumstances. First of all, is it a hardship (health, travel distances, finances) to attend this wedding or merely a hassle? I would certainly understand the hassle aspect, but if that was all it was, a hassle, I'd "grin and bare it", too. ("redhatterb's" comment.)
Otherwise, send a nice card and as "Deeli" suggested, tell them you love them and invite them for a visit. Whether you attend or not (assuming you've already given a wedding gift or two to your brother) offer a modest, yet heartfelt gift to the new couple.
Even if your brother is okay with you not attending his third wedding, I would seriously consider how not doing so would affect your relationships with his children and your future sister-in-law. Just be sure to weigh that thought against the goofiness of attending a couple's third wedding. Hey, sometimes, third time is the charm! :-)
It's a delicate dance, one I'm certain most of the original etiquette authors didn't consider. My suggestion is to think of the long term consequences of attending or not and act accordingly. Good Luck!

November 29, 2010
0

found this helpful
Is the wedding in town? Would you have to drive far? Even tho it's a third wedding. It's your brother after all. Maybe you could put your feelings aside for one day to be there for him. Are you two close? Will there be others there from your side of the family?
His first two marriages didn't work out but that doesn't mean this one won't. Why not just go and perhaps you'll even have a delightful time. Oh and I don't know if there's any protocol. I think you should do what your heart tells you to do.
Read More

Answers

I am getting married June of next year and am trying very hard to get together a budget for my wedding which I am planning myself. I have been doing research after research and can't come up with one answer. My mother is going to be my maid of honor, but what about his mother? I have heard that you have to get the mother(s) dresses and such... is this an absolute necessity? I just can't find enough on the subject and would really appreciate the help. Thanks much.
Ashley from Kentucky
Answers
I have been to weddings where the mothers light the candles before the ceremony begins. Just an idea for both of them to do. I wish you the best with your planning.
Maryanne

March 21, 2005
0

found this helpful
Since you're paying for the wedding, I think the mothers should get their own dresses. So should the bridesmaids. Then, you should get them all something small as a thank you for being there for your special day. If you buy their dresses, then that is their thank you... Since your mom is your maid of honor, you can still have the mothers light the candles together, then your mom will just stay up there while his mom sits down. Then, you can walk down the aisle and meet your mom at the alter! :)

March 22, 2005
0

found this helpful
Congratulations!
I am getting married in 3 weeks!
We're paying for the wedding and both our mums are buying their own outfits.....BUT we are buying corsages for both of them and a special gift, to be given on the day.
Don't feel it is all your responsibility. They will be happy to help and honesty is important from the word go...especially if you're on a budget!!
Good luck to you and hubby to be! x
By Erin (Guest Post)
March 22, 2005
0

found this helpful
I got married in June 2002. We split the cost of the wedding with my parents.
I have never heard of the bride buying the mother's/inlaw's dresses and I read and TON of wedding etiquette books. I just got them small gifts and corsages, not dresses. The only thing I did for them as far as the dresses go was to tell them what my colors were in case they wanted to match. That's it.
Hope your big day goes smoothly!
By Trix (Guest Post)
March 22, 2005
0

found this helpful
From what I read during research for my own wedding and my sisters, everyone is responsible for buying their own wedding outfits. Sometimes the bride and groom may want to buy the bridesmaids their dresses (or the groomsmen their tuxes etc.) but it's not required. Usually their flowers/corsages/buttonnaires are paid for by the bride and groom, but anything else is a gift.
The important thing is to make sure that everyone involved knows how special you are to them and that doesn't require a lot of money.

Jo Bodey
Bronze Feedback Medal for All Time! 104 Feedbacks
March 22, 2005
0

found this helpful
Maybe you need to sit down with both families and decide who is paying for what. You obviously want a special personal wedding as you are doing it yourself so I don't think 'etiquette' comes into it. You and your fiance sit down and make a list of what you want and what you think the expenses will be and then discuss it with your families and see what they expect/will be responsible for and then everyone will be 'on the same page' in the preparations.
Regards
Jo
By Eric (Guest Post)
March 27, 2005
0

found this helpful
I am getting married on April 2nd, 2005 (a few more days!) and this is how ours broke out:
Photographer - 31.2%
Catering & Reception - 18.2%
Flowers - 16.5%
Attendant Gifts (we had a lot of people involved in this wedding) - 11.8%
Church/Officiant - 6.8%
Hair and Makeup (we paid for all the girls) - 5.5%
Videographer - 4.1%
Cake - 2.9%
Musician (Harpist, no DJ) - 2.7%
Rings - 2.6%
I guess ours is unique because she already had the dress. If I didn't list something, it was 1% or less.
Answer

this Question

My best friend asked me to be her Matron of Honor. She emailed me today and said she would like to buy my dress and shoes. I am kind of stuck. I would like to buy it but is it ok if she does? She already will have enough to pay for. Any thoughts?
TexasTeacher
Answers

August 15, 2005
0

found this helpful
Pay for the dress & shoes, but tell her that is your wedding present to her. She's your best friend - don't be a cheap skate. (But, she can't expect more than that from you!)

August 16, 2005
0

found this helpful
Sounds good..yeah I don't really like the idea of her buying it for me anyway.
When I got married, I asked 3 girls to be in the bridal party. I paid for their dresses and hair accessories and gave them each a bone china cake plate to their china pattern. I did not expect gifts from them but they did so. As they also had to go to all the wedding showers (5) as well, I felt it was only right for me to pay for their outfits. I do feel that if a bride asks someone to dress up special for their wedding, that they need to consider the incredible expense each of the bridal party will have.
By SNIGDIBBLY (Guest Post)
August 17, 2005
0

found this helpful
I SUSPECT SHE FEELS OBLIGATED TO BUY THE DRESS FOR YOU BECAUSE SHE IS CHOOSING THE STYLE AND COLOR. YOU CAN OFFER TO PAY HER BUT LET HER CHOOSE THE DRESS AND SHOES - IT IS HER WEDDING.

Athena
Bronze Feedback Medal for All Time! 215 Feedbacks
August 17, 2005
0

found this helpful
See if you can pay for half of of the dress and the accessories.
Ziggee
By Mary (Guest Post)
October 4, 2005
0

found this helpful
You have a very nice friend indeed! I have been in many weddings and have always paid for the dresses myself. Believe me, it would break the bank if they were all totaled it up! Offer to buy the shoes or go half and half. If she still insists, let her pay. But be sure to give the couple the loveliest gift you can afford and remember to keep your friendship alive over the years. Your friend obviously cares very much about you.
Answer

this Question

My son has just become engaged to a girl with a wealthy family. I am not wealthy and am also divorced from his dad. What are my obligations, as I know they will be putting on a huge wedding. I love my son dearly, but don't know what I can do!
By karen zetzer from Port Clinton, OH
Read More

Answers