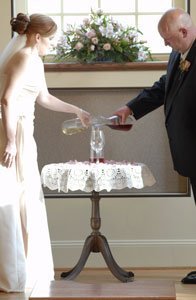 Instead of a unity candle, my son had a wine ceremony. Carafes of red wine and white wine were poured into an empty carafe, then the mixture was poured into a goblet from which they both drank. I heard a lot of people talking afterward about how unique and different that was.
By Trixie from Turbotville, PA
My nephew is having a 4th of July wedding. It will be outside and he wanted to know what to use instead of unity candles because the wind will blow them out. Any other ideas with the same concept?
By Lisa Votaw from Stanford, KY
Answers
July 1, 2009
0

found this helpful
This isn't an alternative to unity candles, it is still unity candles:
glassdimensions.com/.../ind_unity_ensemble.html?partner=P10064...
It is an interesting unity candle ensemble which is made for outdoor use. You can enlarge the picture for a better view. The description says it has lamp oil in it. Problem is it is pretty pricey. I have seen large glass tubes like the one in the picture at Hobby Lobby and I'm sure you can get all the parts there if you want to make one yourself.
July 2, 2009
0

found this helpful
My husband and I were married at a park in July about five years ago. We didn't use candles at all, instead we used sand. We each had a little vase of sand (his was brown and mine was purple). Instead of us lighting a candle together, we poured the sand simultaneously into a heart shaped container.
It mixed in lines and looks really cool! This picture was taken with my cell phone so if you would like to get a better look just let me know and I will take a better picture and send to you! We bought all the stuff at Hobby Lobby for about $10!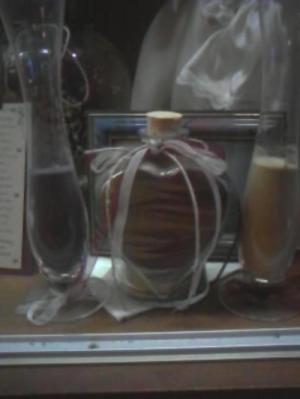 July 2, 2009
0

found this helpful
I love Harrison 2009's idea!
You can use battery operated candles :-) Here's a link where they have some really nice taper candles on pages 2 & 3 for very reasonable prices. Also, on page three they have wax coated red ones which would be cool for a 4th of July wedding :-)
www.christmas-decorations-gifts-store.../.../products.asp
Oh, but today is the 2nd :-o Call around to specialty party stores, Hallmarks, etc. Someone in your area must sell battery operated ones in your area. Walgreens down the street from me sells battery operated pillar and teas and someone must sell tapers :-)
Hope your nephew has a lovely wedding :-)
July 2, 2009
0

found this helpful
In keeping with the holiday I say use sparklers. After all the meaning is the same no matter what you use for the symbols.
July 2, 2009
0

found this helpful
The sparklers idea is good, but I'd have to vote for the tree. Good for the environment, and could be a lasting memorial to the union. There's a tree in our yard my hubby still calls "Emma Kate's tree," for the cousin for whom it was originally planted.
August 11, 2009
0

found this helpful
What about Chinese lanterns. You could give one to each of your guests and then send them off when it gets dark. A nice alternative to fireworks and a lot cheaper!
I think you can pick them up on ebay.
Answer

this Question

...
My daughter was married outside in our yard last weekend. Since the wedding was outside she realized that candles would not stay lit. Instead of lighting unity candles, symbolizing 2 lives joining together unto one, she bought bath salts and some food coloring and made her own "sand" colors. She added a few drops of blue food coloring to one bowl of white bath crystals and mixed it well, turning the white crystals to a baby blue color. To the other bowl of white bath salts she added green food coloring and made a light green color.
After signing the wedding papers the happy couple went to the pedestal holding the 2 glasses with colored salts and gently poured each into one cut glass bowl mixing the colors of salts, symbolizing the 2 lives joining into one. Side benefit, she now has food coloring in her new home. But I don't think that she will have a bath with the extra blue and green bath salts. She may come out that color too?
Valleyrimgirl

Answers:
Alternative to Unity Candles
I attended an outdoor wedding that did the same thing with colored sand. Some of the dollar stores or craft stores sell the sand already colored. I thought it was an excellent alternative to the unity candle. (08/20/2005)

By CF, VA
Alternative to Unity Candles
Unity Tree! We did that for our wedding. My mom is an avid gardener. She picked out a young Champaca tree for us. During the ceremony we got water from our mothers and watered the tree. We still have the tree and hope one day to plant it in our dream home. (08/30/2006)

By Tina
Alternative to Unity Candles
I am considering using the sand in our upcoming ceremony, and, as a primary teacher, I have made sand every colour of the rainbow. It really helps to add a little rubbing alcohol with the food colouring, because it ensures that the colour spreads evenly through the sand, and it doesn't clump. It's great. (06/17/2007)

By Kelley D.
Alternative to Unity Candles
We got married outside and I was afraid that our taper candles wouldn't stay lit long enough for us to light a unity candle together. Instead of using sand, I bought granulated candle wax in 2 colors that my husband and I poured in layers into a hurricane vase. We then stuck a pre-waxed wick in the center, lit it, and it was beautiful. No one had ever seen anything similar, and it was very special to us. Our hurricane vase was a couple of inches taller than our wax mixture, so the sides helped protect the flame from the wind. We love burning our candle in our home. All supplies were purchased at www.craftsetc.com. (06/06/2008)

By Melody T.
Alternative to Unity Candles
We are using colored beads. Our colors are red and black and so we are using those colors. We are also thinking about having our parents pour in small amounts of sand from where they live. (My parents are from Africa and my fiancee's parents are from Michigan. All this stuff goes into a hollow transparent globe with the map of the world on it. So I think we are going to do good. (10/01/2008)

By twaambo
Alternative to Unity Candles
My son got married in April and they had a wine ceremony. Behind the minister there was a table and on it was a carafe of red wine, a carafe of white wine, an empty carafe and an empty goblet. He announced the unity part of the ceremony, and they went to the table and each poured from their carafes into the empty one. Then my son poured from the mixed carafe into the goblet, and gave it to his bride. She took a sip and handed it to him. It was very unique. (10/06/2008)

By trixie118