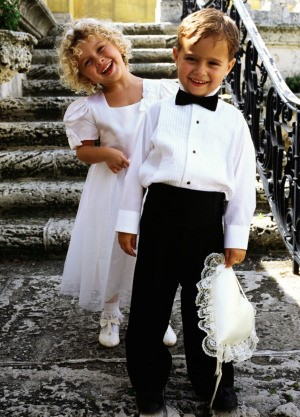 We have something of a dilemma. My daughter is getting married soon, and there are 2 four year old girls and 3 young boys (2 four year olds and a six year old) that will be in the wedding. The girls will both be flower girls, and one of the 4 year old boys will be the ring bearer. We need jobs for each of the other boys to do. It's a Baptist wedding, and we are thinking of having one of them carry a Bible, but we need something for the other boy to do. Any ideas would be greatly appreciated.
Answers

Joan
Bronze Feedback Medal for All Time! 186 Feedbacks
March 22, 2010
0

found this helpful
I would have the six year old be the ring bearer because he would be more responsible, the two four year olds could kind of be escorts for the flower girls. When we had my parents funerals, my son in law was a pall bearer at each of them, and that meant that my daughter would be caring for three small kids, one of which was a new born.
Her oldest son was a small child himself at the time and also autistic and ADHD, so in order to help her out, I told him that being I didn't have a guy to walk with me, he could be my escort, and he took the responsibility really seriously. Another thing the two younger boys could do would be to walk in back of the bride, making sure her train is straight all the time. I have heard them referred to as pages in some places and in others as train bearers. Pictures that I have seen they are usually quite small boys. Hope these ideas help.

March 22, 2010
0

found this helpful
redhatterb had some good ideas but also you might consider enlisting a few teens help and have the children escorted out when the wedding ceremony starts otherwise no one will get to watch the wedding because the children will be bored by that time. There is nothing more annoying (although they are cute) than to have children doing the child thing during a wedding (I hope this does not make me sound like I'm against children- because I'm not - I just have been to weddings where it was very annoying that the little darlings took over and the bride and groom's wedding became a play land).
With this many children it is very apt to happen.

March 23, 2010
0

found this helpful
I have seen where they have a ring bearer for the bride & one for the groom.You could use the 4 year olds for that & the 6 year old could help with the dress train if she has one.

March 23, 2010
1

found this helpful
You could use the extra child as a page. He could come in behind or in front of the flower girls, with a bell announcing that the bride is coming. Saying something as: "The bride is coming, the bride is coming, all stand up, the bride is coming!" It will make them feel they have an important part, and they do.
It's just such an added touch to a wedding! Goodluck, and let us know how it goes. I'm a wedding planner and decorator, so I've seen a lot of different things. Email me if you have any more questions.

March 23, 2010
0

found this helpful
He could hand out rice or bird seed, or bubbles.

March 23, 2010
0

found this helpful
it would be nice for the oldest boy to carry to roses (or whatever flower of choice) for the bride and groom to take from him after ceremony to hand to each others respective mothers as they proceed down the aisle.

(Guest)
Gold Post Medal for All Time! 846 Posts
March 23, 2010
0

found this helpful
It would be a great honor, and make the six year old feel special, to be able to be an usher even if that means he's an usher's helper ;-)

Lee Taylor
Bronze Feedback Medal for All Time! 171 Feedbacks
March 23, 2010
0

found this helpful
Are you having any type of program or printed material he could hand out to each guest? You may want to print something up thanking all the guests for coming, use a special Bible verse and personal message from the bride and groom.
Print it on pretty paper (you could even roll them and tie them with a bow) and then the little boy could hand one to each guest as they enter the church. I did it at my wedding and people loved it!

March 23, 2010
0

found this helpful
Ring-bearer is an awfully responsible role for a 4-year old. Would you consider allowing the 6-year old that honor instead? My grandson was 5.5 when he was ring-bearer for his Aunt Em's wedding last August, and his mother, Nana and I were all a little nervous for him - not to mention Aunt Em and Uncle Brian. we all breathed easier once the rings were safely on the bride and groom's fingers.
Perhaps both younger boys could carry Bibles, or manage the bride's train if it's long. There are a lot of other good ideas on this topic thread, too.

March 27, 2010
0

found this helpful
Why can't one of the boys bring the bride's ring and the other boy bring the groom's ring down the aisle?

April 1, 2010
0

found this helpful
Let each of the 4 year old boys walk down the isle beside the 4 year old girl as she scatters the flowers.

April 2, 2010
0

found this helpful
Wow! Thanks to all for the great ideas. I think the couple settled on having 2 ring bearers, the 4 year old boys. The 6 year old boy will carry a Bible down the aisle. Once again, thanks to all for the help!
Answer

this Question