I am getting married in June of 2005. We don't have a lot of money for our wedding like most people. I am looking for ideas for the tables with flowers and candles. I have a few ideas myself of what I would want, but what I need to know is how to do it at a very low cost.
I love some of the ideas I have read on here about using floating candles and I think that is something I might want to do, and the glass with flowers on it also. My colors are pink and lilac with silver ribbon and those are the only colors I want to use. I am having to do all this on my own. My soon to be mother-in-law lives an hour away and so does my family. I have a friend that is helping me out as much as she can, but if anyone has ideas please feel to give them to me. Please help me out on this.

Christin from Louisiana

Answers:
Ideas for June Wedding Centerpieces
Congratulations! I saw some really nice ideas with candles and lights in Meijers. I don't remember them being that expensive, but then I'm not shopping for a wedding right now either, but you could use the ideas and make the items yourself.
Just a side note, my hubby and I have been married for almost 10 yrs and we spent under $2000 for our wedding (that's including my beautiful dress, maid of honor's dress, guys' suits and catering). It wasn't lavish but we weren't lacking for anything either. My employer (unbeknownst to me) paid for my bouquet and flowers for the wedding party as a wedding gift and our cake was made by a family acquaintance as a gift. We prepared the music, decorations and favors. It can be done beautifully and inexpensively! (01/26/2005)

By Tina
Ideas for June Wedding Centerpieces
I saw this idea on TV. They used a big glass bowl (like a fish bowl) and put colored rocks in the bottom (could be any colors) and then added tulips so that they were vertical against the glass (the tips of the flowers were close to the top of the bowl) and were anchored by the rocks all the way around the bowl, they then added water and had a floating candle. I hope you can picture it, it is hard to explain but it was beautiful! I am getting married in June as well and I think it is "normal" for the couples to try and be as frugal as possible, gone are the days when the parents with deep pockets pay for all! (01/26/2005)
By Ml
Ideas for June Wedding Centerpieces
Congrats on your upcoming nuptials! I got married last June and found myself in a similar situation. I decided on using plants as my centerpieces. I grew some of the plants from seed and used some potted orchids that I got at a clearance sale. I got some cheap terra cotta pots and "antiqued" them by rubbing a mixture of white paint and water on the outside with a dry rag. (There are many web sites that will teach you how to antique terra cotta, I suggest using the advice on one of those.)

I gathered some small river rocks from our local stream and placed those around the potted flowers. I also placed white votive candles around as well. The total cost came to be about $5.00 per table! I would suggest trying a wide variety of seeds for flowers. My mother has a green thumb or else I might have been nervous about the venture!
I had many people jump in to help with the painting of the pots and the growing of flowers. You can also use potted flowering plants from a nursery. I hope that this helps you out and I hope you have a beautiful wedding day! (01/26/2005)
By LesleyBee
Ideas for June Wedding Centerpieces
Well, I didn't have money for my wedding either. We got married by a judge, had no reception, but then, I didn't have any family, nor did hubby, and we didn't have friends to invite either, so that made it easy. I saw no need for an expensive wedding gown I would only wear once, so instead I bought a nice dress from the sale rack, and hubby just wore slacks and a dress shirt and tie.

But you could still go cheap. A marriage is not made by the wedding ceremony, but by the two people who are bound together in the marriage. You don't need all that fancy stuff. (01/26/2005)
By Ann Washburn
Ideas for June Wedding Centerpieces
Congratulations! I have a couple ideas for you. You could rent a tank of helium and blow up a few balloons in your colors and tie to a weight (rock or sand) wrapped in foil in your colors. We had an aunt who did this for us. She also made a beautiful arch out of balloons tied together with fish line. I have also heard that floral shops and some reception halls will rent those little glass bowls which you could do any number of things with. You could also buy some of the pre-cut confetti and scatter it on the tables. Or you could make your own. Happy Wedding! (01/26/2005)

By Jill
Ideas for June Wedding Centerpieces
Congrats! When I got married in Sept. of '02, we didn't have a lot of money to spend on anything! Luckily, for me, my sister is extremely creative, and she used to be a florist. She came up with all kinds of ideas for our arrangements and the centerpieces. Thanks to her, we spent $25 on 13 centerpieces. We bought glass cylinders (vases, without any curves or decorations), and put a piece of fake ivy in them with enough water to cover it and to allow for a floating candle.
Then around the bottom we draped colored tulle, but you could use ribbon. They were beautiful, and cheap. You could also just use a small vase with a single flower, and a bow tied around it.
Good luck! (01/27/2005)

By Keena
Ideas for June Wedding Centerpieces
Also, you can save the half price coupons at Michael's to buy these supplies. When we were getting married, all of our friends collected the half off one item coupons for us and we bought all of the materials for our invitations, centerpieces, and flowers there. (01/27/2005)

By April
Ideas for June Wedding Centerpieces
If you could find a bunch of small pillar candles in your wedding colors - or even just plain white ones, which would probably be the least expensive - use a needle to attach fake flower buds all around them and make the candle look as though it's made of flowers. (01/27/2005)

Ideas for June Wedding Centerpieces
Congrats on your wedding! I, too, married "on the cheap." Keep in mind that all the beautifully dressed people at your wedding (especially you and the wedding party) will provide a great deal of decoration! So if your reception hall looks rather bleak when empty, don't worry -- once everyone arrives, it will look very festive and your photos will be lovely. Decorate a few important areas and don't worry about covering everything. Likewise, the tables will look great with everyone seated with their food and drink! Keep the table centerpieces low so they don't tip over and people can see each other. A glass bowl with candles and a few fresh flowers floating in it would be beautiful. Know anyone with a flower garden?

If you have Ikea in your area, they sell floating candles very cheap. Also look for glass containers there. Thin silver ribbon in loose curls on the table around the bowls could add a little extra touch. To increase the reflection of the candles, you can put a mirror tile under the bowls (they have these at party rental centers). (01/27/2005)

By ATM
Ideas for June Wedding Centerpieces
My best friend used this and it was cheap and unique. She did candles, but flowers would be great and you would only need a few to show off the "gel."

We all would love to have our special occasion be remembered and talked about for days to come, so why not do something different and unique? Use Plant Gel to create lovely decorative centerpieces, that match your color scheme, for those special occasions. You can use it with candles or cut flowers. Leaving the Gel clear, and using it with a candle provides an illuminating effect for your centerpiece. Makes a great take home item for the lucky winner at each table, too! (01/27/2005)

Ideas for June Wedding Centerpieces
I was married in July of 2004 and had to plan a wedding for 150 people with only $2,000 dollars to spend and it was beautiful. This is what we did for our centerpieces.

We used a large white pillar candle in the center of the table with a white/blue candle ring around it that we found for only a dollar a piece at a local dollar store. Then around the main candle we put three small candles in crystal-looking candle holders. All of the candles and candle holders we found at Big Lots for $.99-pillar candle, $1-4 small candles, and $.50-for the small candle holders. Then we sprinkled small love doves we found at our dollar store (about 50- package) around the table. It was great! I hope this helped. Good luck! (01/30/2005)

Ideas for June Wedding Centerpieces
I, too, am getting married in June and am on a budget. We are making copies of our favorite pictures of the two of us (40 cents a piece at Wal-Mart) to place in simple silver frames (2 for a dollar at a dollar store, but very pretty). The pictures are going to be surrounded in a ring of tea light candles (100 for $5) in glass tea light holders (3 for a dollar at a craft store), then we are laying two roses on the table directly in front of the picture and then scattering rose petals all over the table. (02/08/2005)

By Tonya
Ideas for June Wedding Centerpieces
A cheap romantic way to light the table would be paper lanterns. You can suspend 1-2 above the tables. On the tables, keep it simple and clean. That's always the best charm for a classic feel. Use daisies in your colors to float along with candles. If you don't have Ikea like the other girl said, go online or Big Lots. Or if you would like a rustic feel with the flowers and centerpiece, make the paper lanterns that people use during the holidays. Also you could stagger different pictures of you and your hubby along with friends around the tables. This gives a very intimate feel, and fun for everyone to compare pictures and celebrate you guys! I hope this helped and congrats! (02/08/2005)

By Julep
Ideas for June Wedding Centerpieces
I, too, am getting married in June, 2006 though, and am on a very tight budget. Just some thoughts and ideas I've had were silk flowers - from say Micheal's- and maybe gift bags as center pieces, doubled as favors. Fill them with little bubble bottles, maybe a "personalized" writing pen - this you could get from somewhere like office depot (not too badly priced). I was also thinking maybe putting some homemade candy wrapped up in the bags...just something to think about I'm sure. Happy hunting and good luck. (03/12/2005)

By Ashley
Ideas for June Wedding Centerpieces
I am doing my own center pieces currently and they are cheap, 5 dollars per table.

At Walmart they have crystal looking beads in the arts and crafts section. We are stringing them together. I have 250 strands with 8 beads each on them. Then we hit the dollar store and got the tallest vases at 1.00 each.

I put everyone I knew on long skinny-stick-patrol so the vases are filled with long branches. From the branches we are hanging the crystals, 20-30 per each vase filled with branches.

Also, at my dollar store, they have wedding party favors that look like mini gift bags. They are about 2.5 inches tall. I bought tea lamps in bulk and placed them in the mini gift bags. The tea lamps are enough to light up the crystal beads, and the whole table just glows and it gives off a lot of drama. (11/08/2007)

By nina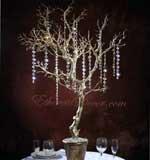 Ideas for June Wedding Centerpieces
Think of Lowe's or Home Depot. When decorating for a huge gathering on the cheap, I used mirrored glass tiles from Lowe's. There are 12 or more to a box and about 2.00 each. That on the center of the table with candle light really glows, and then use glass beads on top or just confetti. It was cheap and looked amazing. (12/08/2008)

By sally gross