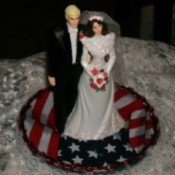 This is another one of my latest projects for a soon to be bride whose fiance is in the Army here in Georgia. She asked me to make her wedding colors of red, white and blue for her cake topper. My base starts with a recycled CD that would normally be thrown away, so I recycle them.
The bride was thrilled when I sent her the pictures. She also needed the groom's hair on this cake topper to be blonde, so I got out my acrylic paints and changed it for her. I painted the roses of her bouquet too.
By Myra from Allenhurst, GA

I had a thought about a cake topper. It was a man sitting in a chair with a tux on and a PS3 controller in his hands and a TV in front of him saying "game over". He had his jaw dropped and the bride was standing behind him in a wedding dress with her arms crossed (mad). Where can I get someone to could create that for me?
By tiffany from Moberly, MO
Answers

June 26, 2009
0

found this helpful
Glad to see im not the only woman with a man having an affair with a PS3 hahaha. Im sorry i couldnt help with your request, but I know the feeling!

June 27, 2009
0

found this helpful
Could you take a photo of your fiance playing the game and someone take a photo of you with your arms crossed. Blow them up a bit and make a paper doll sort of image? The pics don't have to be 3-D.
They could lay flat. Photos can be transferred onto the cake as well. If you want the jaw dropped/tux. You either have to fill him in or find a body double. :)

June 27, 2009
0

found this helpful
Hmm, interesting idea, lol! You didn't say if you wanted a 3D topper, so I'll presume you do. For an edible topper, you might want to visit a small-business baker or confectioner (candy maker.) For a non-edible topper, I'd recommend you try a local artist. You can use "live-action modeling," photography or a drawing to help convey what you want, whatever works best. Be prepared to pay a bit extra for a custom-made topper, though, whatever route you take.
Best to you on your wedding! JustPlainJo, Ohio

June 27, 2009
0

found this helpful
Etsy.com has polymer clay artists. Maybe one could do it, but be prepared to pay for an artist's creation.

June 30, 2009
0

found this helpful
See link below - it is $60, but sounds like it is what you are looking for . . .
www.funweddingthings.com/.../Wedding-Cake-Topper--Video-Game-Player...
Answer

this Question

Dollar Tree stores carry a lot of wedding items in early spring to June. Many times you can find a base with lace on it from Wilton. Cut a ball of styrofoam in half and hot glue onto base. Clip artificial flowers short and arrange on the foam base.Make a small bow and let the end hang longer to sort of drape over the side of the base.Maybe net behind the flowers.
This would probably cost $20- $30 if store bought. OR you can use a small pringle or crisco lid and glue lace around the side.You can also find leaves,bells arches etc from Wilton at Dollar Trees. LOVE THOSE STORES! Sharon, Ky
Answer

this Question