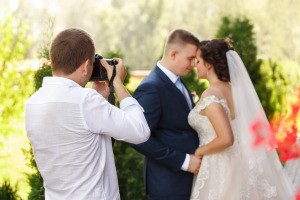 Having photos of your wedding is considered essential by nearly all brides and grooms, and their mothers. You will want a wedding portrait to frame, candids to place in a photo album and precious photos of your extended and new family together. Although some couples depend on friends and family to capture the wedding and reception, this can be risky and can cause stress or disappointment if photo opportunities are missed. A professional photographer will help ensure all the important moments are preserved and allow everyone to focus on the happy couple.
One of the main benefits to hiring someone who specializes in wedding photography is that they are very familiar with the challenges and expectations of shooting a wedding. They will be able to recommend and guide you through what planning will need to be done. Most will ask you for a shot list, like the cake cutting, the garter throw, and the first dance, or certain family configurations. They will often provide a list of traditional shots that people generally expect so you can decide which are important to you. This doesn't mean that the photographer won't get any other photos, it is just a framework.

Finding A Photographer
You will want to hire your photographer after you have set your wedding date, although you can conduct interviews before then. The first thing to verify is that the photographer is available for the date and time of your wedding. They can be booked months in advance and some couples shift dates to accomodate an especially desired photographer.
Be sure to interview with a few different photographers to get a feel for what they offer. They will be there for one of the most memorable days of your life, it's important that you get along and feel like you can work together. You can ask for testimonials from previous weddings. Ask friends for referrals too.
When meeting with prospective photographers, be sure to ask to see their wedding portfolio. Ideally, you would like to see many different wedding dates with beautiful high quality photos. If you don't like the photos or they are not up to your standards, don't feel bad about seeking out other photographers.

Cost of Wedding Package
Next, you will need to discuss costs. Prices can range all over the place, depending on your location and the skill of your photographer, but it is often a substantial expense in a wedding budget. It will vary based on how long you wish to hire them for and how many locations. A complete package would include pictures of the wedding party getting ready, the ceremony, the reception and portraits of the wedding party and extended family. To reduce costs, many couples decide to drop one or more of these sections, perhaps relying on friends and family for candids of the reception, or going to a studio for the formal photos.
You will also need to decide if you want a second photographer for better coverage. This will enable you to get photos of the bride walking down the aisle from both angles or photos of the reception while the primary photographer is doing the formal shots. The second "shooter" is usually not nearly as expensive but it all adds up.

Lighting Options
Ask what type of lighting can be used. Many photographers will use natural light for capturing the ceremony itself, a flash for candids at the reception and studio lighting for the formal photos. But transporting and setting up the studio lights will add to the cost. Using natural light alone is simpler but runs the risk of missing certain shots, depending on the available light. And flash photography can be distracting and is not allowed in some churches.
Wedding Books and Prints
Another common wedding package will include a wedding book for the bride and groom, and prints of the photos. There are many established photographers that may provide professional high-quality prints but hold the copyright and do not allow the images to be reproduced by the couple. Others will give you digital copies and allow you to print them wherever you like, or a combination of the two. There are benefits to getting the prints from a professional as they will ensure they are formatted correctly and sent at the proper resolution. It is also nice to receive a box of beautiful photos rather than a download code. Then, you have the chore and expense of ordering them waiting for you. But if price is a concern, this is a place where you might be able to cut back.
Wedding Video
If you wish to have video of your wedding ceremony, you will need to hire or find someone to act as a videographer. The photographer cannot do both in most cases. The videographer will work with the photographer to ensure that they don't get in each other's shots.
If you have any advice to share about hiring a photographer for your wedding, please leave it in the feedback or submit your own tip to our contest.